How much is a Chihuahua? This is one of the first questions to consider if you plan on adopting or buying one.
Chihuahuas are great dogs with loving personalities and they quickly become an important member of your household.
However, raising a Chihuahua can be a costly affair so it is important that you are well informed about it in advance.
That way, you will know exactly what you are getting into and would be in a better position to provide your pet with the best healthcare and nutrition it needs.
Based on this unique dog breed's specific health requirements, we have all the costs you need to consider before bringing home your Chi.
This will help you estimate the exact budget to set aside on monthly and annual basis.
How Much is a Chihuahua?
How much Does a Chihuahua puppy cost?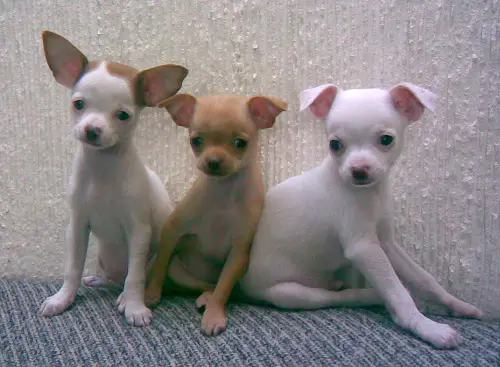 A Chihuahua puppy, when purchased from a reputed breeder, can cost anywhere between $350 and $2000.
Different breeds of Chihuahuas have different prices depending on the breeder:
Long haired Chihuahua – $ 500 to $1200
Short haired Chihuahua – $500 and $800
Apple Head Chihuahua – between $300 and $800 but can extend to $1500 depending on bloodline and breeder
Deer Head Chihuahua – $400 and $1200 depending on parentage.
Teacup Chihuahua – nearly $2000!
Rare Chihuahuas like Merle and Blue Chihuahuas can even cost nearly $10000!
We have considered various resources like pet forums, breeder sites, AKC official site, etc. to determine the above costs.
Based on the bloodline, breeder, and the sub-type of your Chi, a purebred Chihuahua can even cost up to $6000.
How To Choose Your Chihuahua?
1. Bloodlines and demand/supply
The above costs are the average prices for purebred Chihuahua puppies.
Mixed breed or designer breeds can be even more expensive as the breeders only breed healthy dogs a few times in a year.
Since the litter sizes are smaller and demand for them is high, mixed breeds and designer Chihuahuas like the Teacup Chi have become a status symbol and can be even costlier.
This is also why rarer Chis like merles and Blue Chis cost so much!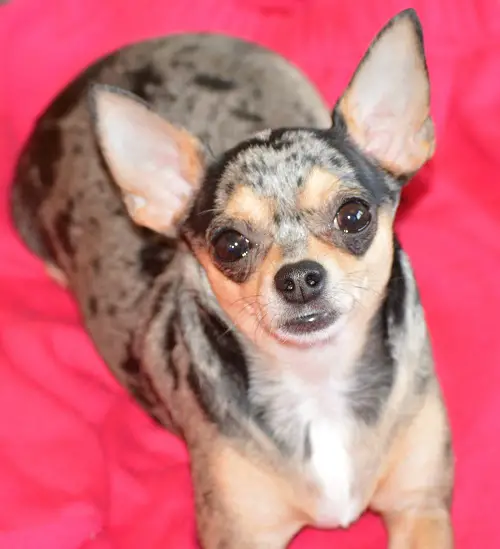 Registered Chihuahuas will also cost more since the breeder will ascertain their purity and bloodlines.
2. Breeders
The cost of your potential Chi puppy can also vary from breeder to breeder.
Reputable breeder will follow ethical breeding practices and won't hesitate to show you the parents of your potential pup.
They will also have all papers and records of health tests ready for your perusal.
Reputed breeders will also refrain from breeding dogs with health issues like luxating patella or dysplasia, which are common genetic conditions in Chihuahuas.
Good breeders even perform the initial deworming, vaccinations, etc. before they hand over your puppy to you at about 8 weeks of age.
While the initial cost of buying a Chi puppy from a reputable breeder will be definitely higher, it will be worth the price since you will be assured of getting a healthy pet.
In any case, just remember to do a background check of the breeder and avoid any puppy mill at all cost.
3. Sex of your puppy
Generally, a male Chihuahua puppy will cost more than a female pup.
Again, this will vary based on the breeder and there are some that tend to price all their puppies the same regardless of the gender.
4. Other factors
Some other factors can also increase or decrease your potential puppy's cost:
Age – an older Chihuahua dog will cost less than a puppy chihuahua and for rare breeds like teacup chihuahua puppy will be even more expensive
Trained/untrained – Trained pup will obviously cost more but it will save you on training later
Coat color – Blue, merle, and certain other colors Chihuahua cost more since these colors are highly sought after by kennel clubs.
Long coat or smooth coat chihuahua – The length of your chihuahua's hair makes a difference! Typically long haired chihuahua tend to cost slightly more than smooth coat ones.
Your city – if your breeder is from another city than yours, you might have to pay to have your pup 'shipped' to you. Also, the breed's popularity in your area can change the cost as well.
Adopting a Chihuahua Costs Less
If budget is a concern, you can always consider adopting your toy breed Chihuahua.
Adoption costs a lot less than buying.
Here is a breakdown of adoption costs for a Chihuahua:
Adoption fee (varies from shelter to shelter) – $70 to $150
Spaying/neutering – (this is sometimes included in the adoption fee) – $100 to $500.
Initial vaccinations and deworming – $100 and $200.
License – $10 and $50.
You may want to check out these Chihuahua breed specific rescue centers in the USA to find your ideal chihuahua:
First Year Expense of owning a Chihuahua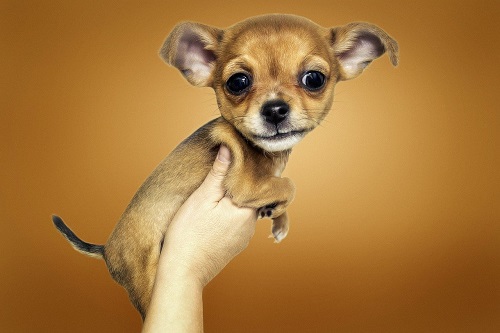 The first year cost of owning a Chihuahua pup can run up to nearly $3000 to $4000. This is because of the first year vaccinations, training costs, costs of accessories like food bowls, grooming tools and products etc.
Remember: many items like food bowls are a one-time purchase, so you won't be buying them over and over each year.
That is why the cost of owning a Chi reduces to half (approximately $1500) in the subsequent years.
Here is a summary of the cost of owning a Chihuahua in the first year:
| | |
| --- | --- |
| Item | Cost Range in the First Year |
| Chihuahua puppy price (reputed breeder) | $500- $2000 |
| Vet visit, vaccinations | $ 100 to $200 |
| Spaying or neutering surgery cost | $100 to $500 |
| Licensing your pet | $10-$50 (state wise) |
| Training | $1000 |
| Pet accessories (food bowls, grooming supplies, leash, collars, bed, toys etc.) | $500 |
| Flea, tick, deworming treatment | $75 to $100 |
| Food and treats | $500 to $700 (per year) |
| Additional expenses | $100 |
| Total expense estimate in the first year | Between $2000 to $5000 |
Adding the average expense estimates as shown above, you can expect to shell out approximately $3500 on your Chihuahua in the first year.
This expense can go down to $1500 – $2000 in the subsequent years.
Annual Cost of Food For Your Chihuahua
High-quality food might seem expensive in the beginning but you will see many benefits in terms of a healthy coat, fewer health problems, etc.
An average Chihuahua dog eats about 50 lb. of food on an annual basis.
Therefore, you can expect to pay anywhere between $75 to $100 annually for puppy food and $50 to $100 annually for adult food based on the top brand of dog foods (mentioned below).
Treats can cost about $200 annually – including dental treats, daily training treats, or rewards, etc.
Below are some highly reviewed dog food (both dry and wet) that our team is recommending for both chihuahua puppies and adult chihuahuas:
A) Best Dry & Wet Food for Chihuahua Puppies:
Puppy Chihuahuas need plenty of protein and healthy calories for all-day-long energy.
They also need calcium and phosphorus for their growing bones and developing teeth.
For Dry Food: We recommend Royal Canin Chihuahua Puppy food for it is formulated for its sensitive stomach and also contains minerals for bone development.
For Wet Food: We recommend NUTRO Tender Grain-Free Puppy Food. (It costs about $30 for 24 cans)
B) Best Dry & Wet Food for Adult Chihuahua
Your adult Chis also needs a lot of protein to maintain its lean muscle mass but with fewer calories to prevent excess weight gain.
For Dry Food: We recommend Hill's Sensitive Skin Adult Dog Food (This costs about 25 cents per ounce)
For Wet Food: If your pet prefers wet food's texture, you can opt for Royal Canin Chihuahua Adult Canned Dog Food, 3 oz can ($2 per can)
Also check out our guide on Best Dog Food for Chihuahua. We have recommended many top foods for Chis there.
Annual Cost Of Feeding Supplies & Supplements For Your Chihuahua
To help you break down the costs further, here is a list showing you the cost of buying accessories & supplies your Chihuahua dog will need in its lifetime along with some reviewed product recommendations in each category.
A) Food and water bowls
Your Chihuahua will need at least 2 food and water bowls each.
Why 2 food and water bowls? This is because, you need to wash them daily and they can also crack or break overtime. Therefore, an extra is always good to have.
These can cost around $40 to $50.
Here is a stainless steel dual food and water bowl with non-skid silicone mat that our team highly suggest: Hubulk Pet Bowls for Small Breed Dogs.
If you have a fast eater chihuahua, also read our recommended Best Stainless Steel Slow Feeder Bowl to slow down your chi's eating habits!
B) Tasty Dog Treats
Besides dog food, you may also want to feed treats to your Chihuahua in between meals and during training.
Afterall, which chi wouldn't love an occasional treat?!
Here are our favorite treats for Chihuahuas: Fido Dental Care Dental Chews for Tartar and Plaque.
Also check out our guide on the Best Treats for Chihuahua for more options.
Then there are also dental treats that can keep your pet's teeth clean such as: GREENIES Original TEENIE Natural Dog Dental Care Chews Oral Health Dog Treats, 27 oz. Pack (96 Treats).
For more recommendations on dental treats, check out our complete guide on the Best Dental Chews for Chihuahua.
C) Dental Hygiene Products
Chihuahuas are highly susceptible to dental issues.
You might think you are saving money on dental products if you don't use them on your chis. However, you may end up paying heavily on dental scaling and other treatments in the longer run.
We recommend VTurboWay Pet Toothbrush for Small Dogs and Puppies to save a lot of pain and treatment costs down the line.
You can also use drinking water additives like Bodhi Peppermint Flavored Water Additive to Remove Plaque/Tartar in Dogs.
Check out our guide on the Best toothbrush for Chihuahua.
D) Vitamin Supplements for Healthy Growth
Besides providing the best dog food for your chi, you can also give vitamins & supplements to keep your pet healthy and prevent infections and illness.
We recommend the Daily MultiVitamin for Chihuahua from Healthy Breeds.
Also Read: Best Vitamins for Chihuahua
Annual Cost On Grooming For Your Chihuahua
Chihuahuas need a fair amount of grooming.
You can always DIY groom to curb expenses but if you take your pet to the professional, then you can expect following rates:
Standard grooming – between $30 and $90 based on your pet's coat length
Basic bath and fur trimming – $25 to $50 based on coat length, your city, etc.
Full cut  and styling – $60 to $100
Special medicated bath/grooming – $50 to $75
To save on these costs, you can buy the grooming products recommended above.
Complete grooming set with clippers, brush, and comb set- costs about $11
Chihuahua shampoo and conditioner costs about $15
Additional accessories, wipes, ear cleaning solution, etc.- $15
Here are some highly reviewed products that you can consider:
Also Read: Best Shampoo for Chihuahua
Annual Cost On Accessories For Your Chihuahua
1) Comfortable & Secure Dog Bed
Due to the small size of your chi, it is extremely important to provide a comfortable and secure bed for it to sleep in order to reduce it's anxiety levels.
Dog beds ranges from $10+ USD to $100+ USD depending on the brand and material of the bed. You can get a good quality dog bed that cost about $40 USD such as the Best Friends By Sheri Donut Bed for Small Dogs.
Dog beds are a one-time purchase item so it is wise to invest in a good quality one as it last a long time!
Check out our guide on Best Dog Bed for Chihuahua for more options.
2) Suitably Sized Crate/Carrying Basket
If you prefer your chihuahua to sleep in a crate or kennel, it is important to choose a suitably sized one for maximum comfort and security.
The size of the crate should not be too small nor too big.
We recommend the 18 inch Midwest Homes Pet Crate designed for small dogs like chihuahaus. If your chi is of larger size, you can even go for the 20 inch crate.
Again, the crate is a one-time purchase which you will get when you bring your chihuahua home for the first time.
A small crate like the Midwest Homes Pet Crate cost about $20+ USD.
3) Playtime Toys For Mental & Physical Stimulation
Chihuahuas are very energetic and hyperactive dogs. Therefore, entertainment is important to keep your Chi healthy and happy, both mentally and physically.
The cost of dog toys can range from a few dollars to tens of dollars depending on the type of toys. Electronic toys tend to be more expensive while simple toys like teething rope are much cheaper.
If you are unsure what type of toys your chi likes, you can opt for a bundle value pack like this assorted toy set for chihuahua. It comes with 14 different variety of toys to keep your chi entertained for hours!
Dog toys are often not a one-time purchase item as they can get damaged from your dog's chewing. Do check out our guide on the Best Toys for Chihuahua for more variety and options as your chi grows!
4) Collar and Leash Set
We recommend you get at least 2 sets of collars and leashes for your chi. You may also consider getting a decorative collar/harness like this one for special occasions too!
Depending on the brand, type and style of the collar and leashes, you can expect to pay between $8 – $30+ for a set of these.
For collars, we recommend the Blueberry Pet Essentials Collar which is ideal for your pet's small neck.
For harnesses, our expert team of reviewers suggest the PetSafe Easy Walk Dog Harness, No Pull Dog Harness
Refer to our guide on the Best Collar for Chihuahua and Best Harness for Chihuahua for more in-depth guide on purchasing small sized collars and harnesses that are suitable for chihuahuas.
5) Poop Bags and Poop Scooper
This may not be on the top of your to-buy list for your chi, however having a good quality poop scooper and poop bags are definitely essential.
A good quality poop scooper cost between $10 – $20 while poop bags cost about $0.05/bag. Assuming your dog poos twice a day, you can expect to use about 730 poop bags costing about $35 – $40 per year.
For a good poop scooper, opt for: DOTSOG Poop Picker
And check out this biodegradable Earth Rated small dog poop bags .
6) Dog Diapers And Potty Training Pads
Potty training your chi will save you a lot of trouble in the long run. If you don't have time to bring your chi out for walks regularly, you can house train your young Chihuahua to relieve itself on dog pee pads .
If you own a female chi, do know that she will come in heat by the time she is 4-12 months of age.
You can use dog diapers to contain the mess or have her spayed. The cost of dog diapers can range from $0.45 cents per piece of disposable diapers to $6 for reusable ones.
Reusable diapers such as this are cheaper and you can reuse them over and over.
Annual Cost of Training your Chihuahua
Perhaps, the best investment you'd make is on training your Chi.
By training we mean teaching it basic commands like come, sit, heel, fetch, etc.
You can DIY train your pet to save money, or enroll your puppy Chihuahua in a dog obedience school.
You can also enlist the help of a personal trainer.
However, these can be quite expensive: expect to approximately shell out $500 to $1000 for 5 to 7 lessons.
This cost will vary from trainer to trainer, the number of lessons, and also your city.
Your Chi is a smart dog so it will learn quickly. However, many Chihuahuas are known to be quite stubborn, so you must be patient while training them.
Even if you enlist a trainer for the job, you will have to be present for the training sessions. After all, training a dog also involves training their humans!
Healthcare Costs of Your Chihuahua in the First Year
In the first year, you will have to take your pet several times to the vet for initial vaccinations, deworming, spaying/neutering etc.
As a result, these costs can end up being quite high in the first year.
Expect to shell out at least $1000 annually on all vet expenses including spaying and neutering surgery.
Here is a breakdown of dog vaccination costs on an average:
Vaccination at 6, 12, and 15 weeks – between $75 and $100
Rabies vaccine cost – About $20. Note that many shelters vaccinate your adopted Chihuahua for free.
3-in-1 vaccine costs $35
A) Deworming costs
You can get this at the vet or buy it online. A 7-in-1 dewormer costs about $10. and can save much pain and health issues in the longer run.
Deworm your Chi regularly based on the schedule given by your vet.
Puppies need to be dewormed every 2 weeks until they are 12 weeks old.
After 6 months, your Chi must be dewormed once every 3 months.
Heartworms
Most deworming pills do not cover heartworms.
Heartworms in dogs is an expensive disease that can run into thousands of dollars' worth of tests and hospitalization costs.
Speak to your vet about heartworm prevention to save on these expenses.
B) Spaying and Neutering Costs
Cost of spaying and neutering can vary from city to city. (Neutering surgery cost is cheaper than spaying cost).
Expect to pay anywhere between $50 and $500 depending on your pet's age, the doctor, etc.
C) Tick and Flea Treatments
These are extremely important for preventing the deadly Lyme disease – the latter can cost heavily if you fail to prevent these parasites.
Use a monthly tick and flea prevention for your puppy over 8 weeks of age and adult Chihuahua. (This spot treatment comes in 6 doses and you need to use one dose each month.)
Annual Healthcare Costs in Subsequent Years
As your puppy Chihuahua grows up, the vaccinations will reduce to about once a year. These will include booster shots for Rabies, canine viruses, influenza, etc.
Expect to pay about $200 for annual vet checkups. These can cover the annual vaccines, ear cleaning, anal gland cleaning, and general checkup.
Also Read: Best Dog Food for Anal Gland Issues
Also, you will need to deworm your pet every 3 months (or as recommended by the vet).
Furthermore, you will need monthly flea and tick prevention to protect your pet from deadly diseases transmitted by these parasites.
Expect to shell out $100 on flea and tick prevention on an annual basis.
Senior Chihuahua and Healthcare Costs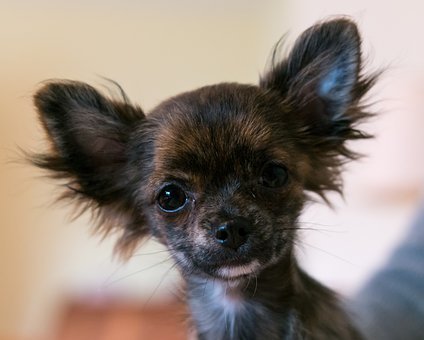 Chihuahuas are prone to certain health issues as they age and these can require costly treatments.
| | |
| --- | --- |
| Health issue | Cost |
| Epilepsy | $200-$500 a year and costlier medicines can be about $5000 |
|   |   |
| Allergies and skin issues | Avg. cost of treatment $255 |
|   |   |
| Heart Issue | Avg. cost of treatment $500-$2000/year depending on exact condition |
|   |   |
| Joint issues | Avg. cost of treatment $500/year depending on exact condition |
|   |   |
| Oral/dental issues | Avg. cost to treat $400 |
Annual Cost of Insuring Your Chihuahua
Chihuahua insurance costs are usually higher compared to many other breeds because they have a hereditary tendency towards many health issues like: patellar luxation, Legg-Calve-Perthes disease, Mitral valve disease, dental diseases, corneal diseases, etc.
For average accident/trauma and comprehensive illness coverage expect to pay anywhere between $20 and $50 per month.
These costs can vary based on your Chihuahua's age, overall health profile, and your city.
Miscellaneous Costs
These include the following:
Dog license – between $5 and $50 depending on the state.
Micro-chipping – national average is $45
Dog boarding cost – between $45 and $90, luxury hostels charge $75 a night.
Pet sitting cost- $20 – $30 Per Day $45 – $75 Per Night
Dog walker cost- $20 per 30-minute walk
Conclusion – How Much is a Chihuahua?
How much is a Chihuahua? The answer depends on your location and where you buy or adopt your puppy.
However, you can expect to pay anywhere between $500 and $2000 depending on the breeder, your Chihuahua's age, its coat color,  the type of Chihuahua, as well as its parentage and bloodlines.
The average monthly cost of owning a Chihuahua can vary between $200 and $500 while the annual total can amount between $1000 and $2500.
We hope this brief guide helps you estimate your cost of Chihuahua ownership accurately.