The best collar for Chihuahua is small and lightweight. It may also be pretty and glamorous for your dashing and fashion forward Chi!
Collars for a Chi are specially designed to fit snugly around their tiny necks without causing any discomfort or pain to those delicate neck bones.
When you look for a collar and leash for a Chihuahua, always make sure that it is designed for small breed dogs. This way, you won't have any doubt regarding your pet's safety.
We have 5 top picks for you in various categories like collars for adults and puppies, reflective collards, stylish collars, and anti-bark collars for Chis that are prone to excess barking.
Just in case you are in a hurry, click on our short summary below to view our Top 5 reviewed products for the best collar for Chihuahua:
Best Collar for Chihuahua – 2022 Top 5 Picks
Blueberry Pet Essentials collars are available in 8 different sizes.
Thus, for your Chihuahua, you can select either the XS or S size- the extra-small fits neck sizes between 8 and 11 inches which is what most Chis measure.
There are 22 attractive colors available in Blueberry Pet Essentials collars, so your dashing Chi will always have a color to match its outfits. And there are matching leashes available too!
Furthermore, the brand gives you a facility to customize the collar with your pet's name.
Thousands of pawrents love Blueberry Pet collar for its durability that comes from its high-density nylon fabric. This is the chew-proof collar to opt for if your little pet is a Houdini!
You will also feel good to know that the plastic buckles are made from eco-friendly plastic while the metal-D rings are rust-resistant and long-lasting.
What we like about it
Extremely sturdy, durable, and attractive small-size collar
Available in many bright colors with matching leashes
Long-lasting
What we don't like
The clasps are difficult to get on/off especially for elderly people or those with arthritis. (This feature is added to make the collar escape-proof).
Blueberry Pet Essentials Classic Durable Solid Nylon Adjustable Dog Collar, Turquoise, X-Small, Neck 8"-11", for Boy and Girl Dogs
Neck 8"-11", Width 3/8",Size X-Small; The collar does not stretch itself, please make sure leave ONLY 2 fingers between collar and dog neck. A properly fitting collar and harness won't leave any room for your dog to chew. The collar is not for tie out. NEVER leave your dog unattended with a collar on
Blueberry Pet is perfecting product lines. Classic collection products will be becoming part of Essentials by Blueberry Pet.
This collar is a single product. Its matching leash (B00HRQGP40) /harness (B01N0PXEPI) sold separately
Nylon fabric with high density webbing to add durability; Those buckles are made from ecofriendly plastic. The metal D ring is chrome coated to add durability
All pictures are taken with our production samples from a size of Medium; Please measure your pets carefully for making the right purchase. Always look at the size chart for the recommended weight range to confirm the size
Taglory® collar is soft, neoprene padded, and very safe for your Chi's small neck.
It comes in various attractive colors and sizes ranging from XS to Large. The extra-small collar is 5/8th inch wide and can easily fit dogs' neck sized between 8 and 12 inches.
Here are top four reasons behind the popularity of Taglory collar:
Firstly, it comes with eco-friendly materials that are safe and hypoallergenic.
There is also a safety feature that prevents the collar from accidentally opening or unlocking.
Secondly, these well-designed collars have 360-degree reflective coating that enables your pet to be seen from afar.
Thirdly, its 100% nylon stitching is sturdy, durable, and reliable. At the same time, it is lightweight, all-season comfortable, and won't harm your pet's skin or fur.
Fourthly, these collars come in reflective and adorable colors that will make your pet look stylish and cute.
What we like about it
Extra-small size ideal for Chihuahuas
Comfortable and lightweight, padded for extra protection
Sturdy and long-lasting
Reflective for extra night-time visibility
What we don't like
Colors sometimes bleed after washing.
Sale
Taglory Reflective Dog Collar with Safety Locking Buckle, Adjustable Nylon Pet Collars for Puppy Dogs, XS, Hot Pink
Safety Buckle- Side release buckle is made out of quality eco-friendly plastic with safety lock to prevent the collar from accidentally opening
Soft Neoprene Padded- The cushion from this exclusive feature gives maximum comfort to dogs during activities. No sharp edges or unfold sewing joint. Heavy duty stitching adds durability for long lasting use
360° Reflective Straps- Reflective stitching for extra visibility from distance at night
High Quality, Durable & Light Weight- Made of a 100% real nylon with good stitching, lightweight but durable, good for all conditions
Strong & Easy to Use - 12 colors high density webbing, quick release buckle, soft padded and D ring hardware, this collar will make your pet look adorable and elegant
Keep your Chihuahua safe in the dark with the BSEEN reflective collar. The entire collar of 12-inch length glows in the dark thanks to LED lights.
This helps your pet be seen clearly in dim light and dark – useful for night walks and camping trips. You can choose from five different colors like fluorescent green, bright red, blue, orange, and pink.
It is an extremely lightweight collar that won't weigh down on your pet's neck. The best part is that it is rechargeable and energy-saving – you only need a USB charger for the purpose.
BSEEN reflective collar is easy to put on and you can even adjust it for a snug fit. Its snaps are easy to wear and remove.
BSEEN collar's nylon webbing is super sturdy, chew-proof, and durable making this a long-lasting accessory for your beloved pet.
What we like about it
XS size ideal for Chihuahuas
Super bright, safe, easy to use
Easy to charge
Great after-sales service
What we don't like
Charge does not last too long.
Sale
BSEEN LED Small Dog Collar - USB Rechargeable Glowing Led Puppy Collar, Light Up Pet Collars for Small Dogs& Cats (Blue, XS)
🌟GLOW IN THE DARK LED PET COLLAR: Super bright in the dark, make your dogs& cats be visible& safe at night when night dog walking.
🔋USB RECHARGEABLE LIGHT UP DOG COLLAR: this collar can be rechargeable after power off by Micro USB charge cords.
🐾ADJUSTABLE SIZE FOR SMALL DOGS& CATS: this small dog collar is specially designed for small breeds dogs& cats, also can be adjusted by buckles to suit more well.
☀️2 FLASH MODES OPTIONS: that you can choose steady glowing or quick flashing when you need just by press the button.
🎄100% QUALITY GUARANTEE: If you have any problems for products quality, please feel free to contact us, we'd glad to help you solve the problems.
Chihuahuas are known barkers and if your pet is one, then the STOPWOOFER training, anti-bark collar is ideal for your pet.
Don't worry –this is a safe and humane way to put a stop to annoying and incessant barking.
This is how it works: there is no shock – simply a sound and vibration when your Chi starts barking. There are seven such levels of correction and they are completely painless and shock-free.
In addition, the collar stops for an entire minute even if your pet continues to bark. This makes STOPWOOFER extremely safe for your small pet.
The best part about STOPWOOFER anti-bark Chihuahua collar is that it is controlled by a smart microchip and you can select the sensitivity level depending on the extent of your pet's barking.
This feature makes it very reliable and safe as it can clearly distinguish between your dog's actual bark and other ambient noises.
In fact, the collar is so safe that you can even leave it on your pet when you go out for work and not have to worry about your buddy getting injured or harmed.
Moreover, this collar is completely adjustable to fit small as well as large breed dogs starting from neck-sizes of 5.95 inches all the way up to 21.65 inches.
In addition, the sturdy collar comes with two reflective stripes so you it even lets you see your pet in the dark.
What we like about it
Ideal for controlling incessant barking and bad behaviors on walks – no more neighbor complaints!
Adjustable strap fits small to large breeds
Durable nylon collar with reflective stripes.
Completely safe, customizable between 7 levels; one minute sleep mode for extra safety
Compact and lightweight
Long-lasting battery
What we don't like
Loud beeping sound can be annoying.
Sale
Your gorgeous Chi needs a pretty collar and what better than one with roses!
SKS Pet collars are hand-crafted from high-quality faux leather and comes with 5 holes so you can easily adjust it around small necks.
Note: the flowers don't move and are not removable. However, there is a facility to attach your pet's tag to this stylish collar.
You can also choose from Blue, Purple, and Red color collars in this style. Two sizes available in the collar are: Small (8.7 to 10.6 inches) and Medium (10.6 to 12.6 inches)
In short, this is a great collar for weekend parties to show off your Chi in style.
What we like about it
Thick, sturdy, durable, and stylish
Comes in different colors and two sizes
Adjustable
What we don't like
Not for teacup Chihuahuas.
SKS PET Roses Collar Pet Necklace for Small Dogs Cats Chihuahua Yorkie Adjustable Handmade(S, Pink)
Made from high quality imitation faux leather.
With 5 holes can be adjustment,it was easy to wear and fit.
Designed as dog collar necklace, rose dog collars, cat collar necklace, cat jewelry collar.
Lovely pet collar with flowers charm,perfect for weekend party costume or perfect gift wedding holiday
Four Sizes 2 colours availiable:S 8.7~10.6", M 10.6-12.6".Please measure your dog's size carefully before your purchase.
How to Select the Best Collar for Chihuahua
Here are the steps to choosing the best collar for Chihuahua:
1. Select the right size
We have given the exact steps below for how to measure your Chihuahua before selecting its collar.
In general, most adult Chis do well with Small (S) or Extra-Small (XS) sized collars.
Look for collars that easily fit necks measuring between 5 and 10 inches.
For puppies, go in for adjustable collars so you can use the same collar even as your pet transitions into adulthood.
2.  Choose the Right Type of Collar
There are several types of collars available in the market. You can choose from standard, training collars, choke chains, anti-bark, reflective, fashionable, and LED collars.
Select the collar based on your pet's unique needs.
You can also choose multiple collars for different functions: one for parties, one for daily walks, and one to use at night with special reflective properties.
3.  Select Collars with High-Quality Materials
Based on the type of Chihuahua collar you select, the materials will vary.
For example, stylish and fashionable collars may be made of leather or studded with rhinestones.
Reflective collars either have LEDs running along their edges or they might have special bright reflective strips around them.
Training collars and collars for daily walks typically use neoprene or sturdy nylon material with webbed patterns that deter chewing.
In any case, select a collar with high-quality materials that prevent your pooch from escaping, fits snugly, and does not harm your pet's neck.
(That is why we are not suggesting the use of choke chains with stainless steel or metal chains as they can strangle or choke delicate necks.)
4. Other Considerations
The best collar for Chihuahua should also have high-quality buckles.
Select collars with sturdy plastic clasps or metal D-rings which resist rust and are easy to snap on/off.
In case of adjustable collars, make sure the collar has plenty of holes in it so you can ensure a snug-yet-comfortable fit.
Ideally, the collars should be waterproof and colorfast. They should not fade after you wash them.
You can also select collars with leashes attached or vest-style harnesses for walking your dog in.
Check out our guide on the Best Harness for Chihuahua.
How Do You Measure a Chihuahua for a Collar?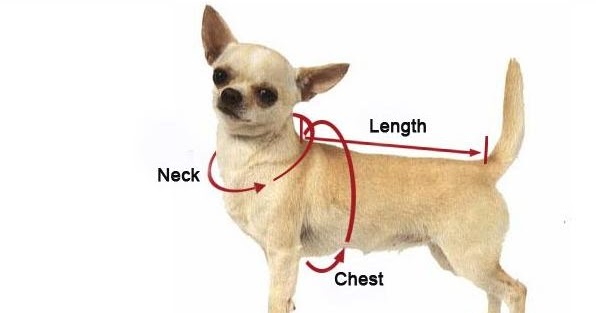 Here are the steps to measure your Chi before selecting a collar.
Use a measuring tape for the job or you can use a string and ruler.
Make sure your pet stands or sits still for the entire duration. Enlist the help of a friend/family member to hold your pet still.
Wrap the tape or string between your Chihuahua's ears and around its collar bone. This is where your Chihuahua will wear its collar.
You must add 1-2 inches to this measurement to get the right collar size for your Chi. This ensures a snug yet not-too-tight fit and even accounts for growing puppies.
In case you use a string, perform the same steps above but mark the spot on the string and measure it using the ruler. Again, don't forget to add a couple of inches to this measurement and only then buy the correct-sized collar.
Also Read: Best Bark Collar for Chihuahua
Can You Walk a Chihuahua With a Collar?
Yes, you can use a high-quality, padded and comfortable collar for your Chihuahua to walk daily.
Make sure that the collar fits snug but is also comfortable for its delicate neck.
Always speak to your vet regarding the safety of collars for your pet.
For example, some Chihuahuas with delicate bones, tracheal issues, spondylitis, etc. might do better with a harness since the latter goes around their chest and does not pressurize the delicate neck bones.
If your Chihuahua pulls a lot while walking or is a known escaper or chewer, then too, you might want to use a dog harness or a dog vest instead of a collar and leash.
Please check out our guide on Best Harness for Chihuahua
Collars are ideal for longer-haired Chihuahuas as there is less danger of the fur getting caught in it.
Moreover, your Chi can wear its collar all day-long comfortably without getting over-heated or uncomfortable.
Is Collar or Harness Better for a Chihuahua?
Here is a comparative review of harness versus collars for Chihuahuas
| | | |
| --- | --- | --- |
| Feature | Collar | Harness |
| Training | Better for training as it deters pulling and trains your pet to behave while walking. | Could encourage pulling and tugging behaviors. |
| Safety | Could cause choking, trachea collapse, spondylitis, reverse sneezing. | Helps avoid these issues and is a lot safer for small dog breeds with fragile neck bones. |
| Comfort | Can be worn all day comfortably. Ideal for summer months. | Not for all-day use. Can cause sweating in summers. |
| Long-haired Chihuahuas | Do better with collars as there is less chance of the fur getting caught in it. | The long hair tends to get caught up in the harness. |
| Ease of wearing/removing | Collars may be easier to put on and take off. | Might take longer while removing or putting on. |
FAQs on Best Collar for Chihuahua
1.  What is the best size of collar for a Chihuahua?
Chihuahuas do well with XS or S sized collar. An extra-small or XS collar can fit most Chis with neck sizes ranging between 6 and 11 inches (or 20 to 36 cm).
2. Do Chihuahuas like walking?
Yes. Despite their small size, most Chihuahuas are very active and they love spending time with you.
Therefore, your Chi is likely to look forward to its daily walks with you.
Walking is a great exercise for your Chihuahua since it helps expend energy, maintain weight, and avoid bad behaviors that stem from boredom such as barking, destroying furniture, biting, etc.
Speak to your vet to determine if walking is good for your Chi based on its age and overall health.
3. Can my pet wear its collar 24/7?
It is not advisable to leave a dog collar on your Chi all day long.
You must take it off at night since collars can poke your pet while it is sleeping or even lead to skin issues.
However, if your pet tends to run away frequently, then a collar with an ID tag can help save you a lot of heartache. It can easily help someone identify your pet.
In addition, you can also choose reflective collars for your Chi to be spotted easily in low light.
Therefore, in such cases, wearing a collar 24/7 could be a boon.
4. When should a Chi not wear collar?
Avoid using a collar if your pet has been diagnosed with neck issues like tracheal collapse, spondylitis, or even skin and hair problems.
Never attach the collar too tightly as it can lead to choking, hair loss, and even skin blisters. Your pet might try to scratch the collar off or even bite it.
Many collars are not designed for tying up pets.
Therefore, if you need to secure or restrict your pet – use only special collars and leashes designed for that purpose.
In any case, never leave your young Chihuahua unattended with the collar on, at least in the beginning.
Conclusion
The best collar for Chihuahua is lightweight, fits snugly-yet-comfortably, and also provides a facility for easy identification.
You can also use fashion-forward and stylish collars for those occasional outings, anti-bark collars for excess barkers, and reflective ones for easy night-time spotting.
We recommend Blueberry Pet Essentials dog collar as they are specially designed for extra-small and small dogs like Chihuahuas, and are sturdy, durable, and extremely safe for delicate small breeds like Chihuahuas.
Don't forget to check out our other recommendations as well!