So, you have a new Yorkie puppy or will be bringing one home soon? You wish to know about Yorkie puppy care? Then you've come to the right place!
In this comprehensive guide on Yorkie puppy care, we will cover:
The Basics – Before and after you bring home your Yorkshire terrier puppy
Daily care
Training and socialization
Maintaining your Yorkie's health
Grooming
Let us begin.
Yorkie Puppy Care
Yorkie puppy care is big responsibility. However, with these Yorkshire terrier care tips on day-to-day feeding, grooming, food, and exercise, you too can raise happy and healthy Yorkie or Yorkies! Learn how to take care of Yorkie puppies according to this guide!
Your New Yorkie Puppy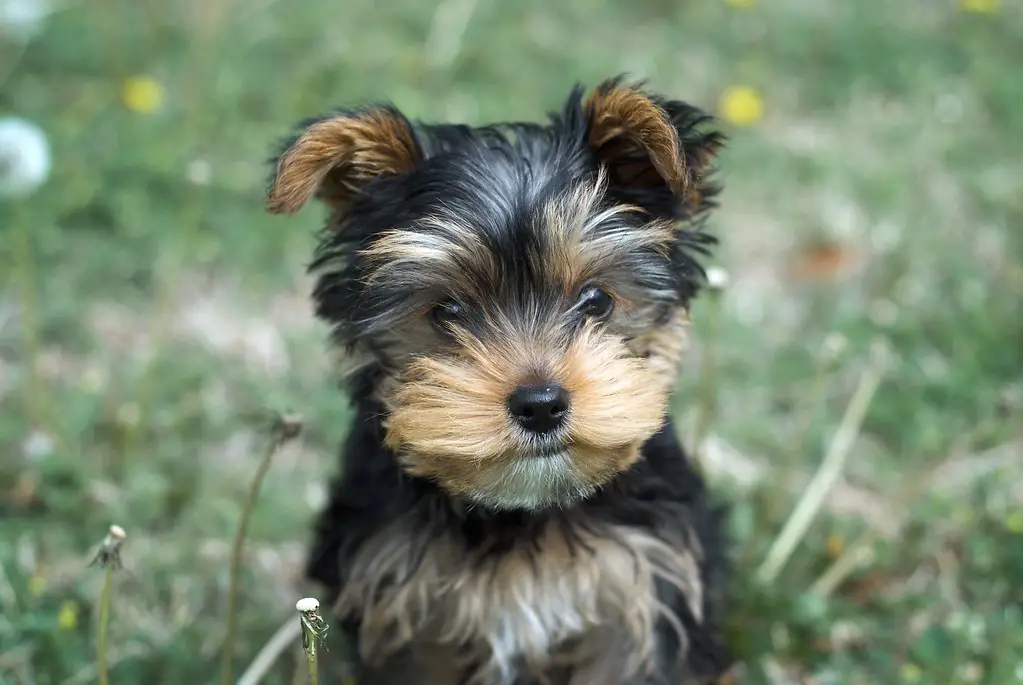 Becoming a Yorkie owner
Congratulations! You are the proud owner (or about to be one!) of a smart, vivacious Yorkshire terrier. This is an alert, playful, and intelligent dog breed. Despite its small size, it is fearless, saucy, and ever ready for challenges.
You will need several service providers while raising your Yorkie. First and foremost, look for a veterinarian that specializes in the breed or at least a general vet who is available for vaccinations, routine checkups, and emergency care.
You also need dog walkers, pet sitters, and groomers. If needed, look for a dog trainer, canine behavior specialist, a dog-boarding/kennel facility, and a pet obedience school. You can ask your friends/neighbors for recommendations of reliable pet service providers in your area. Alternatively, look online or in the Yellow Pages. Once you have a list of service providers, keep their contact details handy.
What are the Life Stages of Yorkies?
From birth to 1.5 months – This is the suckling stage. Your Yorkie needs its dam's milk.
Puppies (from 1-1.5 to 6 months) – Your Yorkie is a young puppy. Good breeders do not let their puppies go to families until 8 weeks of age.
Youngster – from 6 to 8-10 months. This is the teenage phase – your Yorkie will need firm handling and training.
Young adult – 8-10 to 2.5 years.
Adult dog – between 2.5 to 8 years.
Senior Yorkie – over 8 years.
Before you bring home your pet, there are some things you need to know about 8 week old yorkie puppy care:
Puppy-Proofing Your Home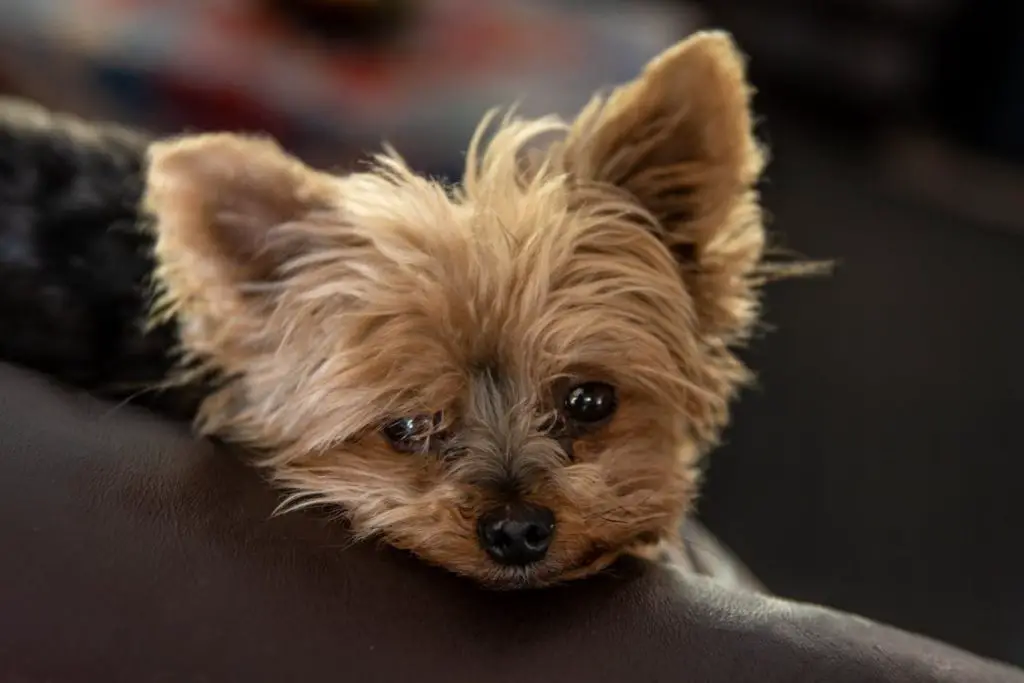 Yorkie puppies are extremely curious by nature. They will explore all around so you need to take a look at your house from a pup's point of view.Try to prevent as many doggy emergencies as you can by restricting your pup's movement and also creating a puppy-proof house.
Almost everything you keep away from a toddler, you must keep away from your Yorkie puppy. Below is a list of basic items you need to consider removing. You will need to add to this list since every household is unique.
1.      Wires
Walk/crawl around the house. You might look silly doing this, but it will give you a pup's perspective. What wires look tempting?
Tape all cords hanging around walls to at least 4-feet height so you can prevent shocks, electrocution, and even chewed up wires.
If you have floor cords, pin them to the wooden floors or place a rug/furniture over them.
Keep Bitter spray handy and every time you see your Yorkie puppy chewing the cord, spray it. This will deter chewing.
2.      Trash
Keep all trash sealed and covered. Trash is extremely tempting to Yorkie pups and if it is in plain sight, please place a tight lid on it that is heavy for your pup to remove.
3.      Furniture and décor
Keep shoes in the closet
Look around for any small objects that your pet can chew or swallow and remove them
Clear the coffee table which is easily accessible to a pup
Secure lamps that can be easily knocked over.
Tie up curtain tassels and blind cords. Your curious puppy could get entangled or even choke in it.
In the bathroom, always keep the toilet seat down. Yorkies are tiny and could even drown in the commode.
4.      Medicines
Before bringing your little dog home, secure all medicines in a box with a tight lid. Remember: no box is fully Yorkie-proof during their teething phase and human medicines can be toxic to your pet.
5.      Cleaning supplies
Just as chemical cleaners can be harmful to humans, they can be even worse for this little dog. So place them under lock and key. If there are spills, wipe them clean right away.
6.      Yard/garden
If you have a yard with a fence, consider securing it. Yorkies can dig easily and run away or escape. This small dog needs very little space to crawl under, so make sure there are no such weak spots in the fence. Also, ensure there are no sharp or dangerous wires protruding that could hurt your Yorkie.
There are many plants that are toxic to dogs. Chewing on their leaves could end up being fatal for your dog. Have these removed or put a fence around them so they are inaccessible to your curious pup.
7.      Stairs and balconies
Consider placing baby gates or secure your stairs to prevent your pet from going up and down. Young Yorkies could fall and suffer fractures since their bones are not fully developed.
Give your house a thorough cleaning and remove dirt and objects that your young pupper could lick or chew.
Essential Supplies to Buy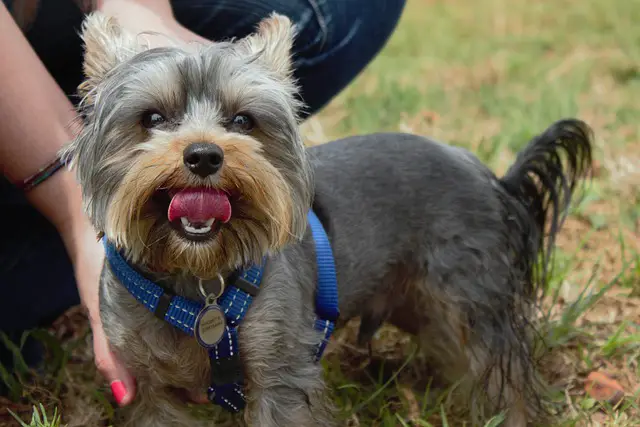 Families spend months planning for their Yorkie's arrival.  A young Yorkie pup doesn't need much, but it can help to have some basic supplies on hand. These can help make your pet feel more comfortable.
Here are some basics to buy and keep at home before your pet's arrival:
1.      Collar and leash
Buy a collar that is the right size for your Yorkie's neck. This will help your pet grow into it. Make sure you can easily slip two fingers under the collar. Choose a sturdy, well-made leash and collar. The leash should be at least 4-feet long.
2.      Crate
A crate can help with potty training (discussed later in this guide) and also provide your pet with a comfortable, secure, and enclosed resting area.  Make sure that the crate is high enough for your Yorkie pup to stand up. If you buy an adult-sized crate, section off one end of the crate with blocks so that your pet won't use it as a toilet.
Also Read: How to Crate Train a Yorkie?
3.      Bedding
Your Yorkie pup will need warm and cozy bedding to sleep. You have plenty of variety in Yorkie dog beds these days – from donut shaped beds, hooded ones, to ones made with soft fleece or sheepskin reminiscent of mother dog's fur.
4.      Food and water bowls
Avoid plastic bowls as they can develop minuscule cracks and harbor bacteria. Instead, select stainless steel, ceramic or glass bowls.  Always keep fresh water for your pet to drink. Avoid keeping food bowls filled as free-feeding can cause obesity in this small dog. (We'll cover Yorkie's feeding and calorie-needs in detail, later in this guide.)
5.      Food and treats
Your Teacup yorkie may be small but this little guy can eat! Feed it high-quality dog food and dog treats. Your breeder can recommend them or you can check out our guide on Best Food for Yorkie Puppy.
You will also need to stock up on healthy training treats as they will help you immensely during training. Choose treats that are low in calorie and won't fill up your pup too much.
6.      Grooming supplies
You will need to brush your Yorkie daily. This will keep its coat free from mats and tangles and also keep it health, shiny, and free from parasites. Select a high quality grooming brush based on this guide. You also need a ph-balanced shampoo for Yorkie.
Also invest in dog toothbrush and toothpaste for your furry companion. We will cover some more grooming supplies you might need, in later sections.
7.      Toys
During your pup's teething phase, it will want to chew everything. If you don't have good teething toys on hand, you might as well kiss your clothes, slippers, and furniture goodbye! Look for sturdy chew toys that can withstand some heavy-duty chewing. Always monitor your Yorkie while it is chews and discard worn out teething toys right away.
8.      Cleaning supplies
During your pet's toilet training phase, it will pee and poop everywhere. That is why you need strong enzymatic cleaners that can help break down the stains and odors. These cleaners can also prevent your dog from soiling the same spot again.
9.      Potty-training pads
Invest in high-quality potty pads so you can train your pet to go potty on them. This will ease cleanup and also make toilet training a lot easier. Alternatively, train your dog to go on newspapers. Make sure you have plenty of newspapers on hand.
Also Read: Are Yorkies High-Maintenance?
The Big Day: Bringing Your Yorkie Home
1.      At the breeder's
Ask for a few days worth of dog food so that your pet has something familiar to eat. Any drastic changes in diet could cause an upset stomach, so always start slow. Collect all the paperwork from the breeder. Plan to spend at least an hour at the breeder for your puppy to play with you and get familiar with you.
This way, you both can hear the instructions your breeder gives. In the excitement, it is easy to forget something. Your friend can also drive you while you comfort your Yorkie in the car.
2.      In the car
It is a good idea to let your Yorkie pup explore the car first. It is its first car ride, so it is important not to feed your pet too much. Puppies could get carsick, so ask the breeder to withhold its food.
3.      Upon arrival at the house
Let your puppy explore around. However, set the house rules from the start. Do not shout or hit your pet. This will make only it shy and afraid. Instead, be assertive, relaxed, and keep the environment stress-free. Make sure you show your pet where to pee/poop.  If it goes in the designated spot, congratulations! You have begun your pet's potty training!
Teach your pet its name. Every time it looks at you, say its name. Give your pet something to eat and soon you will have a loyal, loving companion on hand!
Also Read: Can yorkies be left alone?
The First Few Days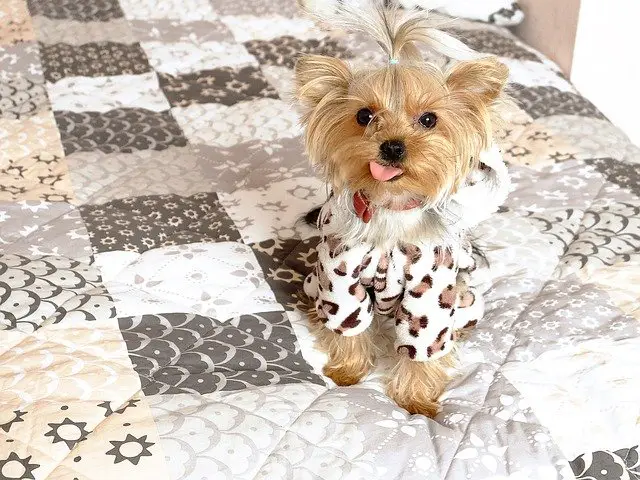 The first few days in your home will be tough for your little dog. It will cry for its mother and siblings and will wake up frequently to go potty. Try and comfort your pet as much as possible. It is a good idea to schedule some time off work so you can spend time with your Yorkie puppy and help potty train it. You can bring along an old t-shirt for the mother dog to roll on at the breeder's. This will help your little dog feel closer to the mother by sniffing her scent on the t-shirt.
It is a good idea to crate your pet from the first day. This will help provide a secure and safe spot away from noisy kids or other house-pets. You can keep a clock wrapped in a blanket to mimic your pet's mother's heartbeat. This can help it sleep better.
Never crate for more than few hours at a time.
Place toys and treats in the crate so your pet associates the crate with a happy-spot.
Always make your Yorkie puppy go potty before crating it.
Also Read: Do yorkies get attached to one person?
Yorkie Puppy Food and Nutrition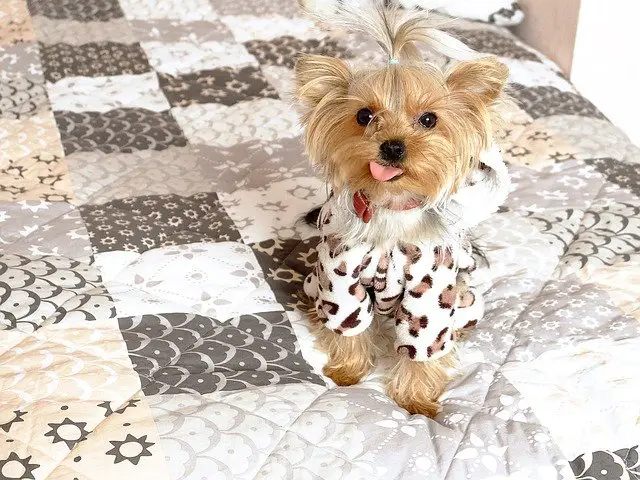 Your Yorkie needs a high-quality meat-based dry or wet dog food that will provide it with protein, vitamins, minerals, as well as DHA for optimum brain development. Check out our detailed guide on the best dog food for Yorkie puppy.
As mentioned before, be sure to bring some food from the breeder so your pet can eat that in the first few days. Do not make any sudden dietary switches as they can cause stomach upset and indigestion in your young dog.
Also Read: 30 Worst Foods Your Dog Should Never Eat (#10 Is Important!)  
Pro Tip: Soften the kibble with some water or chicken broth. Many Yorkie puppies love their kibble served this way. You can also warm up the food a bit to enhance its taste and flavor.
Yorkie Puppy's Calorie Needs
The calorific needs of your Yorkie puppy will depend on its age, activity levels, and weight. In general, your pup needs 90-100 calories a day and you can divide this into 3-4 small meals. Check the calorie content of the food you feed your pet and measure accordingly.
How much food to feed your Yorkie puppy per day?
In general, Yorkie pups tend to use a lot of energy as they train and explore the world around them. And because this is a small breed, they do not have energy reserves for this purpose. Therefore, you need to feed your pet 3-4 small meals through the day. You can feed your puppy ¼ to ½ cup of dog food every 3-4 hours.
Yorkies suffer from a condition called hypoglycemia. This means that their blood sugar levels can dip dangerously if they play too much and go without food for several hours. If your pet appears lethargic, sleepy, and uncoordinated, feed it right away. You can also administer some sugar syrup to revive your pet.
Should You Feed Wet or Dry Dog Food to your Yorkie Puppy?
The choice of wet or dry depends entirely on you, your convenience, your pet's preferences, and your vet's advice. Generally, this breed does well with dry dog food because the hard kibble can eliminate plaque. Remember: this breed is prone to dental issues, so dry food may be a better choice.
Feeding Practices
There are different methods of feeding a puppy such as:
Free feeding
Some people leave plenty of food outside for their dog. This is called free-feeding but it isn't the best for your Yorkie. It can lead to weight gain and your pet will do best with scheduled meals.
Scheduled feeding
Scheduled feed can prevent unhealthy weight gain and can also help you with your pet's potty training.  You can teach your pet to go potty and relieve itself after every meal. This can considerably speed up potty training.
Feeding guidelines
Up to 4-weeks, your Yorkie puppy needs its mother's milk.
After 4-weeks, your breeder will start feeding your pup dog food. A 4-week old Yorkie needs about 30-40 calories divided in 3-4 meals.
By 1 month or 8 weeks, your Yorkie pup weighing about 1-2 lb. needs 90 calories per day.
An adult Yorkie can be fed 2 meals per day and you can reduce the number of calories based on your pet's weight.
Always keep plenty of fresh water for your Yorkie to drink all day. Clean the water bowls regular as it can accumulate slime.
Also Read: How to Remove Slime from Pet Water Bowls?
Yorkie Puppy Exercise and Playtime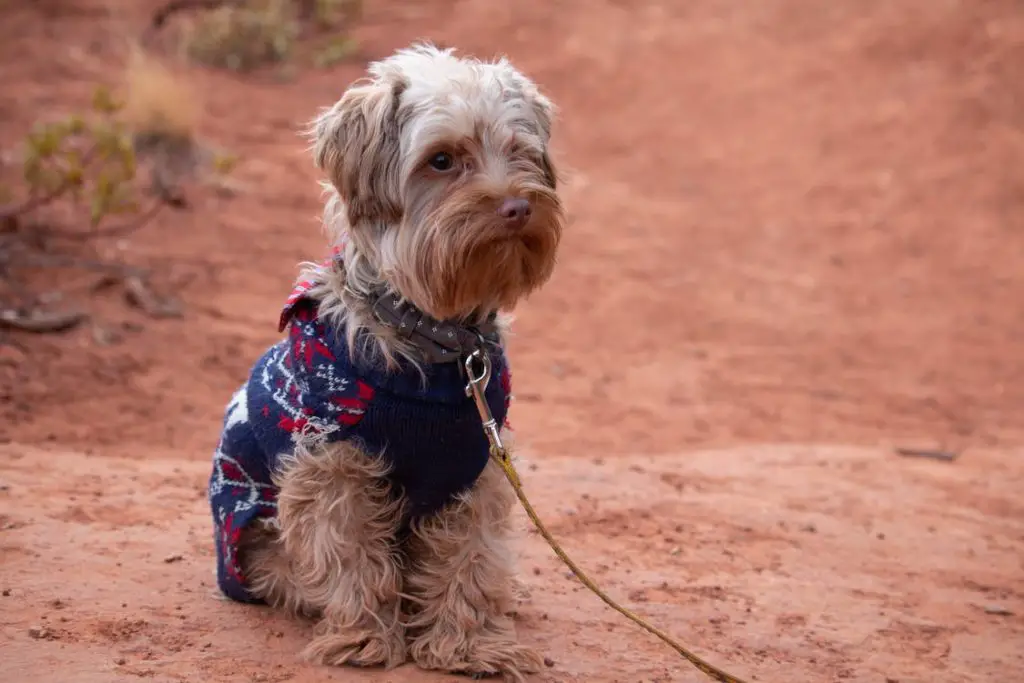 Your young pup does not need too much exercise but that should not stop you from playing with it. Spend plenty of time having indoor fun with your tiny dog. This is the advantage of this breed: you need not take it outside all the time and can have good fun indoors too. Note that you will also be training your dog, so that should also help it expend energy and burn calories in a healthy manner. We will cover training later in this guide.
Games played indoors are a great way to keep your young pet happy and healthy. It is tough to play games with Golden Retriever or German shepherd inside the house but with a Yorkie, the sky is limit.
Invest in some toys for your pet. Include plenty of rope toys, discs, balls, etc. Here is a fun game to play with your small pet:
Throw a ball down the hallway.
Place some small 2×4 boards or short boxes every few feet. Your dog will have to run and jump, run and jump to get the ball. The height of the boards/boxes is short enough so you don't hurt or stress its growing bones.
Until your pet's vaccinations are over, avoid taking it outdoors and especially to a Dog Park. Your pet does not have the immunity yet to many canine diseases. So, it is best to play with it indoors.
Also Read: What do Yorkies like to play with?
Your Yorkie's Health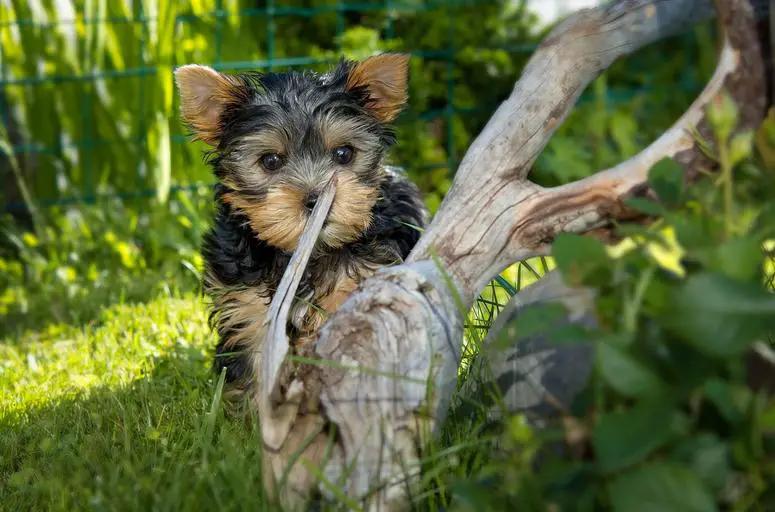 Signs of good health
Eyes – A healthy Yorkie will have bright, shiny eyes. There should be no yellow, green, or colored discharge.
Coat – A dull, lifeless coat is a sign of ill-health. Pups should have shiny, sleek coat.
Skin – There should be no scabs, flaking, redness, or blisters. If you see fleas, ticks, or other parasites, please treat them right away.
Ears – Your pet's ears should look clean, there should be no mites, gunk, or foul odor. A foul odor, hot ear, and/or swelling are signs of ear infections.
Gums – Your pet's gums are also an indication of its health. They should be pink not white.
Nose – Dog's nose is an indicator of its health. It should be moist and cold to touch. Dry nose is an indication of ill health.
Temperature – Normal temperature is between 100.5 F and 102.5 F.
Energy – Puppies are highly energetic. Any signs of lethargy, non-fluid movements, and anything that is out of your dog's normal character should not be overlooked.
Healthy weight – Your pet should not be underweight nor should it be overweight. If your pup's tummy hangs below, it may be overweight. Conversely, if you can see ribs, back, and hip bones, then it is underweight.
Also Read: When do yorkies change color?
Yorkie Growth Chart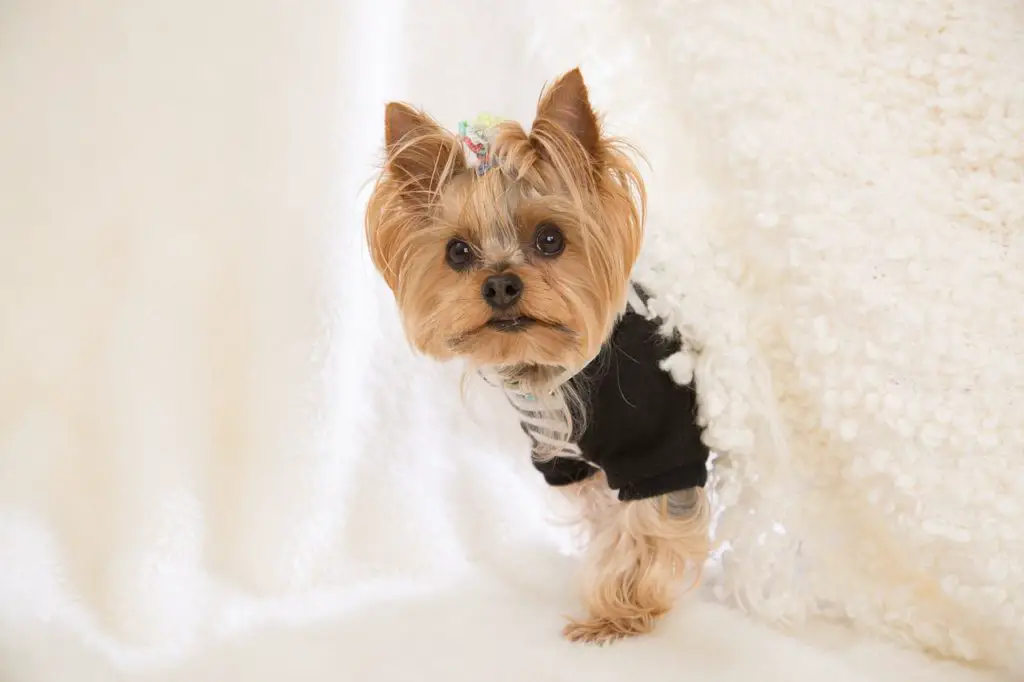 Not all Yorkies are the same. Some are teacup, some are small, and some are large. Some have short coats, some have longer coats. The shades of the coat can also vary.
The following growth chart can help you estimate how big your Yorkie puppy will get. Please note that these are approximate values only.
| | | | | |
| --- | --- | --- | --- | --- |
| Age | Tiny/Teacup Yorkie | Small Size | Medium Yorkies | Large Yorkies |
| At 1 month | 7 to 8 ounces | 9 to 13 ounces | 17 to 20 ounces | 19-21 ounces |
|   |   |   |   |   |
| At 2 months | 11-13 ounces | 16-22 ounces | 24-27 ounces | 29-33 ounces |
|   |   |   |   |   |
| At 3 months | 16-20 ounces | 24-34 ounces | 39- 43 ounces | 47-52 ounces |
|   |   |   |   |   |
| At 4 months | 21-26 ounces | 31-41 ounces | 46-51 ounces | 57-62 ounces |
|   |   |   |   |   |
| At 6 months | 27-33 ounces | 40-53 ounces | 60-67 ounces | 73-80 ounces |
|   |   |   |   |   |
| At 12 months | 2 to 2.5 lb. | 3-4 lbs. | 4.5 to 5 lbs. | 5.5 to 6 lbs. |
How to Tell How Big Your Yorkie Will Get
Divide your Yorkie's weight in pounds taken at 12 weeks by 12 and multiply the answer by 52.
This will give you your pup's weight at 1 year old or adulthood.
For example, if12 week old yorkies weigh 20 ounces (1.25 lb.), then applying the above formula:
(1.25 ÷ 12) x 52 = 5.41 lb
So, your adult Yorkie should weigh about 5.41 lb at 1 year to 1 ½ year.
Spaying/Neutering your Yorkie
The right time to spay or neuter your Yorkie is before it turns one year old. Female Yorkies tend to go in heat by about 6 months. Therefore, the right time to spay her is right before her first heat cycle. Speak to your vet and get your 12 week old yorkies 'fixed'. This can prevent many health issues like cancers.
Also Read: When to Neuter a Yorkie?
Flea and Tick Management
Fleas and ticks are deadly parasites and you should never ignore them. Your puppy needs monthly flea and tick protection.
Thankfully, there is great deal of variety in flea and tick products. You can choose from the following:
Spot treatment (drops applied on your pet's neck and at the base of the tail)
Collars
Injections – administered by a vet
Oral medicines
Sprays
Powders
In addition to the above, you must also clean and treat your house and yard for fleas. If you have found fleas/ticks on your Yorkie pup, then you will surely have them in your house and yard. For controlling fleas in the house and yard, use an Insect Growth Regulator (IGR) product . Repeat as often as needed.
Always read all product instructions carefully before using the flea products. Never use more than one product unless the label indicates. Always check with your vet as to which product is safest for your Yorkie pup's age and weight.
Also Read: How to Get Rid of Fleas on a Yorkie?
De-worming your Yorkie Puppy
8 week old yorkie puppy care includes de-worming.
All pups get roundworms from their dam's milk. Responsible breeders deworm puppies by squirting a dewormer medication(pyrantel pamoate) in the pup's mouth at 4-weeks. If your Yorkie is not from a breeder, make sure it is dewormed. Once your pet is home, you will need to de-worm it again at 8 weeks of age. Your vet can guide you – you can either opt for prescription dewormer or an OTC medication.
Left unchecked, intestinal worms or parasites can cause vomiting, diarrhea, and other health issues. Puppies with worms will fail to gain weight. So, take de-worming very seriously.
If you live in an area with mosquitoes, you will also need to administer a tablet for heartworms from time to time. In general, dogs in warmer areas will need heartworm pills all year round. Never make any decision about heartworm pills without consulting your vet.
Teething
4 week old yorkie puppy will start teething and by 6-weeks, it's deciduous or milk teeth appear. The teething phase can last for about 6 months. It is an intense phase and your pup will bite and chew everything it sees.
Remember: your pup might have gum pain which you can relieve by providing cooling teething gel-filled toys or dental chews.
If your pet has swollen, bleeding gums, or the deciduous teeth do not fall off completely by 8 months, please see your vet. Make sure you also train your puppy in bite inhibition so it will not bite your toes and fingers.
Also Read: When do yorkies stop teething?
Inherited Yorkie Disorders
The lifespan of a Yorkie is about 17-18 years. They are generally healthy and hardy dogs but they do have certain genetic disorders that can considerably shorten their life.
The most common genetic issues in this breed are liver shunt, anesthesia intolerance, cataracts, luxating patella, and tracheal collapse.
Your vet can examine your puppy for these issues as many of them can be caught early on and prevented and treated from the start. It is very important to buy your Yorkie from a reputed breeder, because they prevent breeding of dogs susceptible to such issues.
A very serious condition called reverse sneezing is also seen in this dog breed. It can occur due to various reasons including tracheal collapse. A Yorkie with reverse sneezing will honk like a goose or grunt like a pig.
Another common issue in the Yorkie is distichae. This leads to discharge from the eyes and their drainage can lead to tear stains in the eye area. You will need to use special dog food for tear stains to prevent this and also make use of wipes like Angel Eyes for removing tear stains.
Also Read: What Do Yorkies Usually Die From?
Yorkie Puppies Care Information: Caring for a Sick Yorkie Puppy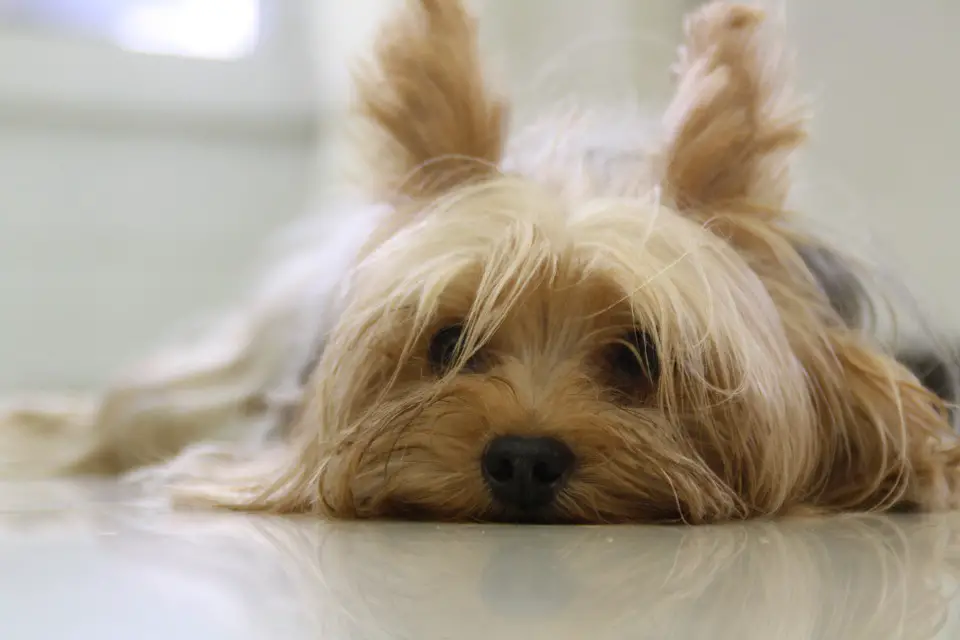 Vomiting and diarrhea
Puppies are naughty and they tend to eat stuff that isn't meant for them.  Vomiting and diarrhea can also occur if your pet eats poor-quality food, spoilt food, or from infections. Changing to a different dog food than the one your pet normally eats can also cause these issues.
If your puppy vomits, it is best to withhold one or two meals. But always make sure it drinks fresh water. You can also offer it some boiled chicken, rice, and bland food.
If your pet has diarrhea, then too switch to bland food. If the diarrhea persists for over 2 days, please see your vet.
Lack of appetite
If your pup is not eating, offer it some other appealing food. You could try some boiled apples, steamed fish, and ham.
Please see your vet if your dog does not eat for more than 36 hours.
Skin issues
Skin issues can arise due to food intolerance or food allergies. It is best to switch to a hypoallergenic dog food after consulting your vet.Skin problems can also occur due to external factors like grass, mold, parasites, etc. Use a vet-approved dog shampoo for Yorkies and, if needed, take your pet for professional grooming or medicated baths.It is important to not let your pup lick the skin sores. If needed, use a collar to prevent scratching, licking, and secondary skin infections.
Administering medication
Always keep a list of medicines and first-aid handy to deal with everyday/common issues. Your vet can recommend anti-diarrhea, anti-emetic, pain and fever-reducing and anti-histamine pills or syrups.
If you have to give pills to your dog, hide them in some food and administer it. These days, pill hider treats are also available and they make it very convenient to administer bitter pills to pets.
Importance of Routine Vet Checkups
An important aspect of taking care of a yorkie puppy includes routine vet checkups. Your pup will need many vaccinations in the first year and your vet can also guide you regarding your pet's diet, weight, overall health, reproductive health, parasite management, de-worming etc. During regular or routine checkups, your vet will perform the following checks:
Weight – s/he will advise you about the right diet plan.
Oral checkup, eye, and ear checkup
Your vet will also give you a vaccination schedule to follow.
Yorkie Puppies Care Information: Yorkie Vaccination Schedule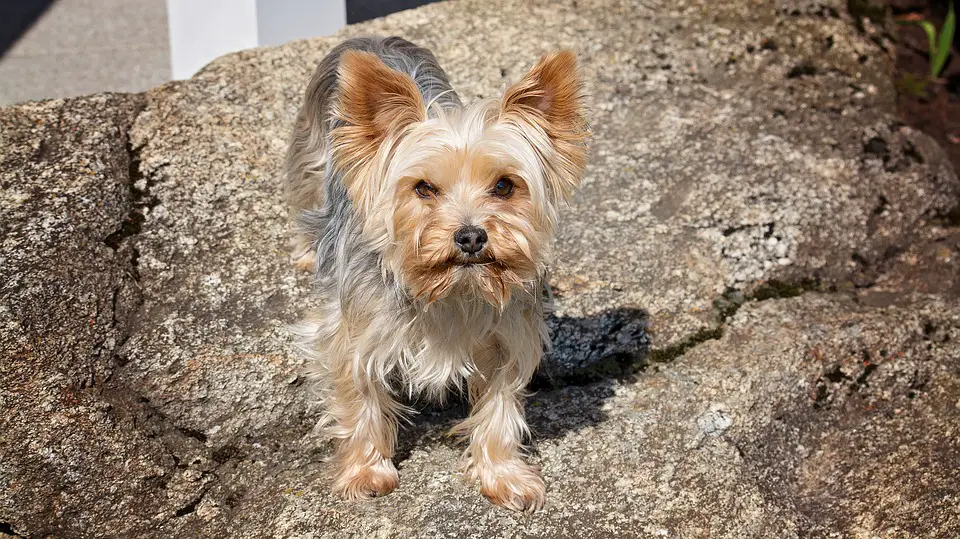 Your vet will advise you about the best time and schedule for your Yorkie's vaccinations. Here is a chart for quick reference:
| | | |
| --- | --- | --- |
| Name of Vaccine | When to Administer | What it protects against |
| Rabies | Given when pup is 12 weeks old. Your pet will also need a booster at 1 year. | Prevents the deadly Rabies infection that pups could get from the saliva or bite of an infected dog. |
| |   |   |
| DHPP | Given every 2-4 weeks starting from 6 to 16 weeks with a booster at 1 year.   | This is a 5-in-1 vaccine. It should be at the priority and your vet will definitely schedule it. It protects against Distemper, hepatitis, parvovirus, and parainfluenza. |
| |   |   |
| Bordetella | This vaccine can be given as per your or your vet's choice. Orally it may be given at 8 weeks with a booster at 1 year. Nasal one dose can be given at 3 or 4 weeks and injection (2 shots) can be given at 2-4 weeks apart starting from 8 weeks of age. | Prevents Bordetella which causes kennel cough |
| |   |   |
| Leptospirosis | Two injections 2-4 weeks apart starting at 8 or 9 weeks of age. | Protect against Leptospirosis infection that can lead to kidney damage. |
| |   |   |
| Lyme disease | This is usually given at the vet's discretion if you live in an area with ticks. It is given at 8 or 9 weeks of age. There are 2 shots of this vaccine given 2-4 weeks apart. Annual booster is also needed. | Protect against Lyme disease caused by ticks |
| |   |   |
| Canine influenza | There are different strains of canine influenza like H3N8 and H3N2. Your vet will give two shots of each at 6 to 8 weeks with a gap of 2-4 weeks. Booster is also needed annually. | To protect against different canine influenza strains. |
Training and Socializing your Yorkie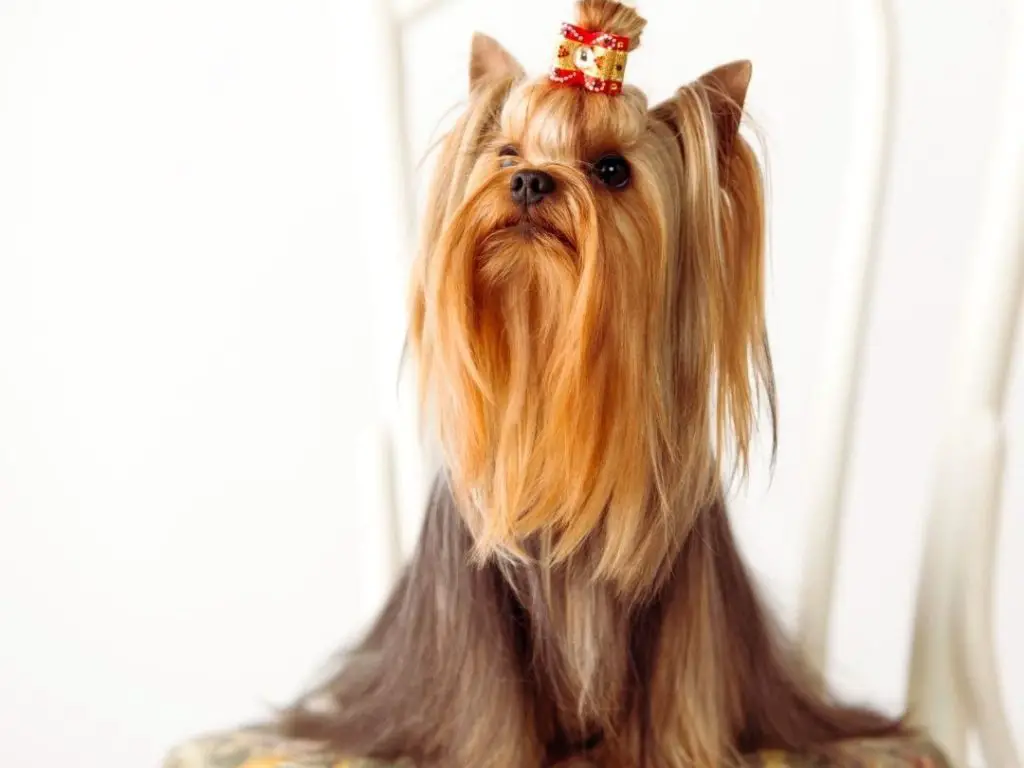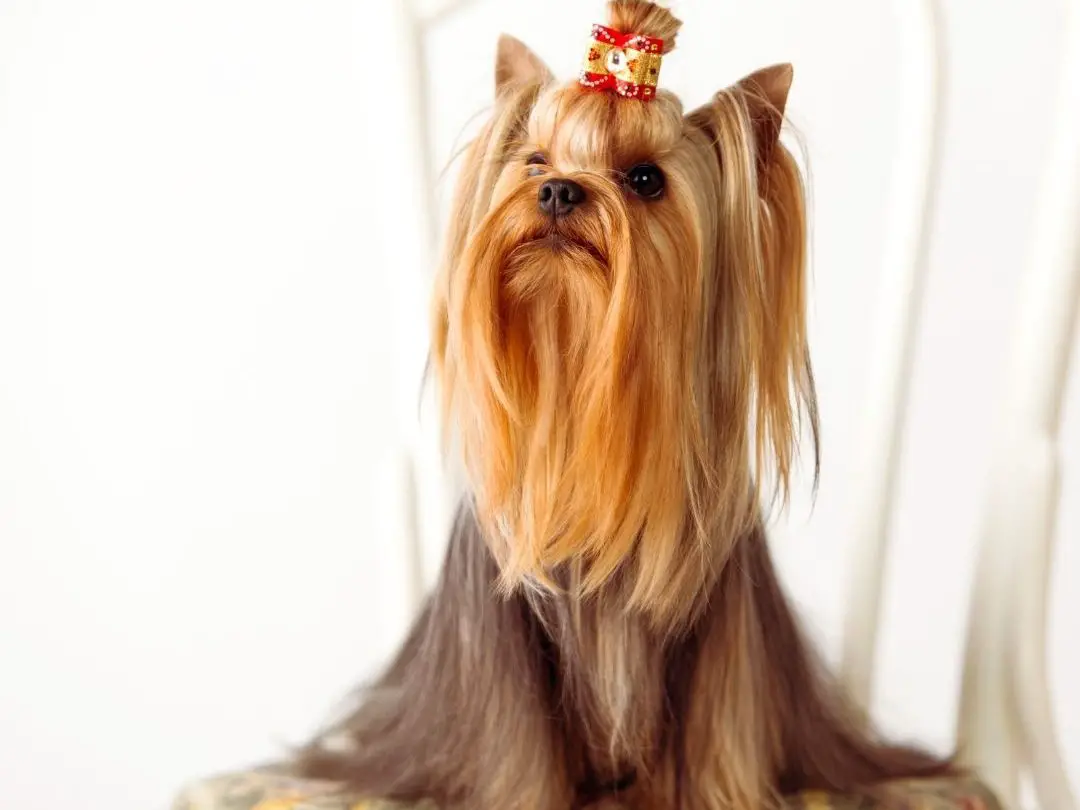 Before we discuss training and socialization, it is important to discuss a yorkie's temperament and personality. This can give you great insights and help you during the training process.
Your Yorkie's Personality and Temperament
The Yorkshire terrier temperament can be best described as a 'small dog in a large package'. This is a protective, loyal, loving, and intelligent breed but they tend toshow an air of superiority. Do not expect this dog to be a sluggish little couch potato; your tiny dog needs plenty of exercise and it won't be satisfied in being a submissive lapdog.
Also Read: Are yorkies smart?
Yorkies are easily one of the most intelligent dog breeds and this makes them fairly easy to train. However, a dog's intelligence can be a double-edge sword in that; it could even hinder training. You will find that you need to spend a lot of time in training and socializing your Yorkie. Without training, your Yorkie might easily start thinking it is the alpha and won't hesitate showing passive aggressive behavior as well. Without socialization, your pet might suffer from separation anxiety too.
The good thing about Yorkies is their innate desire to work with humans and that is one aspect owners must use when training their small dog. One also mustn't forget here that the breed has a lot of terrier blood in them. Terriers were bred to trap rats and vermin and because of this history, they have a high prey drive. Some terriers are also hunting dogs. So, you will want to channel this natural instinct through plenty of exercise, and consistent training, and socialization. These tools will help tame your terrier and also make it more confident.
Remember: dog training can seem like a chore in the beginning but if you go about it consistently, patiently, and with love, you will soon have a well-behaved companion for life.
Yorkie's Potty Training steps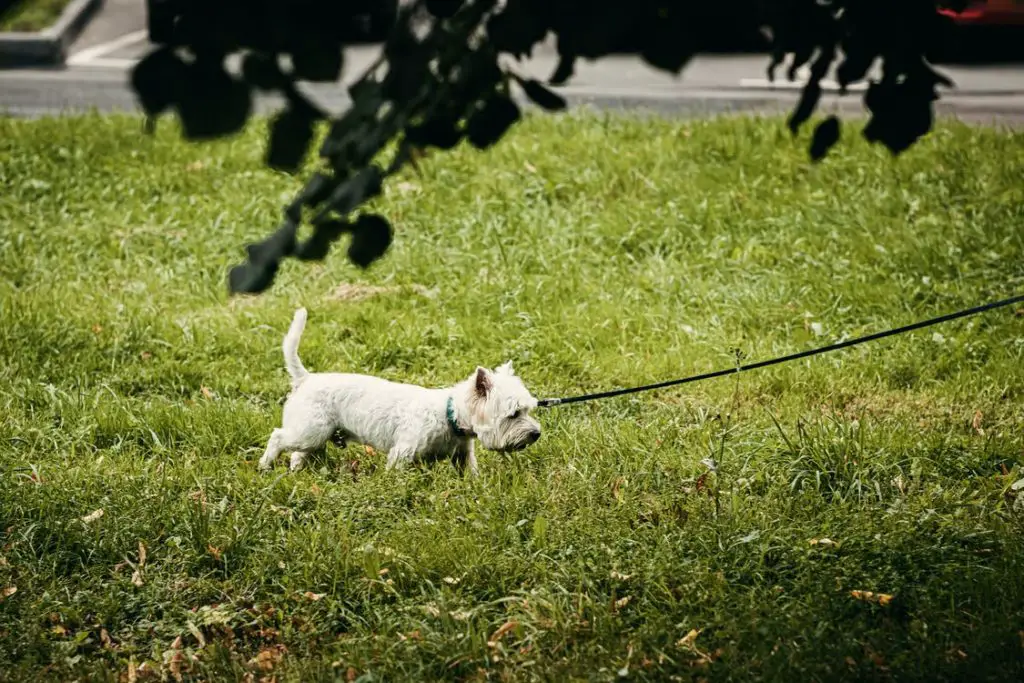 Welcome to the toughest part pet-parenthood: Potty training.
The basics
Potty training a Yorkie can be as easy or as tough as you make it to be; it all depends on your attitude. You can 'choose' how you go about potty training: with irritation or with love and patience.If you use the latter, you can even get your pet trained within 3 weeks. Yes, you read that right: it is entirely possible to potty train your Yorkie within a month.
The key is to start from day one: your Yorkie puppy's potty training should begin the day it walks through your front door. Within the first hour that your pet is home, it will want to pee. It will even pee as soon as it is out of the car! Assign a dedicated pee/potty area which is easy to access and easy to clean. It can be your yard, a bathroom, or simply your balcony or terrace.
Also Read: How to Stop a Yorkie from Peeing in the House?
Now that you know the basics, let us dive into it right away.
Step-by-step potty training your Yorkie
Establish a routine–Yorkie pups, like all puppies, do well with a schedule. Typically, your young dog can only control its bladder for about an hour. Yorkie pups have tiny bladders and they need to empty it very frequently. So, in the beginning when your pet is about 8 weeks old, you need to take it to the designated potty spot on the hour, every hour.
Assign a designated potty spot – This can be indoors, in your yard, and even in a balcony on a dog potty training pad. Be consistent in this and make your pet only use this spot each and every time. Do not change the location of the designated spot as it can confuse your pup.
Take your pup to the spot frequently – For Yorkie pup 8 weeks old, you must take it to the pee pad/yard after every one to two hours. Also, take it to the spot after it has had its meal. Thus, if you feed your pet 4 times a day, then it will have to poo or pee after each of those meals.
Choose a command word – Every time you take your Yorkie to relieve itself, use a command word, such as 'Go potty' or 'Pee pee'. Use the same word each time and treat your pet with a healthy, low-calorie treat the moment it relieves itself. This step is very important because it will help your Yorkie understand that it only gets rewarded when it relieves itself outdoors. Before rewarding, be sure your pet is 'finished its business'. Pups can get very excited and might not empty their bladder completely at the sight of the treat.
Put your Yorkie on a regular feeding schedule – Just like human babies need feeding at designated times, it is important to feed your Yorkie at designated times. This can immensely help with potty training since you can take your pet outdoors to the designated potty area and avoid indoor accidents.
Stop feeding water before bedtime – Pick up your Yorkie's water bowl at least 2 hours before bed time. This way; it won't drink too much water and you can avoid accidents at night time.
Crate your puppy – Crate training and potty training must be done simultaneously. Your Yorkie will not soil its crate and it can considerably reduce your cleanups. Always take your pup to the potty area before crating it for the night.
Watch out for signs – Your pup will show signs that it wants to go potty by circling around, sniffing, scratching, or barking. When you see these signs, take your pet to the designated potty area right away. If your pup eliminates outdoors, praise and treat it right away.
Manage indoor accidents positively – Accidents will happen; even a fully-trained Yorkie – at some point or another – will go potty indoors. Do not shout, hit, or punish your pup by rubbing its face in the mess. These outdated training techniques show no results and can even make your pet very aggressive or timid. Instead, use a strong cleaner to calmly clean the mess. An enzymatic cleaner will break down the smell and stains so your pup won't eliminate in the same spot.
Also Read: Why are yorkies so hard to potty train?
Basic Obedience and Socialization
The seven basic commands every dog should know are SIT, STAY, DOWN, COME, HEEL, OFF, and NO. You can start teaching these commands from the time your Yorkie is 8 weeks of age. This is the time they learn quickly and absorb and grasp things easily.
Here are some steps and rules of dog training:
Do not repeat the command too often – Use the same command once or twice. If your pup attempts to even try a little bit, reward it. If your dog ignores you, do not reward it.
Keep the training session short – Yorkies, like all pups, have short attention spans. So do not stretch the training for too long.
Keep training positive – End each session with plenty of petting, playtime, and fun. This way, your pup will look forward to it. Never shout, hit, or punish your pup as this will only make it obstinate and rebellious.
Be consistent – Train every day at the same time. Repeat the lessons learned the day before.
Enroll your pet in obedience school – This can help in two ways: it can help your pet socialize with other dogs and you can also work with professional dog trainers to teach your pet positively and strengthen your loving bond. A bold Yorkie is less likely to suffer from separation anxiety as well.
Socializing your Yorkie
Take your dog for frequent walks once its vaccinations are over.  Work your way slowly to the dog park. This allows yourpup meet other dogs and people.
Have friends come over.
Take it on car rides to different places and not just the vet.
Enroll it in obedience school.
If needed, seek help from professional dog trainer.
DIY Grooming Your Yorkie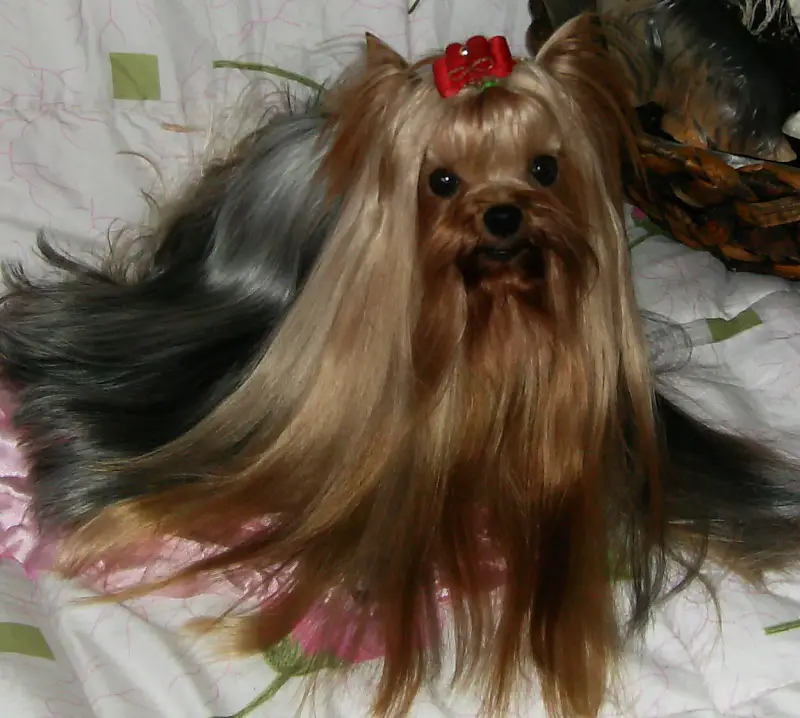 Here are the steps for everyday or regular grooming of your young Yorkie:
1.      Brushing
Invest in a high-quality brush for Yorkies. Begin by brushing from head to tail, each of the legs, and chest, in that order.
Also Read: Why is my yorkies hair not growing?
2.      Clean its eyes and ears
Before bathing your Yorkie, clean its eyes with pet eye pads and its ears with special ear cleaning wipes .
If needed, gently trim the excess hair around the eyes and ears as they tend to accumulate gunk. Remove the wax from the outer ear only and do not go very deep inside the ear canal.
3.      Bathe your pet
Pour water all over your Yorkie's coat to wet it thoroughly.
Use a vet-approved, ph-balanced shampoo to bathe your fur buddy.
Avoid getting shampoo in your pet's eyes. Let the shampoo sit for a while.
Rinse thoroughly. If needed, repeat shampooing. Else, use a conditioner and allow it to sit for a while. Rinse thoroughly.
Dry your pet with a towel or a hair dryer. Use the hair dryer on medium or cool setting only.
Nail care
Trim your pet's nails by walking it regularly on gravelly surfaces.
You can also clip or grind your nails down with a clipper or a nail grinder.
Do not cut too close to the 'quick' as it can cause pain and bleeding in the nails.
If needed, seek help of your vet to keep your pet's nails short.
Oral care
Brush your dog's teeth daily.
Provide your pet with dental chews to minimize plaque and tartar, and to prevent periodontal disease.
Use pet water additives which help freshen up doggy breath.
Arrange for regular dental scaling at the vet's once a year.
Conclusion
These are the basic steps of Yorkie puppy care. We hope this guide helps you have a wonderful loving bond with your Yorkie puppy.
Don't forget to check out other resources on how to care for a yorkie puppy by clicking this link.