The best dog beds for Yorkies are small, cozy, and comfortable for your small pet.
If your Yorkie had a say in the matter, he would want to sleep next to you in your bed.
That isn't such a bad proposition, given the fact that Yorkies don't shed too much nor do they occupy too much room.
However, if you are a heavy sleeper or are worried you might crush your little buddy, then the best dog beds for Yorkies are a safer option.
In this guide, we have handpicked 6 top beds for your pet.
These beds are just the right size for your Yorkie and we have included varieties such as covered beds, orthopedic beds, sofa-style beds, and so on.
Just in case you are in a hurry, click on our short summary below to view our Top reviewed products for the best dog beds for Yorkies:
Best Dog Beds for Yorkies – 2022 Top 6 Picks
Best Friend's By Sheri donut shaped bed measures 23 x 23 inches and has a height of about 7 inches. This is ideal for our Yorkies small frame.
We love the bed for its soft plushness. It is filled with non-toxic AirLoft fiber and has cozy shag nylon faux fur cover with higher edges that provide a comfortable resting place for your Yorkie's head and neck.
You get a choice of four different colors and sizes in this calming, anxiety-soothing, and joint-supporting dog bed.
Best Friends By Sheri dog donut bed is also lined with water-resistant material that prevents urine or drool from seeping to the floor.
Moreover, this top-rated dog bed for Yorkies is made with responsibly sourced materials and is free from toxic ingredients.
Last but not the least, you can toss the entire bed in the washing machine for easy cleanup.
What we like about it
Calming donut shaped and appropriate size bed for Yorkies
High-quality materials with water and dirt-resisting bottom.
Washes well
Nontoxic materials: no lead, mercury, formaldehyde, etc.
Optimal neck, joint, and muscle support
What we don't like
The faux fur tends to get matted and bottom of the bed is slightly thin.
Give your Yorkie the gift of better sleep with the Best Friends By Sheri Oyster-style hooded blanket-bed.
If your Yorkie loves to burrow, then this is the bed for it! Its blanket hood provides security and warmth while the bottom relieves aching joints and pain.
Whether your Yorkie sleeps sideways, curls up in donut position, or is a black sleeper, this Oyster bed will provide plush comfort in all positions.
Best Friends By Sheri uses premium materials in all their products so you can expect nothing but the best from this brand. There are no toxins, chemicals, or harmful materials used in making it.
What we like about it
Superior comfort optimal size for small dogs
Durable
Dirt and water-resistant bottom
Easy to clean and maintain – washing machine and dryer safe
What we don't like
Blanket cover isn't large enough for some pets.
Petmate Aspen self-warming bed is unique and different from other best dog beds for Yorkies thanks to its heat-reflecting technology.
What this means is that the bed's material uses your pet's body heat and reflects it to provide ultimate warmth and comfort to your buddy.
Dimensions of the bed are 19.5" diameter. Its depth is ideal for dogs that like to burrow and nest.
This high-quality dog bed is made with faux lambs-wool and Mylar interior lining.
Being lightweight Petmate Aspen dog bed is great for taking on trips.
What we like about it
Heat-reflecting pet bed ideal for aching joints and warmth on cold days
Comfortable depth
No plug needed
Available in several color choices
High-quality materials, plush softness
Lightweight, great for travels
What we don't like
Friends Forever Orthopedic dog bed has a superior functional design that relieves pressure and provides optimal support to your Yorkie's musculoskeletal system.
Human-grade foam, which is what this bed is made of, is a great material for Yorkie beds as it relieves pressure on your pet's back and joints to give it a great night's sleep.
Dimensions of the bed are 20 x 25 inches with a height of 5.5 inches – ideal for small dogs and it is available in 4 attractive colors.
Whether or not your pet has joint-related issues, this bed is a great choice as it could help prevent these conditions in the future.
 It is especially designed for long-term lounging and we all know how much Yorkies love their sleep!
Friends Forever Orthopedic dog bed also resists pet hair and body fluids making cleaning it hassle-free.
What we like about it
Exceptional comfort and support for your pet's muscles and joints
Made with human-grade mattress foam
Extensively tested for maximum joint support
Non-skid, slip-resistant bottom
Durable and chew resistant
What we don't like
Does not wash too well – tiny rubber dots at the bottom tend to come off.
This indoor pet house is a huge hit with most Yorkies since it provides them with security and comfort.
On the inside, it has a plush foamy-lining which your pet will love sleeping upon.
Dimensions of the house are 16 x 16 x 14 inches which are ideal for providing all the security and privacy your Yorkie is sure to appreciate.
Since the house acts as a crate as well, it is great to travel with. Being lightweight, it is easy to carry along.
Furthermore, it washes well and won't shrink or warp.
What we like about it
Secure den-like construction which Yorkies love
Plush soft comfort- provides warmth, coziness, and security
Easy to maintain
Great for travels
What we don't like
Hair sticks to the material
Some dogs jumped on top of it!
Sofa-style dog bed comes with bolsters on three sides that resemble a sofa or divan. Your Yorkie will feel like royalty on this great sofa-style egg crate orthopedic bed!
Furhaven sofa-style dog bed is perfect for Yorkies that need a raised platform for cushioning their head and neck. In addition, it can be used by diggers and burrowers.
This bed is made of egg crate orthopedic foam that cushions your pet's spine and joints and relieves pressure on them.
It also enables better weight distribution making it more supportive for dogs with neck, back, and joint issues.
The dimensions of this bed provide a sleeping area of 15 x 12 inches which is ideal for standard-sized Yorkies.
It features a soft-to-touch material with quilted padding on top and medical-grade ortho foam that reduces pressure on joints and relieves aches and pains.
 It also allows better airflow to reduce moisture and prevent mold and mildew on it. The breathability feature also means better and more restorative sleep.
Furhaven dog beds also feature removable covers which make cleaning them very easy.
What we like about it
Yorkie-friendly design with raised edges and optimal size
Medical-grade ortho-foam for joint pressure relief
Uses recycled materials
Available in many great colors
What we don't like
Not for aggressive chewers!
What Are the Features to Look for in the Best Dog Beds for Yorkies?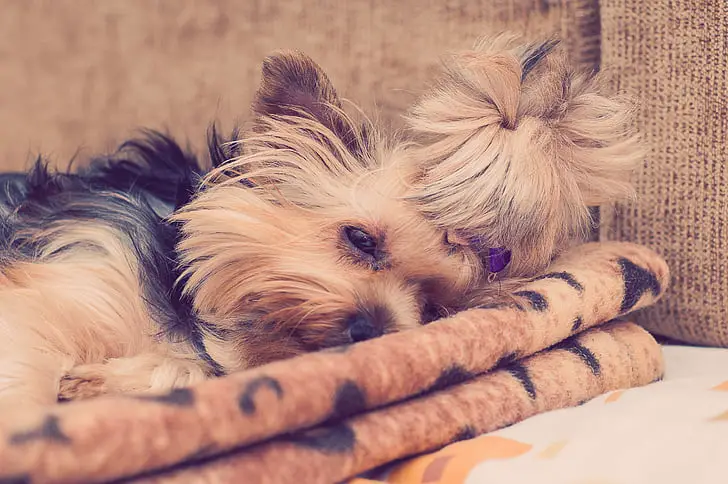 Your Yorkie's comfort is paramount and since its bed is where it will sleep and lounge throughout the day and night, you must select it wisely.
What you need to look for is a high-quality bed that is within your budget but also takes your Yorkie's needs into account.
There are a lot of different dog beds for Yorkies in the market, so it can be hard to choose. Here are some features to look for in the bed:
A. Size
This is the first thing to consider in your pet's bed.
A Yorkie needs a sleeping surface of at least 15" x 12". This size is ideal for dogs weighing up to 10 lb.
In case you go for raised or tall beds, then the height should not be more than 6 to 7-inches. Go in for shorter beds or bed pads if your pet has joint-related issues.
Also Read: Best Dog Bed for Chihuahua
B.  Type of dog bed
There are many types of Yorkie dog beds that come in different styles and designs. These include:
Donut bed
Shaped like a donut, this bed is very cozy and provides a secure feeling to your pet.
Kennel or crate beds
In case you plan to crate your Yorkie, then you need a crate bed. This is flat and should fit inside the crate.
Most crate dog beds are water resistant and that makes them travel friendly as well.
Here is a good crate for Yorkies: PetMate Aspen Single Door Training Crate.
And a crate mat to go with it: American Kennel Club Mat .
Nesting style bed
This has higher sides and raised edges with a center cozy spot where your Yorkie can nest or curl up.
Orthopedic support beds
Since Yorkies are prone to musculoskeletal issues and joint aches, you can prevent pressure on their joints by using orthopedic beds.
Such beds typically have a memory foam padding which relieves pressure on the joints. They are especially recommended for Yorkies susceptible to (or suffering from) hip and elbow dysplasia, arthritis, etc.
Covered beds
Like their name suggests, covered beds come in the shape of an indoor kennel which provide a sense of security and comfort to your Yorkie.
They can also prevent draughts and are ideal for cold weather.
Whichever type you select, take into account the length, width, and height, as well as your dog's weight.
C. Material
Ensure that the bed you choose is soft and plush because your Yorkie will love such surfaces.
The materials used should be free from formaldehyde, toxins, etc. and should use sustainable sourcing.
Also make sure that the bed is easy to wash. Most beds come with removable and washable covers that can be tossed in the washing machine.
If you travel frequently with your little buddy, choose a bed that is waterproof or water resistant
D. If your Yorkie is a Chewer
In case your Yorkie loves chewing its bed, then you need to look for a chew-proof beds made with sturdy materials such as nylon.
Avoid beds having protruding labels, zips, seams, and tassels which your Yorkie could chew and swallow causing choking hazards.
What Accessories Should You Select With the Best Dog Beds for Yorkies?
To make your Yorkie's sleep even more comfortable, we have some functional accessory suggestions for you. Use these with one of the best dog beds for Yorkies above.
1. Blankets
Blankets can provide a greater sense of security to your pet while protecting your furniture.
You can also use them on the couch, in the car, during travel, inside the crate, or on your bed in case your Yorkie sleeps on it.
We recommend the iNNEXT 3 pack blankets .
2. Plush Toys for Soothing Anxiety
If you leave your Yorkie alone and it has separation anxiety, then a cuddle toy for anxiety soothing can provide much-needed relief.
They are very handy during crate training when you are teaching your Yorkie puppy to sleep by itself in a crate through the night.
Many toys come with pulsing "heartbeat" and are great for new puppies while transitioning to your home. Some even come with heat packs to provide extra warmth and coziness to your fur baby.
We recommend SmartPetLove Snuggle Puppy Behavioral Aid Toy .
Also Read: Are Yorkies Easy to Train
3. Folding Pet Steps
Just in case your baby wants to curl up next to you on a sofa or your bed, then a set of folding steps can help your small dog easily climb up by itself.
Foldable steps are anti-skid, durable, and fold down to a small size for easy storage. They can prevent the need for you to pick up and carry your pet every time it wants to snuggle next to you.
We recommend PetSafe CozyUp Folding Pet Steps, Foldable Steps for Dogs .
FAQs on Best Dog Beds for Yorkies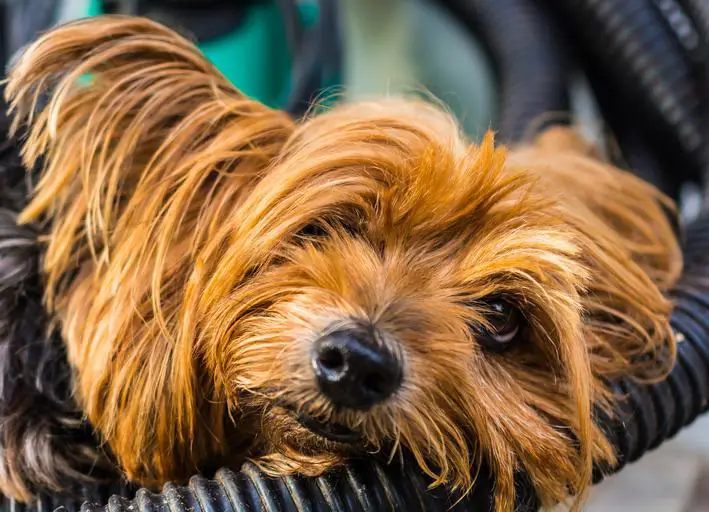 1.  Do All Yorkies Need Orthopedic Beds?
Small dogs like Yorkies, toy poodles, and Pomeranians are prone to 'trick knees' which can cause arthritis later.
They are also susceptible to hip and elbow dysplasia, Legg-Calve-Perthes Disease, and luxating patella which are issues affecting different joints.
In order to prevent these problems, some Yorkie parents use orthopedic beds for their fur-babies right from the start. These could, to some extent, reduce pressure on the joints giving your pet a restful sleep.
Speak to your vet if your pet needs an Orthopedic bed as preventive measure against joint problems.
2.  Why Does my Yorkie Dig Its Bed?
Like many other dog breeds, Yorkies turn around a few times in their beds, start digging, and won't stop until they have made a big mess of their sleeping area.
Experts believe that this is an evolutionary trait in all dogs left behind by their ancestors.
Dogs in the wild had to dig their own shelters and after digging they would plop down to get some much-needed shut eye.
Your Yorkie digs its bed or your bed, sofa, couches, and even your carpets before laying down and curling up.
 This helps them satisfy their digging instinct and also flattens the surface to maje it more comfortable.
3.  What kind of beds do Yorkies like?
Every dog is different and has different sleeping preferences. The same is the case with Yorkies.
Our Yorkie prefers donut bed but yours might like sofa-style bed. Most Yorkies look for warmth and security in their beds, so a covered dog bed is good option as well.
Since Yorkies are prone to joint issues in old age, an orthopedic bed is also a great option.
4. Can my Yorkie sleep in my bed?
Yes. Your Yorkie can sleep in your bed since it does not shed too much.
However, you must be careful not to hurt your pet, in case you toss and turn while sleeping.
Also, these are small dogs and they might need steps to climb up and down the bed as they please.
Otherwise, be prepared to place your Yorkie up and off the bed multiple times!
Conclusion – What Are the Best Dog Beds for Yorkies?
The best dog beds for Yorkies are soft, optimally sized, and easy on their muscles and joints.
They also provide a sense of security to your pet.
We recommend Best Friends by Sheri Calming Donut Bed because of its plush comfort, the use of non-toxic and sustainable materials, and its calming donut-shape which can relieve canine anxiety.
Do check out the other recommendations as well.