The best shampoo for Yorkies is designed for the breed's unique, silky hair. It gently cleanses your pet's coat without stripping its natural oils.
Some Yorkies also have specific skin conditions that require special shampoos. Yorkie puppies can benefit from the best shampoo for Yorkie puppies.
Based on all these factors, we have hand-picked 7 great Yorkie shampoo!
Just in case you are in a hurry, click on our short summary below to view our top 7 reviewed products for the best shampoo for Yorkies:
Also Read: When Do Yorkies Change Color
Best Shampoo for Yorkies – 2021 Top 7 Picks
Everyday Isle of Dogs shampoo is a top-rated dog shampoo formulated for dogs like Yorkies, Spaniels, etc.
Its moisturizing formula will make your pet's coat extra shiny and silky. In addition to this, Isle of Dogs Shampoo also detangles and soften coats to make long-hair more manageable and easier to groom.
We also love the fact that this shampoo has a pleasant, lingering, mild scent and suds easily. This makes your Yorkie's coat smelling fresh and long-lasting as well.
What we like about it
Pleasant vanilla-and jasmine scent
Produces a lot of foam, so little goes a long way, and the bottle lasts long
Leaves your Yorkie's coat soft, silky, shiny, and easier to groom.
What we don't like
Packaging issues and leaks reported.
We love Blissful Dog Drama Queen Shampoo for the following reasons:
One, it contains Jojoba, argan oil, and keratin extracts that soothe, nourish, and soften your Yorkie's silky coat. These ingredients also detangle the hair and make grooming easier.
Two, it cleanses the skin without stripping natural oils. It is paraben, free, pH-balanced, and safe for use on dogs with sensitive skin.
Three, it has a pleasant scent as well, lasts long, and lathers up easily. It's definitely a great choice for a pet shampoo!
With so many benefits, it is little wonder that this shampoo is so popular with Yorkie parents!
What we like about it
Natural shampoo specifically formulated for Yorkies silky coat
Prevents mats and tangles
pH-balanced, hypoallergenic
Great scent
Suds well, lasts long
What we don't like
Caused dry skin in some dogs.
Isle of Dogs Silky oatmeal shampoo is a great choice for Yorkies for the following reasons:
One, it can help create a soft and silky feel – which is what most Yorkie parents want in their pet's shampoo.
Two, it is sulfate and paraben free, so it won't strip your pet's natural skin oils.
Three, it has a pleasant lingering vanilla and jasmine scent which will make those cuddle time extra special.
Last but not the least, its jojoba and oatmeal content will soothe any itching, dryness, flaking, etc. in case your per has these issues.
If your Yorkie keeps on scratching, it indicates that she needs relief from dry and itchy skin. Oatmeal shampoo is an appropriate formula to choose to hydrate and moisturize your dog's hair. It alleviates itchiness and makes Yorkie's skin condition better.
If you are in search of an effective yet hypoallergenic shampoo for your Yorkie grooming, try this oatmeal dog shampoo!
What we like about it
Ideal shampoo for Yorkie's silky hair
Free from harsh chemicals like Paraben and sulfate-free
Mild and pleasant scent
What we don't like
Quality inconsistencies – some shampoos had a strong fragrance.
Wahl top-rated shampoo provides the following benefits to your pet:
First of all, it is great for Yorkies that are prone to mats and tangles. It is a mild-yet-effective formula that gently cleanses your pet's skin and coat while also detangling and making grooming your Yorkie's long hair easier.
Secondly, it conditions your pet's coat so you do not need a separate conditioner.
Thirdly, it deeply moisturizes your Yorkie's skin to relieve itching, dryness, and flaking.
We also love the fact that Wahl Dog Shampoo has plant-based ingredients that form a rich lather. It also lasts for a long time since a little goes a long way.
What we like about it
pH-balanced
Alcohol and paraben-free
Lasts longer – 70% more baths!
Tear-free, cruelty-free
What we don't like
Thin and runny consistency
Some people found the scent too harsh.
If your Yorkie has sensitive skin or suffers from skin allergies, then Healthy Breeds avocado shampoo could help. It is ideal for pets with grass allergies as well as itching and redness resulting from flea infestation.
If you are looking for a flea shampoo to take care of your Yorkie coat, this is a brand you should try!
Healthy Breeds Shampoo is specially formulated and pH balanced for a Yorkshire terrier's silky coat. It is made in the US and conforms to all stipulated FDA regulations.
We love the fact that this gentle shampoo is free from harsh chemicals, soaps, and irritants.
You can definitely buy this shampoo with confidence and trust its avocado extract to heal your pet's skin allergies and keep it itch-free.
What we like about it
Great scent
Hypoallergenic, gentle shampoo
pH-balanced
Made in USA
What we don't like
A small percentage of dogs still broke out in hives.
Yorkies with dry skin can benefit from this best shampoo for Yorkies with oatmeal, aloe, and vitamin E.
We love the fact that it is fragrance-free, non-toxic, very gentle, and completely free from phthalates, sulfates, and parabens.
Moreover, it is safe for use on Yorkies with sensitive skin as well and won't cause issues like dryness, flaking, irritation, etc.
What we like about it
Rich infusion of aleo, oatmeal, and vitamin E soothes dry skin
Ideal for sensitive skin
Free from fragrance and harsh chemicals
Brightens, detangles, softens, and whitens coat
Made in USA
What we don't like
Not for dogs that have smelly or malodorous coat and skin.
Looking for the best shampoo for Yorkie puppies? You and your pet will love Nature Specialties!
 It cleans and conditions the coat and its silk protein will make your Yorkie pup's silky coat shinier and softer.
Plum Silk actually contains silk proteins with mild fragrance that make your puppy's coat soft and manageable. It also leaves a delicate fragrance behind to make those cuddling times extra special.
Nature's Specialties Shampoo contains aloe, a blend of vitamins, and essential oils. These work together leaving your Yorkie's coat silky soft, smooth, and glowing.
What we like about it
Long-lasting pleasant fragrance
Cleanses and conditions
pH-balanced for puppy's gentle skin
What we don't like
How to Select the Best Shampoo for Yorkie?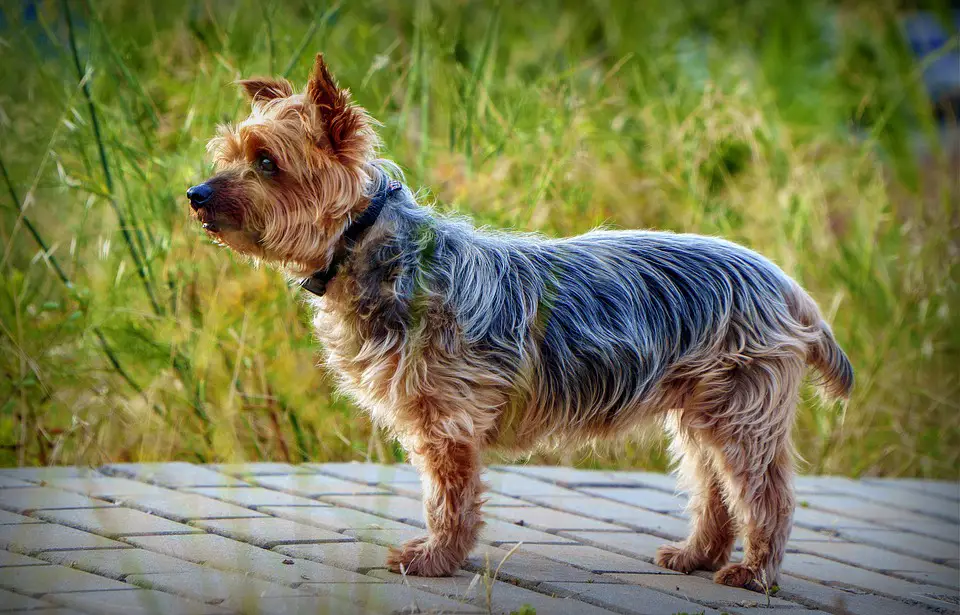 Your Yorkie has a single layer of coat with hair that is very similar to human hair. In some cotton-coated Yorkies, there is an undercoat as well, but most Yorkies have single coats.
Here are some basics of selecting a Yorkie's shampoo:
A. Consider your pet's overall skin and coat requirements
The first thing to do before selecting a shampoo for your Yorkie is to consider its overall skin and coat condition as well as its specific requirements.
If your pet has dry, flaky, and itchy skin, then look for a product with aloe, oatmeal, or other soothing ingredients.
Likewise, if your Yorkie is prone to tangled and matted hair, then you need a detangling spray and conditioning shampoo that makes its coat more manageable.
You can also go in for medicated dog shampoo or vet-formulated shampoos for specific conditions like anti-parasitic or antiseborrheic shampoos that can treat the conditions.
For sensitive dogs, look for shampoos that are extra gentle and mild and won't cause any itching or allergic reactions. Harsh chemicals can trigger skin infection and poor coat health.
B. Avoid low-quality ingredients
Many pet parents make the mistake of buying cheaper shampoos for their Yorkie.
Unlike human hair, your dog's hair need regular washing because its smell can be unbearable if not washed, and can be a breeding shelter of bacteria.
You must understand that a dog shampoo lasts a lot longer than human shampoos since you won't be bathing your pet too frequently.
Therefore, it makes sense to invest in a high-quality shampoo with ingredients that actually work to enhance your pet's skin and coat.
Also, look for shampoos devoid of filler ingredients that do nothing but strip your pet's skin off natural oils: like parabens, sulfates, and chemicals.
Also read: Can You Use Baby Shampoos on Dogs
C. Is pH-balanced
Dogs' skin pH lies between 5.5 and 7.2. Naturally, their shampoo should also be similarly pH-balanced.
Avoid using human shampoos as they have a different pH that can be very harsh and irritating to your pet's skin.
D.  Is age-appropriate
Ideally, you must use a shampoo for Yorkie adult and a different one for Yorkie puppy.
In most cases, the best shampoo for Yorkie puppies is tear-free and very gentle and mild. You can even go for no-fragrance shampoos if needed.
E. Has a mild fragrance
Choose a shampoo that contains natural ingredients with a mild scent that won't overpower or overwhelm you and your pet.
Many shampoos come with strong fruity or floral scents which could appeal to human senses but could irritate your Yorkie.
If need be, look for shampoos that are fragrance-free. This is even more important when considering best shampoo for Yorkie puppies.
Also Read: Best Brush for Yorkies
Do Yorkies Need Special Shampoo?
Yes, unlike other long-haired breeds, most Yorkies do not have a double-coat.
Instead, they have a single coat with human-like hair which is very silky but prone to tangling.
A high-quality shampoo for Yorkies can prevent stripping of their skin's natural oils and can also detangle the hair to make it more manageable.
Furthermore, special Yorkie shampoos are pH balanced for your pet's delicate skin and can help avoid allergic reactions like extreme itching, hair loss, etc.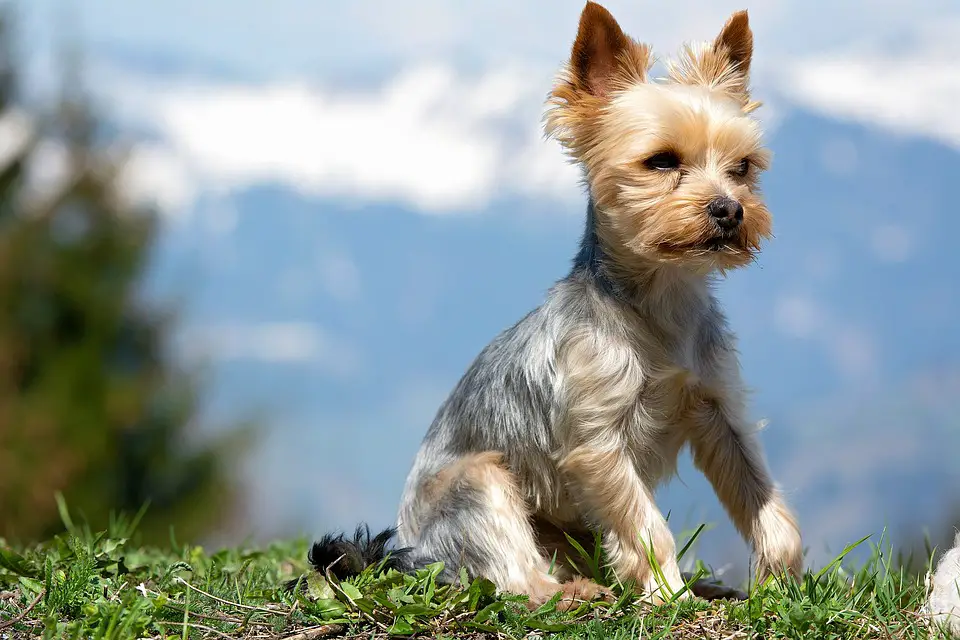 How to Bathe a Yorkie?
The basics
Gather all supplies – towels, shampoos, conditioners, etc. before getting your Yorkie in the bath. You can also bathe your pet in a sink.
Prepare the bath by filling up the tub/sink with warm water up to 3-4 inches. It should not be too hot or too cold. Test the temperature by dipping your hand in it.
Getting started
Place your Yorkie in the bath. Use a hand-held shower or a pail to pour warm water all over its body. Make sure you thoroughly wet its coat.
Time to lather up
Shampoo your pet with a dollop of vet-approved, pH-balanced dog shampoo (choose one of the above make sure it's not a human shampoo). Work your way through your Yorkie's fur. Massage your pet as you work up a lather.
Pay special attention to the neck, belly, under the tail, back of the legs, the paws, etc.
While washing its face, avoid getting shampoo in your pet's eyes. Let the shampoo stand for a few minutes on your dog's skin.
Rinse
Now it is time to rinse your pet. Pour water all over your pet's body simultaneously massaging the fur and skin. Be thorough in rinsing so all of the puppy shampoo comes off.
Condition
Use a conditioner if needed. Many shampoos include a conditioner in them in which case, you can skip this step.
Dry your Yorkie
Use a towel to gently dry your pet. You can allow it to run around the yard and shake off the water as this will speed up the drying process.
Brush
Use a gentle slicker brush all over your pet's fur once it is about 80% dry. This will detangle your pet's fur and prevent matting.
FAQs on Best Shampoo for Yorkies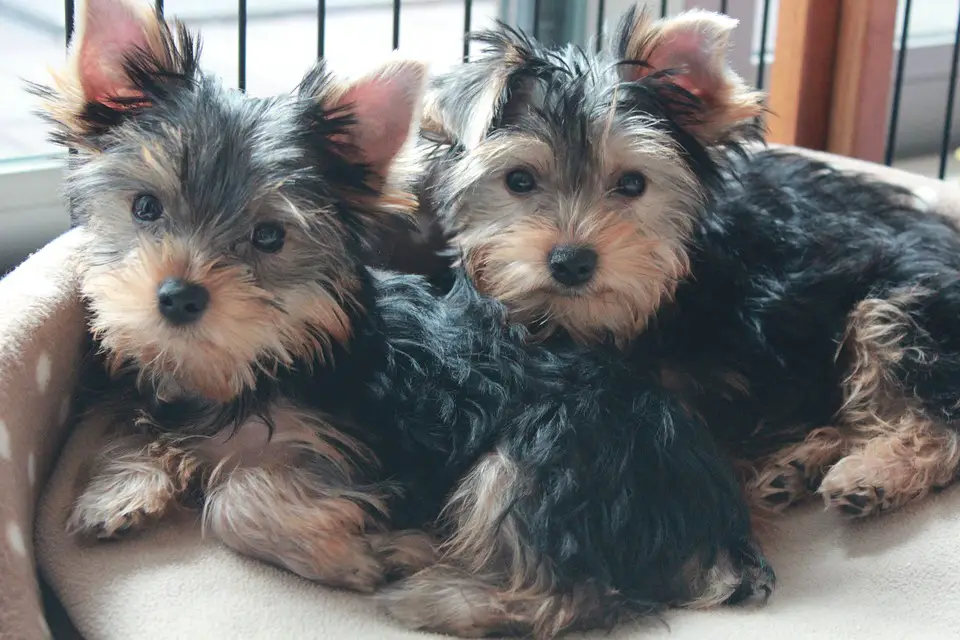 1. Can I use baby shampoo on my Yorkie puppy?
It is best to only use dog-specific and vet approved shampoos for Yorkie puppies.
Only if you have run out of dog shampoo, and in emergency, should you use baby shampoos for bathing your Yorkie. However, it is best to re-stock your dog shampoo as soon as possible.
After all, baby skin and dog skin have different pH values. Baby shampoos, while mild, could still end up drying your pet's skin and stripping its natural oils.
2. Can you wash Yorkies with regular shampoo?
This is the worst thing you can do for your pet!
Yorkies have very delicate skin and silky fur. A human shampoo can be extremely harsh and could strip away the natural oils on your pet's skin. It is also not balanced pH-wise.
Never ever use regular shampoo on your Yorkie. This could lead to extreme itching, blisters, and severe allergic reaction. It can even cause massive hair fall.
Also Read: Can I Use Human Conditioner on my Dog
3. Why do Yorkies stink?
Yorkies can develop a smelly coat due to numerous reasons: poor diet, food sensitivity, underlying health issues like kidney or liver troubles, inadequate grooming, ear infections, oral diseases, etc.
4. How often should you bathe a Yorkie puppy?
Vets recommend bathing a Yorkie puppy once a month.
If your pet is indoor most of the time, you can even stretch this time period further to about a month and a half.
However, the average time between baths for maintaining a Yorkie puppy's coat is about one month.
Remember: you must only start bathing your Yorkie once all of its first-year vaccinations are completed and your vet gives you the green signal.
5.  Do Yorkies like baths?
Most Yorkies don't like baths because they are sensitive to heat, cold, and temperature changes and they don't like their fur getting wet.
However, if you get your Yorkie used to bathing since early puppyhood and make bath time a pleasurable experience, then it might enjoy these sessions.
Mainly, it will look forward to these 'bonding sessions' with you.
6. Why is my Yorkie's hair not growing?
Many factors can cause stunted hair growth in a Yorkie including poor diet, underlying diseases, skin and coat issues, ageing, cheap products, etc.
Speak to your vet to rule out these problems.
7. How long will it take for my Yorkie's hair to grow?
Your Yorkie's hair will grow back in a couple of weeks after you trim it provided it is getting all the nourishment it needs like proteins, omegas, biotin, etc.
For the hair to grow back completely, it could take your Yorkie 4-6 months.
8.  When do Yorkies lose their puppy hair?
Yorkie puppies lose their coat by 6-8 months of age and start growing silkier adult hair around this time. Your pet will shed dramatically during this stage.
It is important to feed it a healthy diet and also groom your pet regularly to maintain its coat.
9. What can I use on my Yorkie's coat?
It is best to avoid the use of human cosmetics, shampoos, and products on your Yorkie.
However, some pet parents do use olive or coconut oil on their pet to prevent dry skin. These are okay to use but do check with your vet first if it's safe for your dog's skin.
You can also use a gentle brush along with best shampoo for Yorkies to groom your pet from time to time.
10.  What can I use to make my Yorkie's hair silky?
Brush your pet every couple of days to stimulate its natural oils and keep its coat in good condition.
You can also use a mild detangling shampoo and conditioner once a month to maintain its silky hair.
Provide high-quality, omega and biotin fortified diet to your Yorkie to further support its hair and skin from the inside.
Related Content: Best Dog Beds for Yorkies
Conclusion – Best Shampoo for Yorkies
The best shampoo for Yorkies is gentle on their skin and won't strip away their natural oils. It is also mild and pleasant-smelling, and won't cause allergies or itching in your pet's sensitive skin.
Based on these factors, we recommend Everyday Isle of Dogs Shampoo as it is pH balanced, pleasant-smelling, long-lasting, and specially formulated for long silky coated breeds like Yorkies. You'll find your dog's coat shinier and healthier than ever!
No dog shampoo yet? One hack is this homemade shampoo! Mix 2 cups of warm water, 0.5 cups white vinegar, and 1/4 cup dish soap then put them in a spray bottle. Shake very well and it is ready to spray as a puppy shampoo! The detergent can wash away the accumulated oils on your dog's skin and coat.
If your dog's skin is itchy and dry, here's a simple trick you can do at home. Scoop 2 tablespoons of aloe vera gel, mix it with 1/3 cup glycerin, 1 cup of toxic-free baby shampoo, 1-quart water, and 1 cup apple cider vinegar. Mix all together in a spray bottle then you can apply this to your dog's itchy skin. Aloe vera is a good moisturizer so it will make a good moisturizing shampoo! Just be careful not to spray them on their eyes.
If you notice some skin irritation or skin allergies, immediately stop using these homemade shampoos to avoid further problems on your Yorkie's skin.
Based on these factors, we recommend Everyday Isle of Dogs Shampoo as it is pH balanced, pleasant-smelling, long-lasting, and specially formulated for long silky coated breeds like Yorkies. You'll find your dog's coat shinier and healthier than ever!
Do check out our other recommendations above to find out the perfect choice of Yorkie shampoo for your lovely dog's coat!