The best brush for Yorkies is appropriately sized and helps distribute its natural skin oils all throughout your pet's fur.
Furthermore, it reduces mats and tangles painlessly to give your beautiful Yorkie a neater and healthier coat.
Based on honest reviews as well as recommendations from professional groomers, we have hand-picked 5 great brushes designed for long-coated, silky, and wiry-coated Yorkies.
Just in case you are in a hurry, click on our short summary below to view our Top reviewed products for the best brush for Yorkies:
Also Read: When Do Yorkies Change Color
Best Brush for Yorkies – 2022 Top 5 Picks
If your Yorkie is anything like ours, then its silky coat is prone to mats and tangles. That is why, regular brushing using a gentle brush is very important.
We find the Hertzko slicker brush is very gentle on our Yorkie's hair and doesn't cause any pain or discomfort.
It gently-yet-effectively loosens mats, knots, and tangles as it runs smoothly throughout its gorgeous fur.
Hertzko is designed with special bent-wire bristles that run smoothly and painlessly, allowing you to groom short, silky, wiry, or long-coated Yorkies with ease.
This great grooming tool also comes with a convenient button that lets us remove trapped hair from the brush's bottom, easing cleanup.
Its anti-slip, ergonomically designed handle has superior grip with a resting spot for the user's thumb. This reduces wrist fatigue, no matter how many Yorkies you groom!
What we like about it
Yorkie-approved, suitable for all coat-types
Self-protecting and durable – no more bent bristles
Fatigue-reducing, anti-slip handle.
Easy to clean, remove, hold.
What we don't like
Some users found the bristles sharp and the brush too heavy to handle.
Hartz Groomer's Best Small Slicker brush is specially made for small dogs and cats. Its measurements are 3.5 inches wide and 6.5 inches full-length from tip to the bottom of the brush.
We find these dimensions are perfect for small dogs like yorkies.
 Moreover, the slicker brush tips are rounded with tiny protective balls on them. This prevents hurting or scratching our beloved pets.
A vast majority of users, us included, love this brush for its ergonomic handle that makes it super easy to hold.
 Additionally, the trapped hair at the bottom of the bristle pad is easy to remove and that reduces our cleanup hassles.
We are sure your Yorkie will love getting brushed with this great brush which the professional groomers are known to prefer.
What we like about it
Perfect for long-haired and wiry coated Yorkies
Gets out loose hair with ease
Grooming brush preferred by the professionals
Safe and pain-free
Easy to hold and grip
What we don't like
A few users found the brush difficult to clean since there is no button to remove trapped hair from the bottom.
Lil' Pals slicker brush has a pad of flexible wire pins which make it very easy and safe to use on small-sized dogs like Yorkies. This brush is useful for both wiry-haired and long-silky haired Yorkies.
Lil' Pals brush comes with a width of 3.25 inches and a total length of 7.25 inches making it optimal for small dogs.
It contours along our Yorkie's body with ease and helps remove loose hair quickly.
At the same time, it gently brushes out mats and knots without pulling.
With regular use, we are sure that your Yorkie's coat will shine with natural luster and health!
What we like about it
Protective-ends on each bristle prevent pulling delicate hair
Easy to use, clean, and remove trapped hair
Tiny brush for small dogs!
What we don't like
The tiny plastic ends tend to fall off – it could hurt our pets, if that happens.
Our beloved Yorkies, especially the long-haired beauties, tend to have mats and tangles from time to time.
With Hartz Groomer's Combo detangling brush – a choice of professional groomers – you can prevent mats and knots and give your pet a gorgeous coat.
Like all Hartz products, this pet brush is designed with the help and insight of professional groomers. Therefore, you can trust it blindly to safely and painlessly remove mats in case your Yorkie has developed them.
Hartz combo brush has two sides to it: the nylon bristle side helps eliminate dander, debris, parasites, etc. while the other side with safe stainless-steel pins painlessly remove tangles.
Last but not the least, its long ergonomically designed handle will reduce fatigue on your hands no matter how long the grooming session may be.
What we like about it
Designed by professional groomers
Dual sided – detangles and removes dander etc.
Safe for delicate pets
What we don't like
Some users found the bristles too stiff.
Yorkie puppies need softer brushes and Hertzko soft plastic brush is soft enough even for grooming tiny paws and faces.
In addition to being soft, the bristles also have rounded tips which make it extra safe for your Yorkie's delicate skin. Thus, you won't have to worry about scratches and abrasion.
Like all Hertzko brushes, this one comes with a dent for resting your thumb. This makes it extremely comfortable for prolonged grooming sessions.
What we like about it
Very soft and safe even for paws and facial grooming of small dogs
Angular bristles for superior grooming
Long teeth for long haired Yorkies but suitable for short and wiry coats too.
Anti-slip, superior grip handle
What we don't like
Fragile teeth that are prone to bending.
Difficult to get out trapped hair.
How to Select the Best Brush for Yorkies?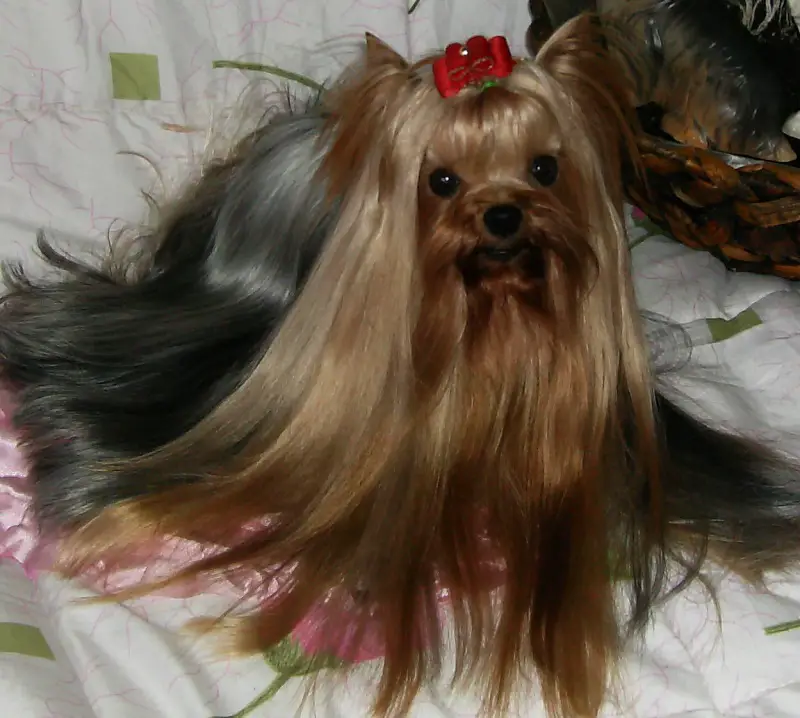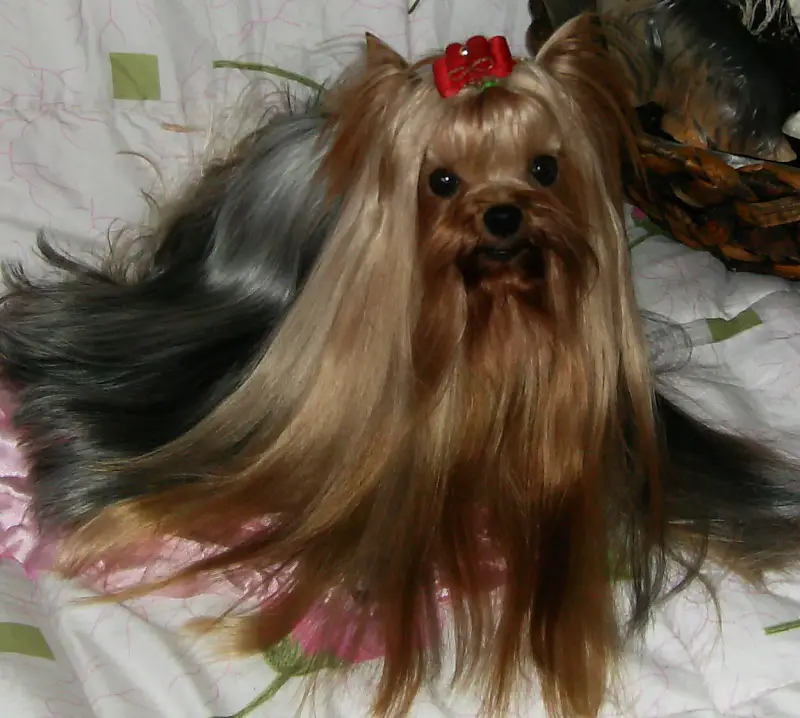 A Yorkie's coat is lot like human hair and it requires daily brushing.
Brushing your Yorkie should not take long and the process isn't hard provided you use the right brush for your pet.
Here are some factors to consider when selecting a grooming brush for your Yorkie:
A. Type of brush
There are many different types of brushes in the market. You can choose from:
Brushes – pin brush, slicker brush, natural bristle brush, etc.
Rakes – standard rake, undercoat rake
Combs – flea comb, general grooming comb, de-matting comb
De-shedding tools
Most Yorkies do not shed too much, so they don't really need rakes and de-shedding tools. They typically do well with pin and slicker brushes.
B.  Type of coat
To choose the type of brush for your Yorkie, you must first consider its coat type.
Yorkie coats are of three types and they are all usually single-coated. This means there are no undercoats and resultantly, very little shedding to deal with. The three coat types in Yorkies are:
Long and silky
Short and wiry
Soft-coated
For the long-silky coated Yorkshire terrier (which is the most popular and show-quality breed), you can use a pin brush with wider bristles. This will help loosen mats and tangles, eliminate knots, and make each silky strand separate and easy to manage.
For the wire-coated Yorkie, go in for pin brush or slicker brushes. These massage the skin and fur and redistribute natural oils to prevent dryness.
Your soft coated Yorkie will also do well with a slicker brush.
Combs are also a great option for long and wiry coated Yorkies as they easily find small mats and tangles and gently loosen up dead or stray hairs.
C. Width of the brush
Always select a small brush having a small bristle area.
Larger brushes might hurt your pet and you should not use them on their tiny paws and faces.
Ideally, brushes for your Yorkie should measure up to 4 inches in length.
D.  Safety of the brush
The last thing you want is your Yorkie's long silky hair to catch on the brushes.
Look for brushes with sturdy bristles equipped with safety rubber tips. These prevent your pet's skin from getting scratched and abraded.
At the same time, safety tipped brushes could snag long silky hair – so ensure high quality tips that won't pull your pet's hair, especially if it is prone to matting and knotted hair.
E. Easy to clean
While Yorkies do not shed too much, the brushes might still end up trapping quite a bit of hair.
Look for easy to clean brushes that have a wide and accessible bristle pad area or are equipped with buttons that bring up the trapped hair from the bottom of the bristle pad.
F.  Comfortable handles
Finally, you may want to consider your comfort too when choosing the best brush for your Yorkie.
Look for brushes with comfortable, no-slip grip handles. They should come with a slot for placing the thumb – ideally with an ergonomically designed rubber handle that allows prolonged grooming.
Also Read: Best Dog Beds for Yorkies
Do Yorkshire Terriers Shed? How Often Should I Brush My Yorkie?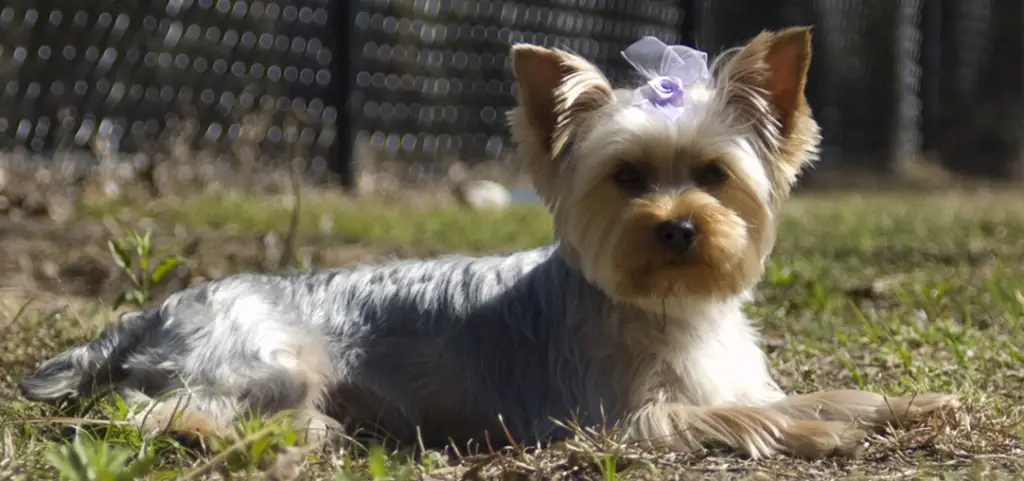 Yorkies have very human-like hair – it is soft, silky and very fine. This thin texture is prone to static buildup that causes mats and tangles.
However, they are not double-coated unlike most dog breeds and have single coats instead.
As a result, they do not shed much. Whatever little shedding occurs is more or less like the hair loss humans suffer: you won't have too much dog fur on your furniture and carpets.
How often to brush your Yorkie:
Brush your long-haired Yorkie once or twice a day.
For Yorkies with shorter wiry coats or puppy cuts, you can brush once every 2 days.
How Can I Improve my Yorkie's Coat? 5 Easy Tips!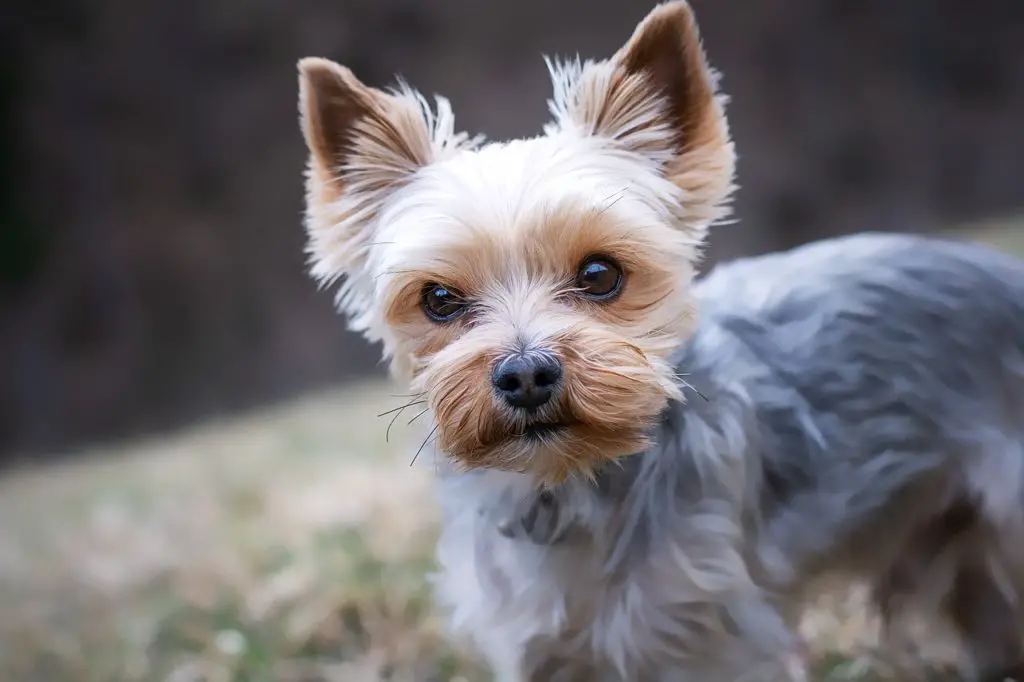 Here are some ways to improve your Yorkie's coat.
1.  Feed it a nutritional diet
The health of your Yorkie's coat is directly dependent on its nutritional status.
That status, in turn, is directly dependent on what you feed it as well as on your pet's ability to digest and process the nutrients in the food.
If there is a breakdown or deficiency anywhere in the sequence of quality of diet, ingestion, digestion, absorption, and distribution of nutrients, any of the organs that benefit from nutrition may suffer.
Your Yorkie's skin and fur are part of those systems.
In case your pet's diet has been deficient for the past few weeks or months, its coat will suffer.
Check out our guide on the Best Dog Food for Yorkie to select a high-quality food that can give your Yorkie a gorgeous and healthy coat.
2. Brush and Groom regularly
Brushing is a vital part of maintaining your Yorkie's silky, soft, coat.
Regular brushing helps massage your pet, stimulates natural oils under its skin, and also re-distributes those oils all over giving it a shinier and healthier coat.
3.  Bathe your Yorkie once a month
Bathing your Yorkie helps detangle fur and also softens and conditions its hair.
Oatmeal and aloe-based shampoos are a great choice for Yorkies as they soothe, soften, and moisturize their silky hair.
Check out our guide on Best Shampoo for Yorkie to find a high-quality shampoo designed especially for this special breed.
4.  Use aloe vera gel/coconut oil
Massage a bit of aloe gel or pure organic coconut oil in your Yorkie's coat from time to time.
(Do this step before you brush its coat.)
These ingredients moisturize dry skin and coat and also makes the silky hair easier-to-manage.
Follow up with a thorough round of brushing.
5.  Feed it supplements
Talk to your vet about adding supplements to your pet's diet.
Omega Supplements help nourish your Yorkie's coat and can show great results within weeks.
FAQs on Best Brush for Yorkies?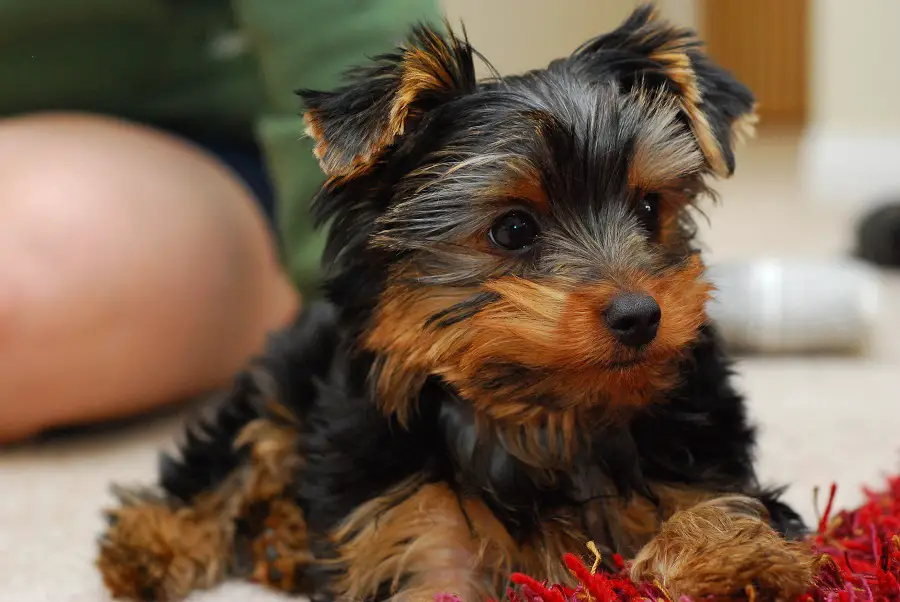 1.  How should I brush my Yorkie?
Step 1 – Never brush dry
Always brush damp otherwise you will end up breaking your pet's hair.
You can either brush after bathing or you can spray your Yorkie's coat with a bit of water and conditioner.
This will greatly ease the brushing process.
Step 2 – Comb out the hair
Use a wide toothed comb all over your Yorkie's coat. This will eliminate small knots and mats and pave the way for painless brushing.
Step 3 – Use the pin brush or slicker brush
Just as you would brush human hair, begin at the ends and work your way to the skin.
If you come across any mats, use your fingers to gently loosen them.
Continue brushing, covering the entire back, neck, belly, paws, and face.
If there are no mats and tangles, you can run a slicker brush sweeping it along the direction of the hair growth.
Be careful only to apply a few strokes as repeated brushing in the same area could irritate your Yorkie's skin.
2. How to untangle matted Yorkie hair?
To untangle matted hair, gently work through the mats using your fingers.
Next, you can use a leave-in detangler spray to separate mats and knots. These work by reducing static buildup that prevents the hair from bunching up.
We recommend The Coat Handler Detangling Spray which makes grooming very easy by preventing new mats and knots and also eliminating existing ones.
Follow this up with thorough brushing. Also, bathe your pet with a detangling shampoo .
It is a good idea to keep your pet's hair trimmed in case it is prone to matting.
3. Do Yorkies need haircuts?
You need to trim your Yorkie's hair every four to six weeks once it reaches adulthood.
There are many popular Yorkie haircuts that can make your pet look extremely charming.
If you like, you can DIY cut your Yorkie's hair at home, provided you have the know-how.
4. Are Yorkies tough to groom?
Yes, long-haired Yorkies need plenty of grooming to maintain their show-quality hair.
Moreover, they need regular haircuts to keep them looking charming and cute.
Conclusion
The best brush for Yorkies is specially designed for their silky, soft hair and won't cause any discomfort or hair-pulling.
Additionally, it must be small enough for their small paws and faces and must detangle mats and knots gently without abrading their skin.
For these reasons, we recommend HERTZKO Slicker Brush for Small Pets as it effectively and gently loosens mats, knots, and tangles to make grooming a breeze.
Do check out our other recommendations as well.