The best food for Yorkie puppy consists of high-quality kibble or canned food that can prevent blood-sugar drop in your pet.
Yorkie pups require three to four small meals each day because they have high metabolism rates that could cause hypoglycemia or low blood sugar.
That is why, you must provide your Yorkie nutrient-dense calories, proteins, vitamins, and minerals for all-round development.
In addition, your Yorkie also comes with a unique personality. As a result, many pups tend to be very fussy about what they eat. Naturally, the best food for Yorkie puppy would be the one s/he loves.
In this guide, we have 5 delicious kibble and canned puppy foods that are nutrient-dense and come highly-recommended by Yorkie parents as well as vets.
Just in case you are in a hurry, click on our short summary below to view our Top reviewed products for the best food for Yorkie puppy:
Best Food for Yorkie Puppy – 2022 Top 5 Picks
Hill's Science Diet Puppy Food is the number one vet-recommended food for small breed puppy dogs like Yorkies.
It contains DHA for brain and cognitive development which increases your pet's trainability.
Moreover, it is fortified with the right balance of calcium and phosphorus for stronger bones.
Hill's Science Diet also contains powerful antioxidants for immunity support.
Its balanced mix of highly digestible protein and complex carbs is easy on your pet's tummy and provides lean muscles and healthy carbs for all-day play.
What we like about it
Extra-small kibble size (4mm x 7mm) which is smaller than a dice
Formulated for easy digestibility
High calorie – ideal for active small breed puppies
Supports healthy brain and eye development
Balanced minerals for bone and dental health
High-quality ingredients, USA-made food
Good flavor for picky eaters
What we don't like
Kibble is hard for some pets.
IAMS puppy food is specially created to meet the nutritional needs of a small or toy breed puppy.
First of all, it contains 22 vital nutrients found in mother's milk to provide your growing Yorkie the nourishment it needs.
Secondly, its DHA content is great for your pet's cognition and brain health.
Thirdly, its first ingredient is real chicken which most Yorkies love and find easy to digest. It also helps build lean muscles in your little dog.
Last but not the least, vets recommend IAMS PROACTIVE for small dogs like Yorkies.
What we like about it
Fresh ingredients, mini-chunks easy on tiny jaws
Vet recommended
22 key nutrients found in dam's milk
Great taste and flavor for picky dogs
No artificial flavors or preservatives
What we don't like
Cause stinky poop in a small percentage of Yorkies. Pumpkin puree fixed the issue.
Purina Pro Plan High Calorie and High Protein food is especially formulated to meet the calorie and nutrition requirements of highly active small /toy breed puppies under one year of age.
It contains DHA for brain development and cognition which can make your Yorkie easier to train. Purina Pro Plan also contains vitamin A and omega 6 for a healthier coat.
The best part about this food is its live probiotic content that enhances your growing pet's immunity as well as digestion.
Your pet will also benefit from its balanced calcium and phosphorus content which help develop healthy bones and teeth.
What we like about it
Tiny, extra-small kibble ideal for Yorkie
Real chicken, high calorie and high protein
Formulated with DHA, vitamin A, and omega 6
Probiotics for enhanced digestion and immunity
What we don't like
Some fussy dogs needed toppings and gravy over this kibble.
Some puppies simply prefer wet or canned food or even like some gravy topping over their kibble.
Royal Canin has specially formulated this well-packaged food for small/petite breed pups up to the age of 10 months. It comes in small pouches that help retain the gravy's freshness.
You can feed this food as is or as a topper over your Yorkie's favorite kibble. Royal Canin also makes dry food for small breed puppies which many Yorkies are known to love. B005HN362O
It contains vitamin E which is a powerful antioxidant that supports your pet's skin, heart, and immune system. Moreover, its beet pulp content enhances its digestion as well.
What we like about it
Small bite-sized chunks in gravy – perfect for small Yorkie pups
Great flavors, fresh ingredients, good packaging
Formulated for complete development of growing puppies
What we don't like
Expensive – but we cannot really put a price on our dogs, can we?
At first glance, you might think that Taste of The Wild dry, grain-free kibble for growing pups might have large kibble pieces.
However, majority of Yorkie parents have used this food for their puppies aged up to 10 months mainly due to its small and bite-sized pieces that are easy on small muzzles.
Moreover, this high-protein formula is enriched with DHA to support your young Yorkie's developing vision and brain. It is also fortified with vitamins and minerals and contains Probiotics that enhance digestion as well as immune function.
Taste of The Wild puppy food is made in the USA using trusted ingredients from sustainable sources across the globe.
Last but not the least, there are no artificial ingredients, corn, wheat, and other fillers in this grain-free food.
What we like about it
Grain-free, high-protein, small kibble
Contains DHA, vitamins, minerals, and probiotics
Also contains prebiotics and fiber for enhanced digestive health
What we don't like
Caused some dogs to have more number of bowel movements each day.
What Features Should the Best Food for Yorkie Puppy Have?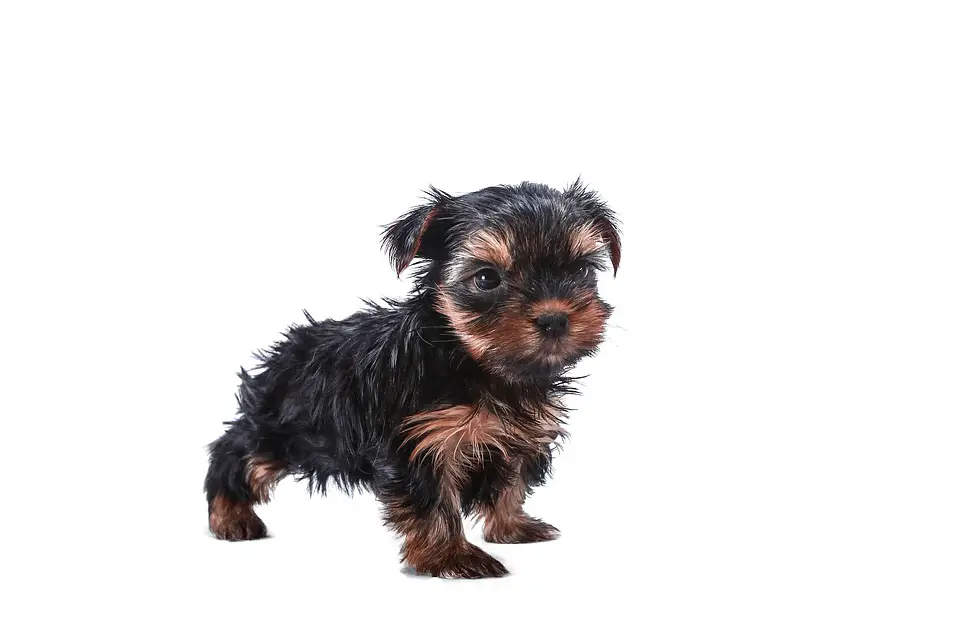 The best food for Yorkie Puppy is different from what an adult Yorkie eats.
Puppies need several small meals through the day and they should be high on nutrition for your growing pet's development and well-being.
Here are the features of the best food for Yorkie puppy:
A.  High Calorie
Because Yorkies are so tiny, they are prone to hypoglycemia. This means that their blood sugar levels can drop if they don't eat the right amount of calories.
To prevent low blood sugar, look for a high calorie food that your pet loves.
B. High protein
In addition to calories, the food you choose for your Yorkie should also be protein rich. Also, the protein in the food should be easy to digest.
Most foods for Yorkies contain chicken, beef, salmon, duck turkey, bison, or other proteins which these dogs can easily digest.
C. Contains bone-building minerals
Look for a food that contains calcium and phosphorus. These two minerals are important for your pet's bone health and development.
Most puppy foods supply these vital minerals.
D. Contains DHA omega for brain development
High-quality food for Yorkie puppy also contains DHA for brain and cognitive development.
This increases your puppy's trainability and helps in early learning and cognitive skills.
E. Is easy on Their tiny jaws
Your Yorkie puppy has a very small mouth with tiny delicate teeth.
Therefore, the food you select needs to be small in size. Look for small pea-sized kibble or kibbles that measures less than a dime.
This way, your pet can easily scoop it up and chew without straining its mouth.
Also Read: Best Dog Food for Yorkie
How Much Should a Yorkie Puppy Eat Daily? What are Typical Calorie Needs of a Yorkie Puppy?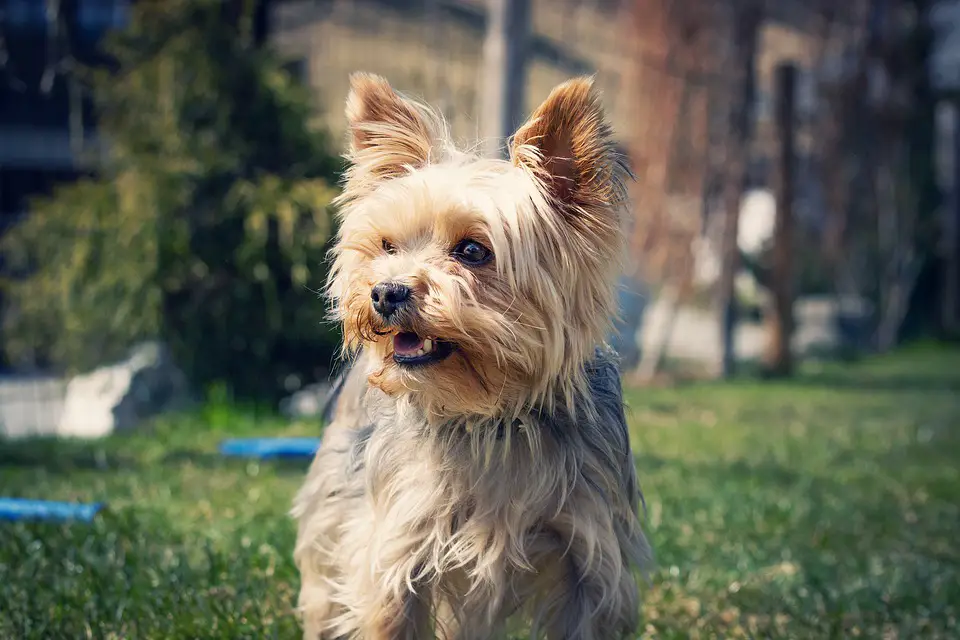 How much food your growing Yorkie needs depends on several factors.
The National Research Council has established general puppy feeding guidelines which vary based on how active your pet is.
As a general rule, Yorkie puppies need 45-50 calories per pound of their body weight.
An inactive puppy will need a bit less while an active Yorkie will need more.
However, both active and inactive Yorkies, still need 3-4 small meals because of their proclivity to develop hypoglycemia.
Here are some general weight-based feeding guidelines that you can follow for your Yorkie puppy's feeding:
2 ½ lb. Yorkie – 110-150 calories per day
5 lb. Yorkie – between 220-250 calories per day
10-lb Yorkie – between 330 and 350 calories per day.
Again, these are very general guidelines. You will need to weigh your pet from time to time. If your vet thinks it is gaining weight, you need to cut back on calories.
If your pet is underweight, then increase its calories.
In case your pet is gaining weight but still acts hungry all the time, then add some more fiber to its diet.
Also Read: Best Dog Food for Yorkies with Allergies
How Often Should I Feed My Growing Yorkie?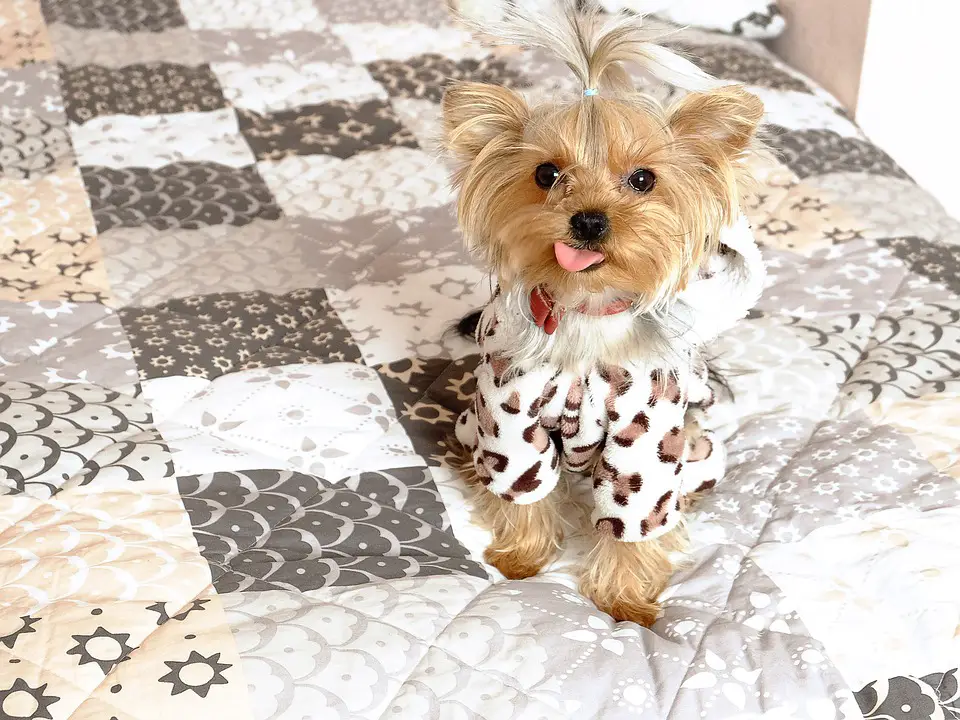 Yorkie puppies don't eat a lot at a time – remember, their tummies are very small.
That is why, smaller, frequent meals are the best when it comes to feeding your developing Yorkie.
You might think that the quality of food isn't that important since your pet's tummy is so small. In reality, the opposite is true.
Because your pet eats less in one go, you must ensure feeding it very high-quality, calorie-dense foods.
The kibble should have very little to no junk at all.
Many breeders keep dry food out for their young pets to eat as they want. You can follow the same but free feeding always comes with a risk obesity.
 In general, you can feed your Yorkie under 6 months of age 4-5 small meals per day.  After 6 months, decrease your pet's meals to 3 per day.
Also Read: Yorkie Vaccine Schedule – Everything You Need to Know
FAQs on Best Food for Yorkie Puppy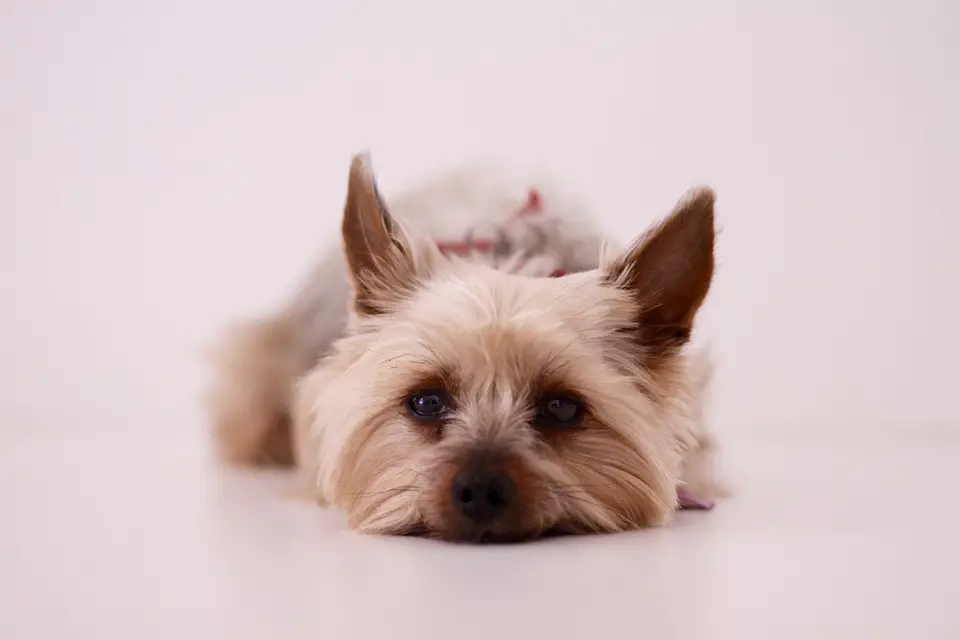 1. How much should a Yorkie puppy eat?
Feed your Yorkie pup high quality kibble 3-4 times a day. You can feed about ¼ to ½ cup of food daily which you can divide over 3-4 servings. When in doubt, speak to your vet or follow the guidelines given on the food label.
2. What should I feed my 8 week old Yorkie?
Up to 6 weeks, Yorkies should get their dam's milk.
After 6 weeks, continue feeding the same food that the breeder was feeding. Alternatively, go in for one of the Yorkie puppy foods recommended above.
Use the above guidelines along with your vet's advice to feed the appropriate quantity of food to your pet.
You can mix some kibble with a bit of broth or stew to make it more flavorful for a picky eater.
3.  How long can Yorkie puppies go without eating?
Ideally, Yorkies should not remain hungry for more than a few hours. However, there have been cases where a Yorkie pup has gone without food for 1-2 days.
Juvenile Transient Hypoglycemia is a common condition affecting these toy dogs. So, you need to be careful and make sure your pup eats frequent though small meals.
4. How much water does my Yorkie puppy need?
Based on your pup's body weight, the amount of water it drinks can vary from a few ounces to an entire cup per day.
Most young Yorkies are very active and they tend to drink a lot more than adult dogs. In general, a 5lb dog will need about ½ to 1 cup of fresh water per day.
5. What not to feed Yorkie Puppy?
Foods like chocolate, grapes, raisins, xylitol, nuts, avocados, and alcohol are very bad for your Yorkie pup. They can be downright toxic to your little pet.
Conclusion – What is the Best Food for Yorkie Puppy?
The best food for Yorkie puppy is high in calories and protein, and also fortified with DHA for its brain and vision development.
Moreover, it has small kibble size so it is easy to pick up for small jaws and also packed with flavor for picky eaters.
Based on all these features, we recommend Hills's Science Diet Puppy Food for Small Breed Dogs. It checks all the boxes above and has all the nourishment that a growing Yorkie requires.
Don't forget to check out our other recommendations as well.