It is said- "at the heart of every successful pet, there is a puppy raiser who first taught the puppy to feel safe in this world".
Whether you have always wanted to buy or adopt a Chihuahua (pronounced as Chuh- wah- wah or Chee-waa-waa) for long and have finally decided to take the leap of faith, then taking care of it might seem like a whole new concept.
Your Chihuahua is bound to give you great company for many years to come but they can be a bit of work, especially if you haven't owned a dog before.
Before you embark on a wonderful life with your Chi, and share your home with this special, loyal, and affectionate breed, here is a complete guide for raising this amazing little dog.
In this guide, we will discuss:
A brief history of Chihuahuas.
Preparing your home for your pet – learn how to make your home Chi friendly
Pet supplies you will need
How to find a vet and setting up a vaccination schedule.
Training – benefits of training, basic commands, housetraining, crate training, controlling excess barking, diminishing separation anxiety, socializing your Chi to other animals and humans.
Establishing a feeding routine – complete nutrition and feeding guide
Importance of exercise for your Chi – establishing an exercise routine
Tips to keep your Chi mentally stimulated
How to travel with your Chihuahua
Health care and common diseases in the breed
Buying pet insurance
Basics of senior dog care
Let us begin.
Chihuahua – Few Facts and Brief History of the Breed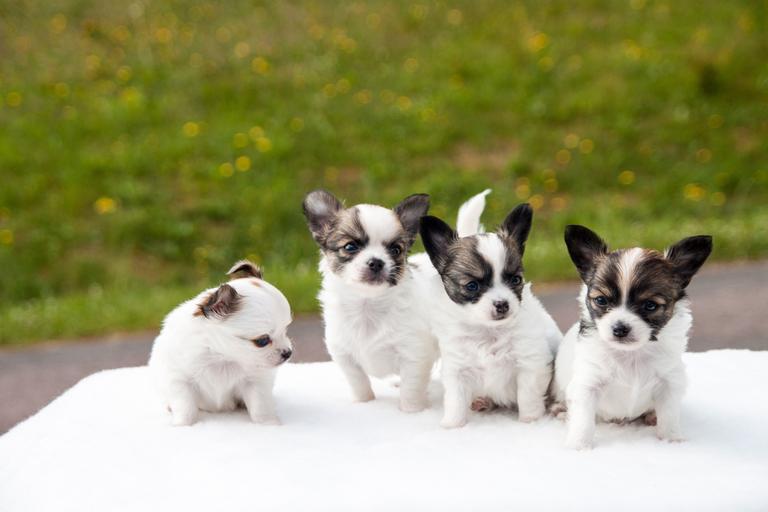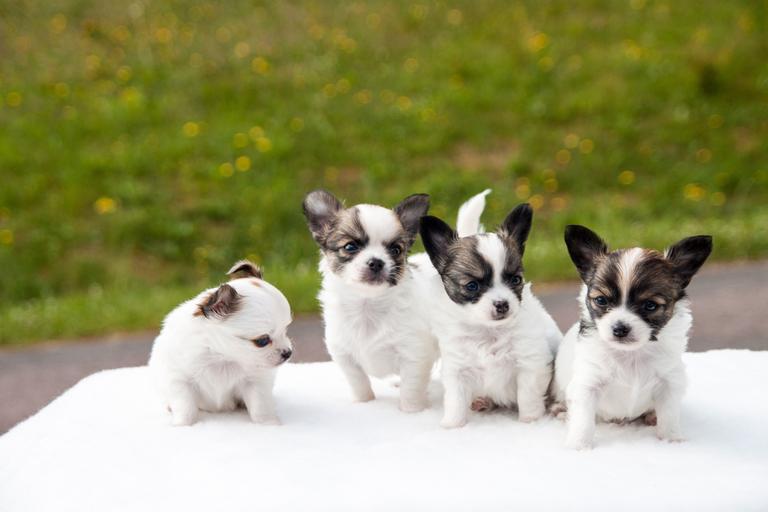 Physical description
Chis measure 6 to 9 inches or 15 to 23 cm tall. Most Chihuahuas weight 2 to 6 lb. or 1 to 3 kg.
They are the smallest of all dog breeds and have large watery eyes. They can have long or short coat.
Their coat colors can be black, brown, gray, white, tan, blue, or merle. Some have patches of tan or white and some might have markings of black and brown.
White and merle colored Chis are rare and hence very expensive.
History
Chihuahua originated in Mexico. They might have been developed from early dog breeds like Techichi dogs in northern part of South America. Mayans and Aztecs might have used these dogs for sacrifice.
The breed today
The Chihuahua of today has been developed after crossbreeding with some Asian dog breeds.
As of 2018, Chihuahuas were 33rd in the AKC's list of most popular dogs in the United States.
The AKC stands for American Kennel Club. This is an official club that registers dogs and it is estimated that nearly 35,000 new Chis are registered each year!
These little companions bring a lot of paw-sitivity in your house!
Besides giving endless love to their families, chis also serve as glamorous pets.
They are great as companion dogs to dress up and carry around. Many celebrities have made the breed extremely famous this way including: Paris Hilton, Britany Spears, and Madonna, to name a few.
Is a Chi Right For You?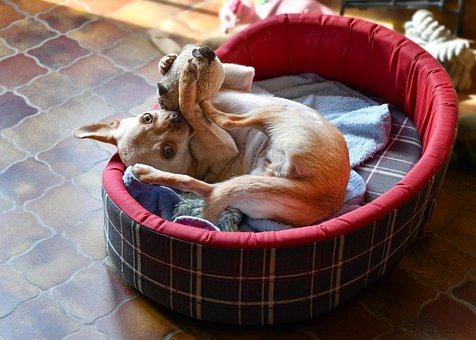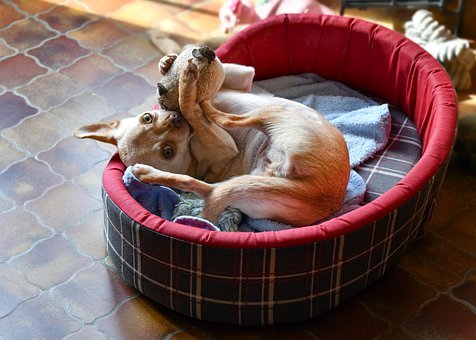 The good thing about Chihuahuas is that they are small and easy to transport around. If you live in a small condo or apartment, then a Chi is a good choice.
They have relatively low exercise needs as they are small dogs. So, if you live on the top floor of a high-rise apartment, then too Chis are good for you.
With their small size, they are easy to travel with.
However with kids, they are known to be snappy. Most Chis fit in right with older kids but they have a tendency to herd smaller kids.
Also, you must teach your younger children to treat your pet with respect otherwise, your Chi won't hesitate snapping or growling at them.
This is an instinctive behavior – the Chi knows it is small and is afraid of getting injured by small, less-coordinated hands.
If you are getting an older Chihuahua, then too it might not get along too well with the kids. However, with early socialization, you can make your pet's integration a lot smoother.
Preparing to Bring Home your Pet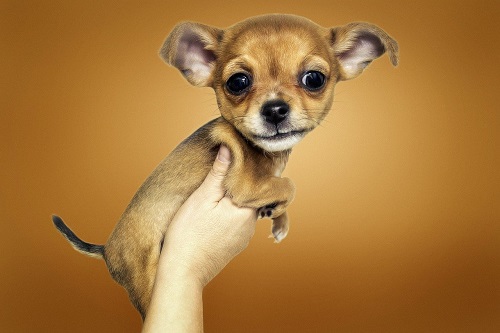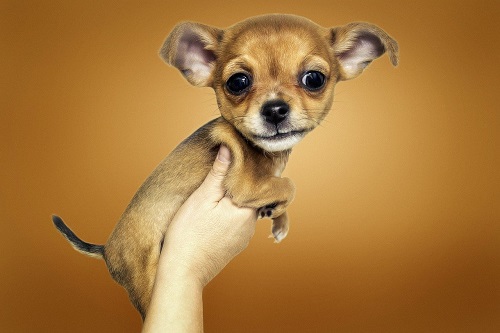 1. Make sure all your family members are on board with bringing home a Chi.
You must also decide on the house rules from day one, so you use the same rules and commands and not confuse your pet with different ones.
 For example, an important decision is whether or not your pet is allowed on the furniture.
The same is true about excess biting and licking behavior.
Make these decisions beforehand. When everyone reacts the same way to your Chi's behaviors, then it will be easier for you to make or break those behaviors.
2. Socialize it with your kids
Teach your kids, especially the younger ones, to respect your Chi – get its ''paw-mission" before they get too close'!
Do not allow them to pet, prod, or hit your pet. Kids can get excited and their excess petting can scare your young pet. It might even snap or bite or bark at your kids.
Teach your kids about dog's warning signs.
Tell them that if their Chi growls, they must back off. It is good to acquaint your Chi to kids early on as this is part of socialization. But you must also teach your kids how to pet nicely.
3. Socialize with other pets
"How do Japanese chihuahuas say hello to each other?"
Konichihuahua"!!
Jokes apart, when introducing your Chi to other dogs or household pets, always supervise the interaction.
Remain calm and casual and do not force your puppy to meet the other animals right away. Give it time.
You can place both dogs on leash before introducing.
If all goes well, you can let the two animals play together for a bit. If things don't go so well, let them have their space and then try again.
 It can be difficult but you will soon see progress.
4. Make sure your house is safe for your new pet
Once you have introduced your puppy to your kids and other pets, it is time to let it to explore its new surroundings.
Before you do that, make sure that your house is safe for your pet. You literally need to look at everything in your house from your Chihuahua's perspective.
Tie up and place all loose wires out of reach. Teething puppies love to chew everything in sight.
Place shoes and slippers inside cabinets that your Chi cannot enter.
Keep the remote control out of reach.
Pick up underwear, clothes, etc., and place it out of reach.
Use baby gates wherever you don't want your pet to enter.
Hide cleaning supplies and dangerous chemicals.
Yard
Take a walk in your yard.
Make sure the fence is secure and your puppy cannot escape.
Remove toxic plants – many household plants pose dangers to young dogs.
Remove pesticides, rodent killers, and other dangers in the yard.
Stock Up On Pet Supplies
Before you bring your pet home, stock up on some basic supplies. You will need to make a trip to the pet store or buy these online.
1. Dishes/bowls – food and water
Buy high-quality dishes –one for food and one for water – for your Chi. (You can also keep some extra in case the other needs to be washed or you want to place water bowls on all floors of your house).
We recommend ones made with stainless steel and not plastic.
Plastic bowls, overtime, gather smells and could also develop cracks that become breeding grounds for pathogens.
Look for stainless steel bowls that are appropriately sized.
We recommend the Neater Feeder Express Bowls for Small Dogs.
Also Read: Benefits of Elevated Dog Bowls
2.  Dog bed
Your Chi also needs a place to sleep in. Buy a good quality bed which will keep your buddy warm.
In case you plan on crate training (covered later in this guide), you will need to buy a crate pad that fits inside the crate.
We recommend the Best Friends by Sheri Donut Dog Bed as it is more durable than standard dog beds, free from toxins, calming, and perfect size for a Chihuahua.
Also Read: Best Dog Bed for Chihuahua
3.  Leash/collar/harness set
Harness and/or leash and collars can help you take your pet out on walks and also help during potty training.
We recommend PetSafe Easy Walk, No Pull Dog Harness which is designed by a vet and is highly recommended by dog trainers.
For the collar, we recommend the Blueberry Pet Essentials dog collar as it is specially designed for extra-small and small dogs and is sturdy, durable, and extremely safe for delicate small breeds like Chihuahuas.
Also Read: Best Collar for Chihuahua
Also Read: Best Harness for Chihuahua
4.  Crate
Invest in a sturdy crate and crate pad.
These will help your puppy sleep through the night while also providing a safe and secure place for your buddy.
We recommend the MidWest iCrate which is perfect for a small-Chihuahua puppy and also a fully grown Chi.
5. Dog food
Your Chi puppy or adult both need highly nutritious meals. You can choose either dry food or kibble and/or wet or canned food based on your pet's taste preferences.
We recommend the Royal Canin Breed Specific Food..
Also Read: Best Food for Chihuahua
6. Oral cleaning products
Unfortunately, your Chi is prone to dental troubles. Therefore, cleaning its teeth regularly is very important.
As a part of your Chi's daily grooming, brush its teeth with a high-quality, small-sized dog toothbrush with a dog toothpaste. Never use human toothpaste as it could be toxic to your Chi.
We recommend No products found. .
Alternatively go in for the BlueStern Oral Care Kit as it also contains a toothpaste with brush.
Also, feed your pet dental treats from time to time to deter plaque and tartar.
Also Read: Best Toothbrush for Chihuahua
7.  Bathing supplies
Speak to your vet as to when you could start bathing your Chihuahua. Most vets recommend not to bathe before all vaccinations are over.
Once you get the green signal, you can use Healthy Breeds Puppy Shampoo for bathing your little pet.
Use a separate towel to dry your pet.
Also read: Best Shampoo for Chihuahua
8. Healthy training treats
You will need a lot of these in the beginning, for teaching basic commands discussed below as well as during crate and housetraining.
We recommend Low Calorie Treats from Pet Botanics as they are small and healthy and won't fill your pet too much.
9.  Puppy potty training pads
If you want your dog to go indoors, you can either provide newspapers or puppy potty pads.
Puppy pads are a more hygienic option as they absorb odors and prevent urine from seeping to your floor.
We recommend Amazon Basics puppy potty training pads as they are super absorbent and can reduce your cleanup hassles.
Also Read: Are Chihuahuas Easy to Train
10.  Enzymatic pet stain and odor cleaners
Accidents will happen in the first few months of house training. Your pet is bound to go potty indoors at some point or other.
To prevent it from using the same spot as a toilet, again and again, use an enzymatic cleaner.
It goes deep into the stain and completely eliminates odor. This way, your pet won't use the same area again as a toilet.
We recommend Rocco & Roxie Professional Strength Odor and Stain Remover.
11.  Grooming tools
These include brushes, shampoos, dog wipes, ear cleaners, eye boogers and tear stain removers, nail clippers, hair/fur trimmers, etc.
We recommend the Coastal Lil' Pals Safety Tipped Brush . It is suitable for brushing short and long-coated Chis.
You also need a de-shedding brush to remove the loose and stray hairs. We recommend the Furminator de-Shedding Tool for Long-Haired Small Dogs .
Use hair clippers or trimmers to trim off the excess hair in long-haired Chis, as it is prone to matting. We recommend PettingPal small trimmer blade as it is perfect width for small pets like Chis.
For the best shampoo and conditioner, you can check out our guide on the Best shampoo for Chihuahua. Here, we have recommended many top shampoos and conditioners specially formulated for Chihuahuas.
It is also a good idea to check with your vet about specific shampoos especially in case your pet has a skin issue.
Finding a Vet
An important part of caring for your Chi is finding a good vet. Preventative health care is very important and a vet that you and your Chi are comfortable with, can help.
To find a right match, ask your Chihuahua's breeder for recommendations.
You can also ask neighbors and friends for a vet nearby. It is important that the vet has after-hours or emergency services as well.
The best recommendations will come from someone that has had first-hand experience with the vet.
Naturally, this experience can be both good and bad but any insight can help. Typically a good vet is also a busy one.
Make your first appointment and take a list of questions you wish to ask her/him.
The vet should be cordial to you and your Chi.
Remember, your pet is going to be very nervous but a good vet will reduce its apprehension and put your pet at ease.
Take along health records of your pet for the vet to review. S/he will decide the procedures based on these records.
Discuss your Chi's vaccination schedule with the doctor so you know when you have to bring your pet in to the office.
Puppy Vaccination Schedule
Earlier, Chihuahuas (and all puppies in general) required many vaccinations.
For years, vets gave a series of vaccines starting at the age of 4 weeks continuing every 2-4 weeks for up to 20 weeks of age.
After 2005, vets started giving a combined canine vaccine for distemper, adenovirus, and parvovirus, with a duration of 3-year immunity approved by the USDA.
Thanks to this, your puppy needs only two injections, one at 8 or 9 weeks and the other at 12 weeks.
Also Read: Chihuahua Puppy Vaccinations – Everything You Need to Know!
Training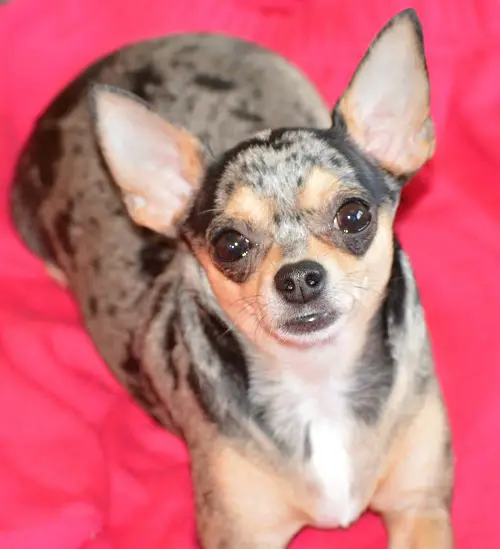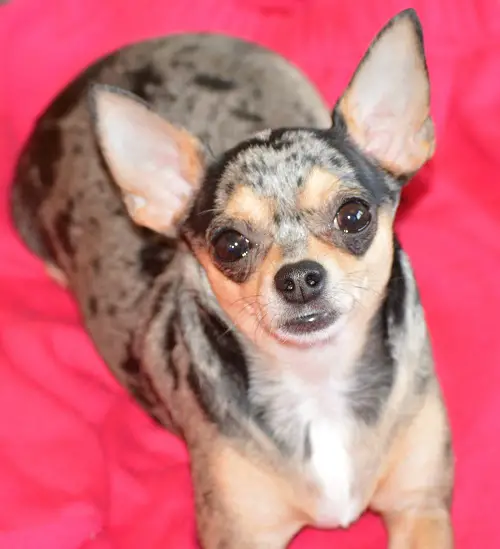 We have now come to the most important part of raising and caring for a Chihuahua.
A well-trained Chi can be a delight to have around for years to come.
On the other hand, an untrained Chi can be a nightmare with excess barking, chewing furniture, jumping on people, and other bad behaviors.
Here are some benefits of early training.
Benefits of training
Safety for you and your pet
A well-trained Chi will not chew furniture or dash outdoors and run away. Nor will it jump on visitors.
This enhances the safety of your dog, your kids, and visitors. It also protects your belongings from sharp teeth and claws.
Helps foster a loving bond and mutually respectful relationship
When you spend time and effort on training, you and your buddy can bond together. The relationship you develop is that of mutual respect.
You get and become a friend for life!
You can safely and easily take your pet to new places
When you know your Chi is well-trained and not bound to dash away or jump on people, then you will have so much fun and pride taking it outdoors.
You will also get compliments about how well trained your buddy is!
Most importantly, vet-visits will be much easier than they are for owners of untrained dogs.
Housetraining and Crate training your Chihuahua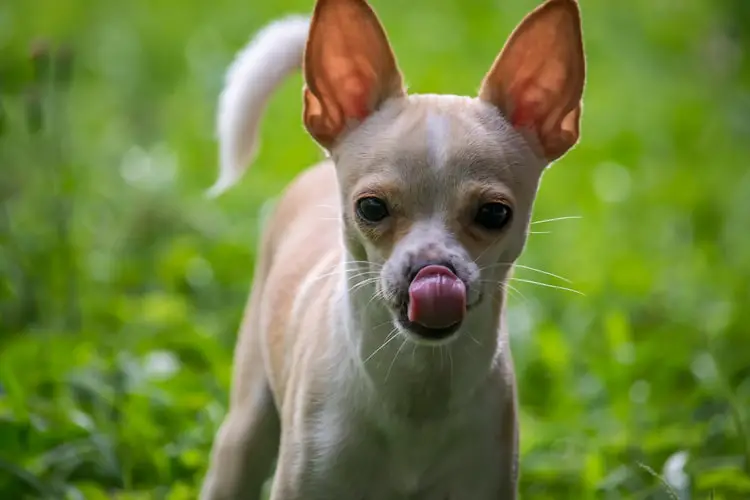 Start early
Start house training and crate training side by side. The earlier you begin, the more successful you will be in housetraining your Chi in a matter of weeks.
Crate your pet
Crate your pet starting for small durations each day. Place healthy training treats, toys, and blankets inside the crate.
Before crating your pet, take it outside to pee. This way, its small bladder will be empty and it won't 'go' inside the crate.
Take your Chi puppy outside to potty every hour on the hour
The key to successfully potty train your Chihuahua is to show it where to pee. You can designate and pre-decide a potty area in your yard or balcony or use puppy potty training pads.
When you take your pet to the potty spot and use a command like 'Go potty', it will learn that it is Okay to pee there and not okay to pee indoors.
Since Chihuahuas are small dogs and puppies are even smaller, their bladders fill up very quickly.
As a result, you need to take your pet outside after every hour to pee. The moment it pees in the decided spot, praise enthusiastically and treat it.
You will need to do this consistently every day until your Chi learns to associate potty outdoors fetches rewards and praise.
Curb accidents indoors
Accidental urination indoors can still occur but if you diligently take your Chi outside on the hour, you can greatly limit them. If needed, use an alarm to remind you!
In case you work outside, you can have a pet sitter/neighbor/family-member/or friend take your puppy for potty breaks every hour.
Watch out for potty cues
Your little pet will also show you when it wants to go potty by sniffing in a spot, circling round and round, or whimpering.
When it does these actions, make a loud noise by clapping and saying NO loudly at the same time.
Then pick it up and carry it to the designated potty spot on the puppy potty pad.
When it goes on the pad or outdoors, say 'Good Dog', praise profusely, and treat your pet.
Eliminate urine odors
Dogs use the ammonia smell of urine to pee over the same area again and again.
In case your Chi uses your carpet as a toilet or has had an accident indoors, then clean it right away with enzymatic cleaners. This will stop your pet from going potty in the same spot again.
How to teach your Chi basic commands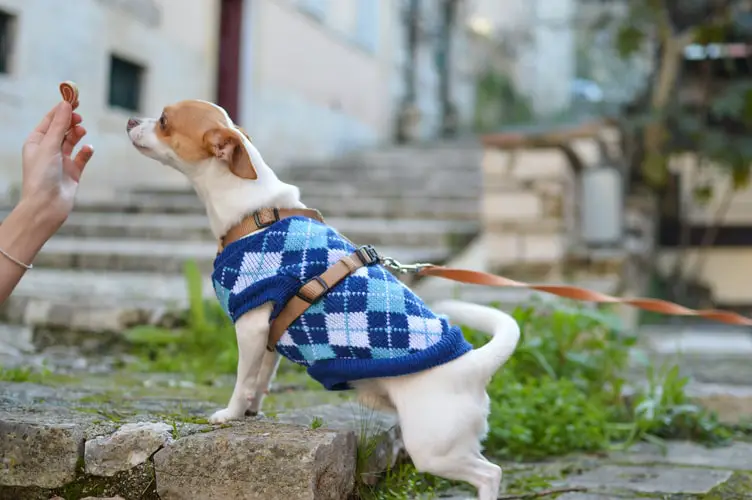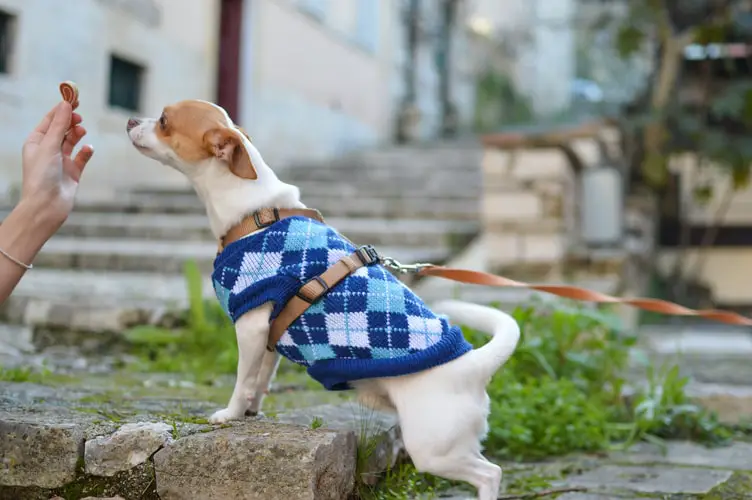 Sit command
This is the most basic of all dog training commands. It is easy and boosts you and your Chi's confidence too. To teach Sit command:
Hold a treat close to your pet's nose.
Lift your hand and the treat until your pet lowers its butt.
Once your Chi is sitting on the ground, say Sit and treat it.
Repeat this a couple of times more in every training session.
Practice the Sit command 4-5 times a day.
Come command
Teaching your Chi to come when called is easy and also essential.
Have someone hold your Chi in another room.
You can go to the other end of the room or the next room.
Call your Chi by its name and say Come.
Make sure you use voice intonations: infuse enthusiasm and reward and treat your pet right away.
Practice this command several times. The key is to get your pet to come to you every time you call it and use the 'Come' word. This includes situations when there is chaos or a lot of exciting activity going around your pet.
Drop it command
This command can come very handy in preventing your Chihuahua from eating stuff off the ground on its walks or even running away with your remote/slippers, etc.
Give your Chi a toy.
When it holds the toy in its mouth, give the Drop It command.
You could tug a bit on the toy and hold out your hand.
When your buddy drops the toy, praise it enthusiastically and treat it.
Heel command
This command can be very beneficial in training your Chi to walk by your side off-the-leash without leading, and without running away or jumping on other dogs/people.
Take your Chi out on the leash.
When it starts pulling, stop and wait for a while.
Say 'Heel' and start walking again.
When it again pulls or starts leading, stop again. You can also ask it to sit.
Stop at all intersections and make your pet sit.
When you walk again, make sure it looks at you and heels by your side.
 Controlling excess barking in your Chihuahua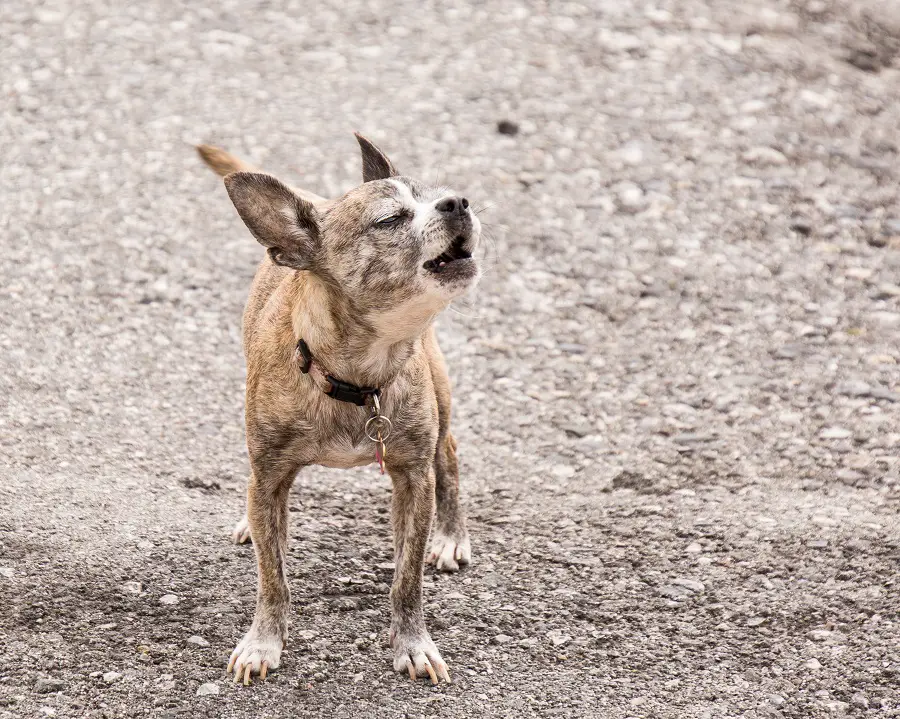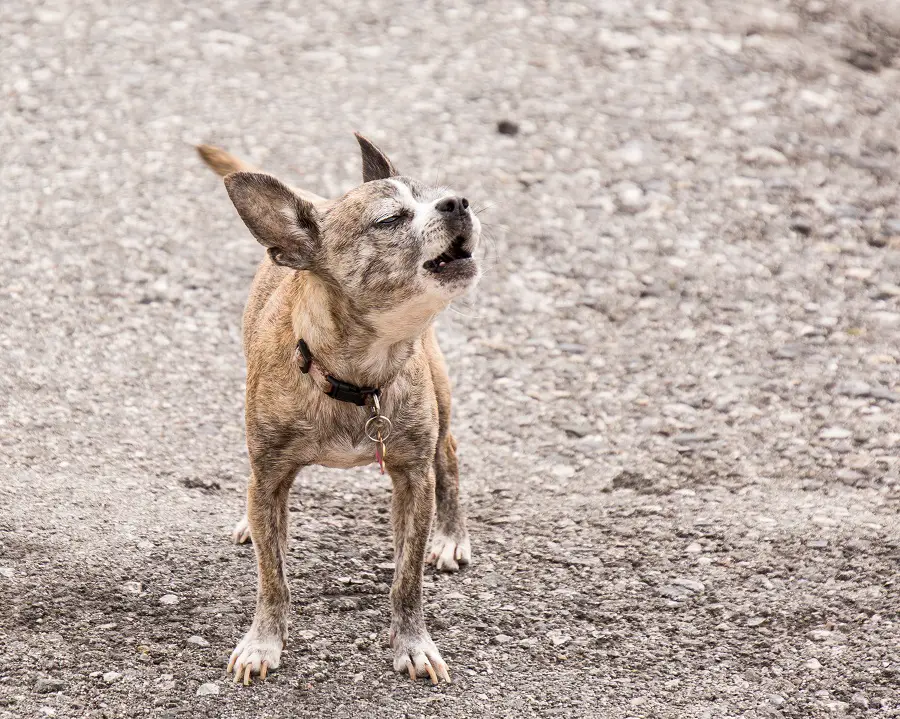 Chihuahuas are known to be very mouthy. They will bark at everything and anything especially when they are threatened, insecure, scared, or simply excited.
Many factors can cause excess barking in Chis:
Evolutionary trait – Your pet knows it is small, so it calls for backup with its loud barks.
Loyalty – Chis are extremely loyal and that makes them possessive and territorial. They will bark at anyone who approaches your yard, your car, etc.
Separation anxiety – This is not a dog breed that likes being alone. Your pet will bark and alert the neighbors when left at home by itself.
Needs something – Barking is a way of attention seeking or pointing out that your pet needs something. A well-fed, well-exercised dog should not bark unnecessarily.
Here are some tips to curb excess barking:
Ignore it
Ignore unnecessary barking by placing your Chi in its crate. Turn your back and leave the room.
Only let it out once it is silent. Treat it so it understands that silence gets rewards.
Use calming treats
FDA-approved hemp-based treats could help reduce anxiety, fear, and other issues that cause excess barking in dogs.
We recommend Premium Care Hemp Calming Treats. They are flavored treats with natural ingredients that can reduce stress and anxiety related barking in your Chi.
Manage its environment
If your dog barks at passersby or the mailman, you can close the curtains so your pet cannot see them.
Keep your dog tired
A tired Chi will not indulge in barking. So, exercise your pet by taking it out in the yard for a game of fetch, or walk it a couple of times a day.
Use humane bark collars
If needed, use humane bark collars to curb excess barking. These emit a beeping sound or vibration which can startle your pet when it barks.
We recommend the MASBRILL DOG COLLAR which is safe and humane and won't hurt your Chi.
Also Read: Best Bark Collar for Chihuahua
Also Read: Do Chihuahuas Bark a Lot
Establishing a Feeding Routine – Complete Nutrition and Feeding Guide for Chihuahua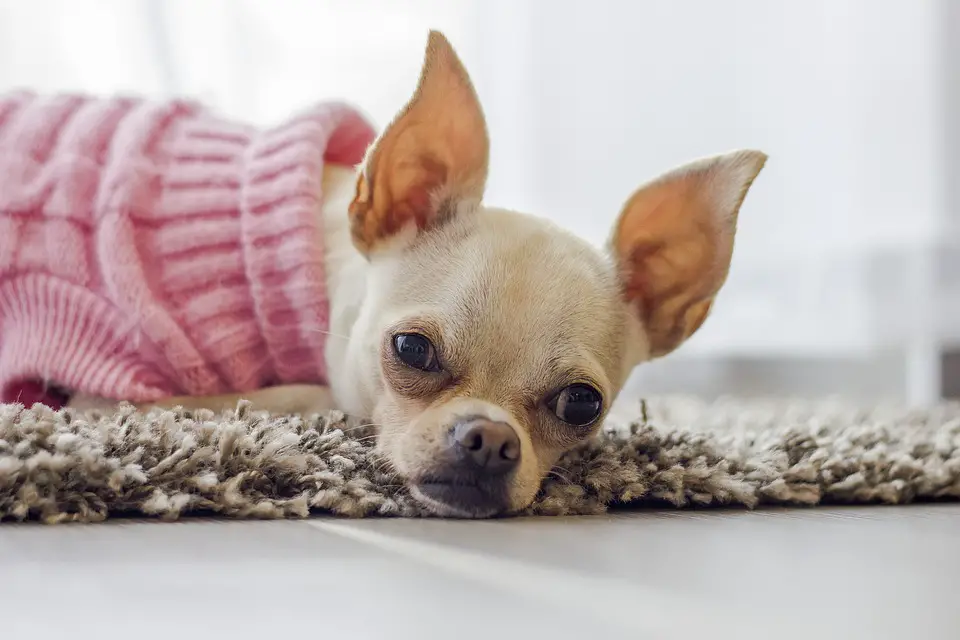 Chihuahua Puppy – Calorie needs, how many times to feed
Chihuahuas are tiny little balls of energy and they have very high metabolic rates. A small puppy up to the age of 6 to 8 weeks needs its mother's milk.
After 8 weeks, start feeding a high protein diet as recommended by your vet.
A puppy weighing up to 4 lb. needs about 150-200 calories per day based on its activity levels, the kind of food you feed (wet or dry), the weather, etc. Feed your Chi puppy the total calories through 3-4 small meals per day.
Chihuahua Adult – Calories needs, how many times to feed
An older Chi up to 8 years also needs high protein meals. They are prone to weight gain, so make sure you exercise your pet and reduce its calorie intake as per your vet's advice.
Most adult Chihuahuas need 2 to 3 meals totaling up to 225 calories per day.
Feed at the same time every day.
Do not feed immediately after exercise.
Provide plenty of fresh water daily to your pet.
Always clean the food and water bowls regularly.
Also Read: How Much to Feed a Chihuahua
Importance of Exercise for your Chi – Establishing an Exercise Routine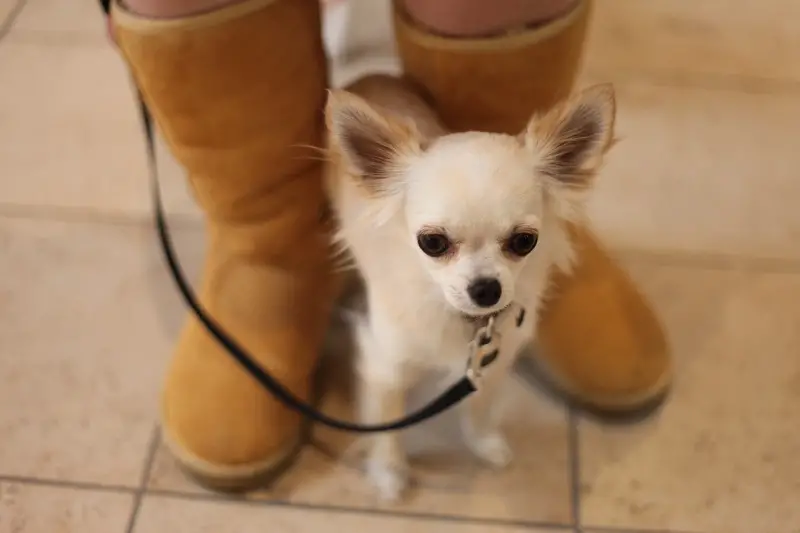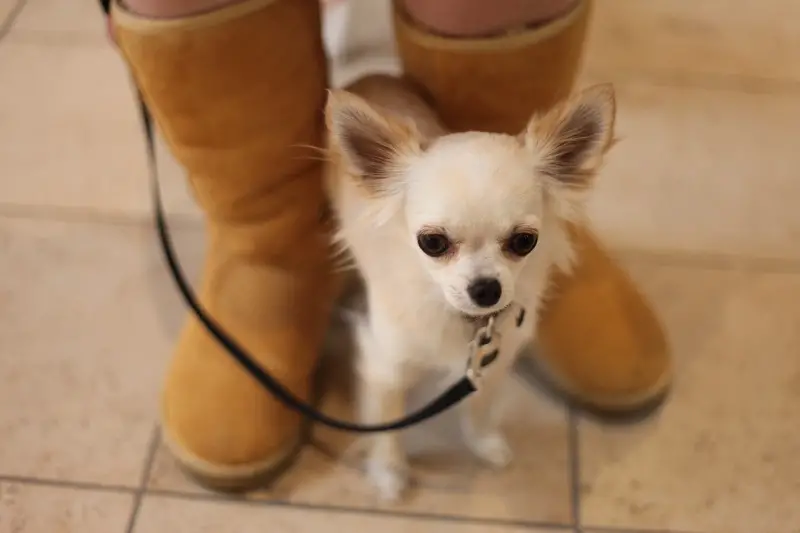 Chis are prone to weight gain. Resultantly, they need regular exercise to keep those pounds off.
Exercise also has the following benefits:
Keeps your pet mentally happy
Reduces common behavioral issues
Strengthens the heart, lowers blood pressure
Stimulates appetite
Improves digestion
Small dog breeds like Chihuahuas do not need a whole lot of exercise. Daily 30 minutes of physical activity (usually walking) is adequate for them and you can split this up into 2 sessions of 15 minutes each.
Tips to keep your Chi Mentally Stimulated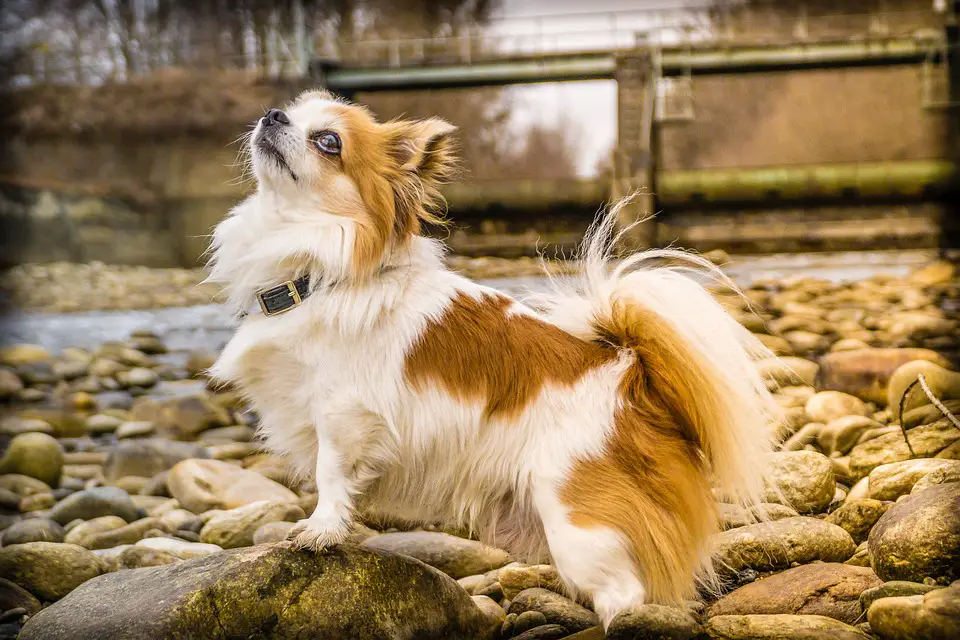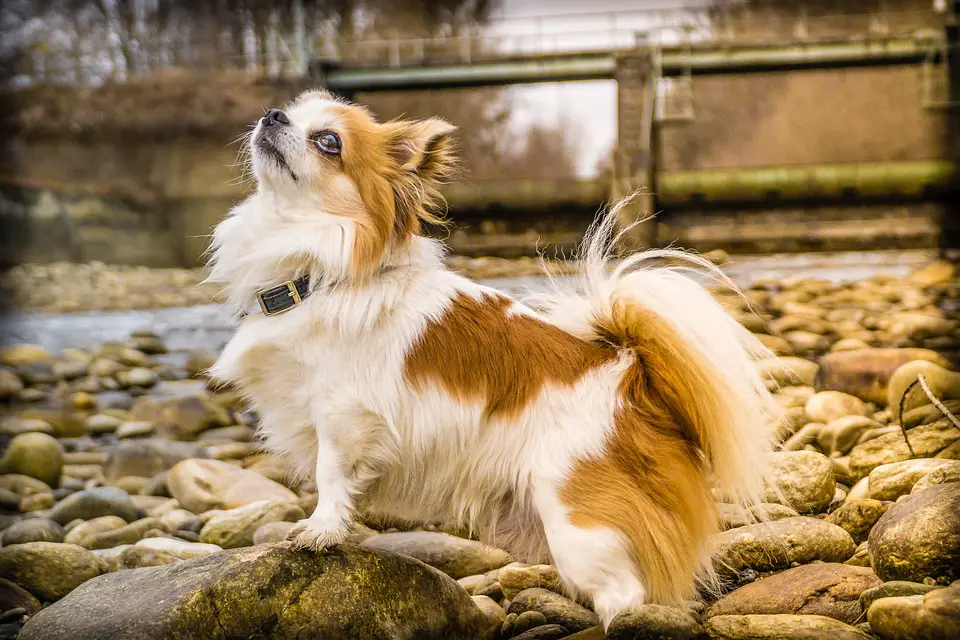 Mental stimulation is also very important for your Chi. It can keep issues like anxiety, boredom, and depression at bay.
Take it out on walks
Simply taking your pet outdoors gives it a chance to sniff at things. Your Chi can get a lot of information by sniffing other dog's urine and that can help provide mental stimulus as well.
Let it work for its food
Hide treats inside a Kong toy.
Kong toys are great way to occupy your pet and it can have hours of satisfying fun chewing and searching for hidden treats inside.
Invest in toys
Invest in a toy set with an assortment of toys like chew toys, balls, ropes, etc.
We recommend the LEGEND SANDY STORE toy set as it has plenty of variety to engage your buddy.
There are some interactive toys which your kids can use for playing with your Chi or some boredom-alleviating squeaking toys as well.
Train your pet
Simply training your pet every day is also a great way to provide much needed mental stimulation.
Train your pet in small sessions of 10-15 minutes daily. You could teach it the names of its toys or even build an obstacle course for it.
How to Groom a Chihuahua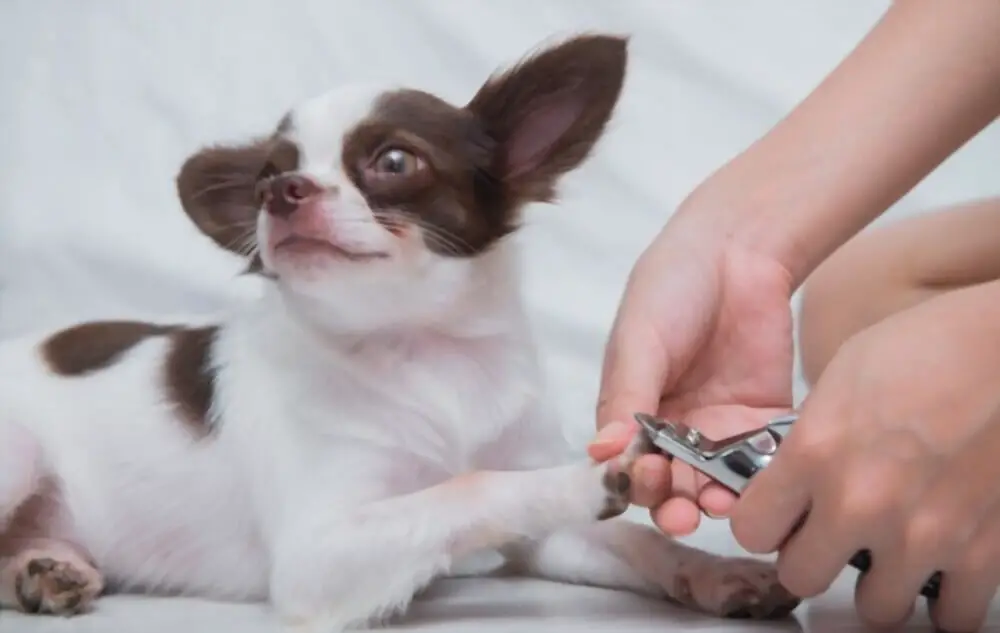 Grooming steps for a Chihuahua will vary based on its coat type.
Check out our guide on Long-Haired Chihuahua Grooming.
Basic grooming steps:
Remove mats and tangles with your fingers.
Brush your pet from head to tail taking care to brush its belly, neck, back of the legs, face, paws, etc.
Clean your Chi's ears with an otic ear cleaner for dogs. This solution removes bacteria, mold, and odor and reduces the risk of ear infections.
Bathe your pet with a Chihuahua dog shampoo .
Clean its eyes using dog eye wipes .
Brush its teeth every day with a dog toothbrush and paste.
Trim its nails.
You can also take it to a professional groomer in case you want special hair cut for your Chi.
How to Travel with a Chihuahua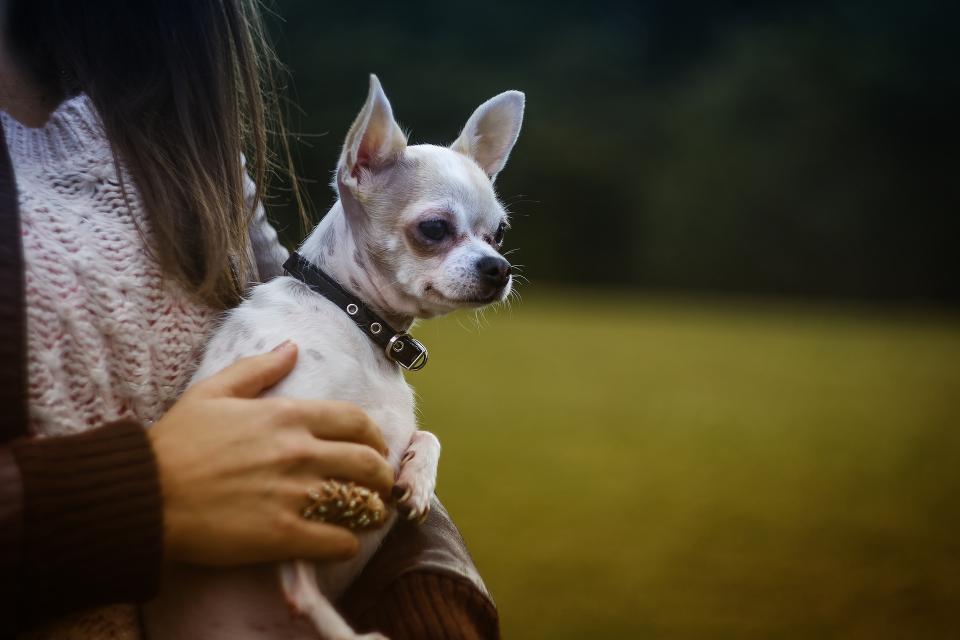 Many Chis are anxious about long journeys and car rides. Get your pet used to shorter travels first, before embarking on more ambitious voyages.
Feed your pet some calming treats so it can relax.
Flying
Choose a safe and functional airline-approved carrier
Let your pet relieve itself before boarding
Do not feed it too much before the boarding
Carry your pet's medicines, treats, food, bowls, leash, harness, collars, etc. on your travels.
Car journeys
Avoid feeding your Chi too much before a car drive
Let your pet walk around before getting into the car. This will tire it out and it will sleep.
Avoid driving too fast.
Take frequent breaks of 15-20 minutes after every 2-4 hours.
Common Diseases in Chihuahuas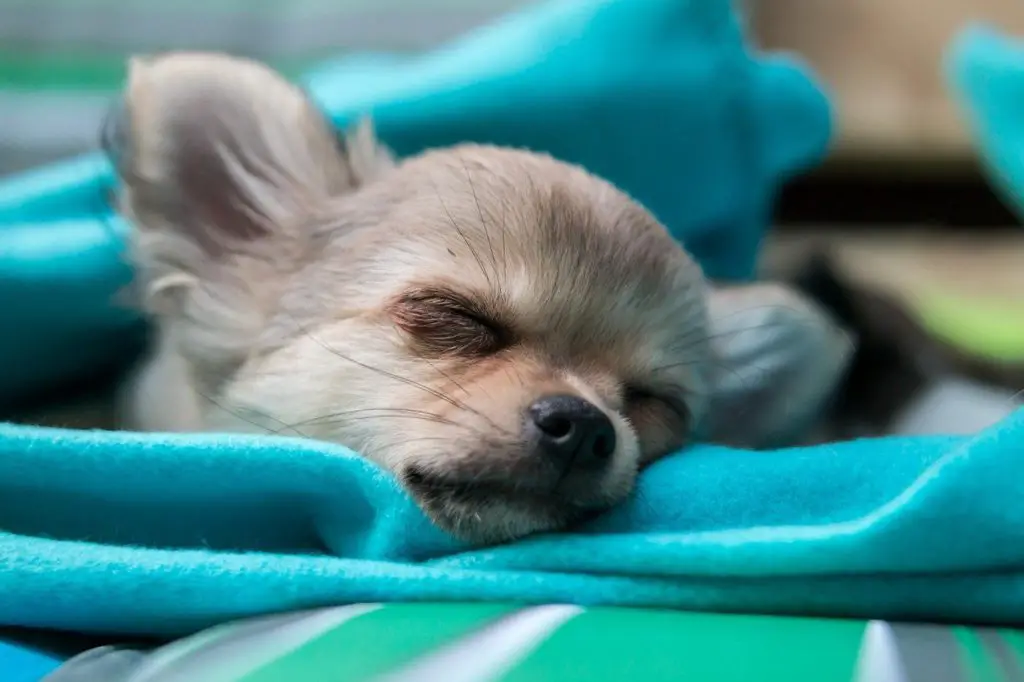 Your Chi is prone to certain health issues including the following:
Dental disease
As stated earlier, Chihuahua could develop dental issues and the risk is higher in them than in other breeds. Early detection is important to prevent heart, kidney, and liver diseases. You can also prevent dental issues by being thorough in your pet's dental care.
Obesity
Chis are also susceptible to obesity. Even a few pounds on this small dog is easily noticeable and also takes a toll on its joints. To prevent obesity, you need to strictly follow portion control and also exercise your pet.
Eye diseases
This small dog is also at a risk of developing eye issues like cataract and glaucoma. Some dogs also need surgery to prevent permanent blindness.
Heart conditions
Heart-related diseases like mitral valve disease, heart murmur, and heart failure are also the leading cause of death in these dogs.
You can take steps to minimize these risks through proper diet, dental care, omega fatty acid supplements, and daily exercise.
Tracheal collapse
Chis have weak trachea and injuries or pressure on them as well birth-or genetic weakness can cause these walls to collapse. Avoid using collars and use harness instead. The condition is manageable however, some dogs may need surgery.
Joint problems
Chihuahuas are also prone to developing hip and elbow dysplasia, patellar luxation, and arthritis. These are painful conditions that can reduce your dog's mobility. Certain supplements can be used for managing and even preventing these issues.
Also Read: Best Luxating Patella Dog Supplements
Buying Pet Insurance
Your Chihuahua is your family and protecting it is your duty. As a pet parent, you want nothing but the best for your little pet.
Pet care costs are also rising. That is why, you need insurance.
Insurance can cover costs of basic and preventive health checkup and also for accidents and injuries.
Shop wisely before you buy, since every plan has different coverage.
Basics of Senior Dog Care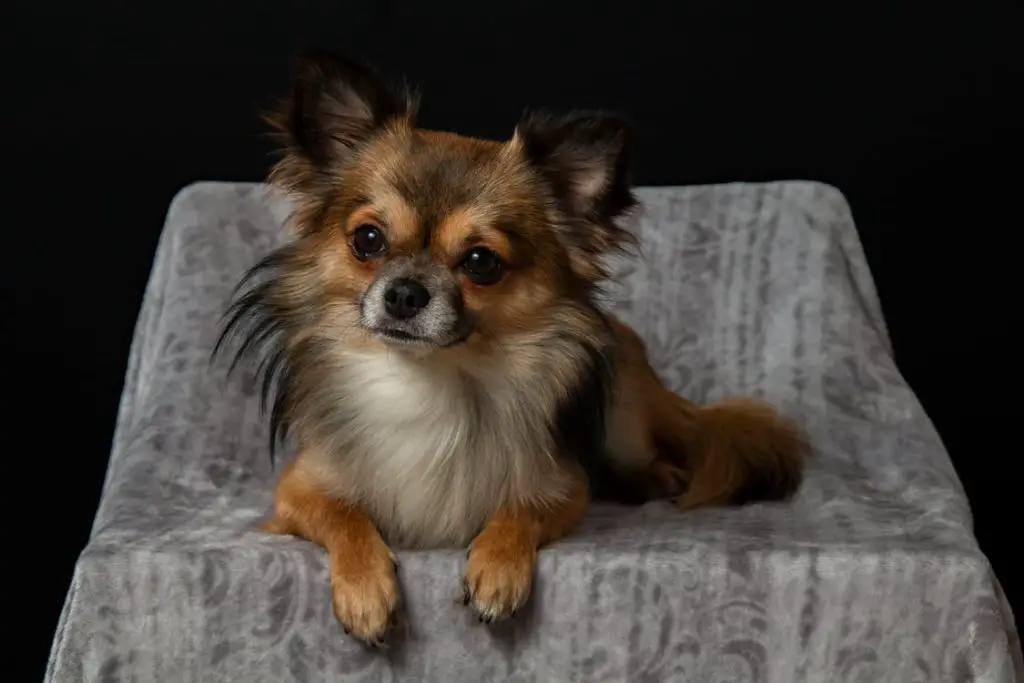 As your pet transitions into its golden years, you will want to take special care of it.
Chihuahuas have a life span of 12-20 years. So, any Chi above 8 to 10 years can be considered a senior.
Here are some tips to take care of an older Chihuahua:
Feed it an age-appropriate diet. If your dog has dental issues, try switching to wet food or softer kibble.
Regular vet checkups can help catch problems before they escalate. Also get its parasite and vaccinations done regularly.
Exercise your pet – small walks a couple of times a day can keep its joints supple and also prevent depression.
Provide it a good bed. If your buddy has joint issues, go in for orthopedic beds. B07J334WTW These reduce pressure on the joints.
Clean your Chi's teeth daily.
Spend time with it.
No one wants to take the painful decision but there could come a time when you are left with no choice. In case your pet is suffering too much, decide with your vet whether it is time to say goodbye.
Conclusion
Wondering how to take care of a Chihuahua?
Whether you are a novice puppy owner or a veteran at managing dogs, we hope this brief guide helps you cover the basics of Chihuahua care, training, supplies to buy, and other important aspects of raising a Chi.
We hope it can help you get a happy and well-behaved dog that will give you joy for years to come.