The best dog food for French bulldogs with gas are packed with premium, high-quality, and easy-to-digest protein.
After switching to the best dog food for French bulldogs with gas your pet will have reduced episodes of nausea, vomiting, abdominal discomfort, and flatulence.
It can help reduce farting, belching, and smelly poop too.
Based on vet-recommendations and reviews from real Frenchie parents, we have hand-picked 5 top dog foods that could reduce gas in your pet.
Just in case you are in a hurry, click on our short summary below to view our Top reviewed products for the best dog food for French bulldogs with gas:
Also Read: Best Food for French Bulldogs with Skin Allergies
Best Dog Food for French Bulldogs with Gas – 2022 Top 5 Picks
The first five ingredients in Hill's Science Diet for Sensitive Skin & Stomach dry dog food are: chicken, rice, yellow peas, barley, and sorghum.
Most Frenchies can tolerate these ingredients with ease.
It is no wonder that even vets recommend this food for dogs with IBS, food sensitivities, skin allergies, etc.
Hill's dry dog food also contains prebiotic fiber in the form of beet pulp which balances gut microflora and promotes digestive health as well as immunity.
Resultantly, it has made stool pickup easier and also reduced stool odor for thousands of pets.
Furthermore, it has also prevented symptoms of gas like belching, farting, and abdominal discomfort in many dogs.
Hill's also makes a wet food version of this great food.
What we like about it
Promotes digestive and skin health
Beet pulp probiotic fiber balances microbiome and enhances digestion and immunity
Packed with Vitamin E and omega 6 essential fatty acid for heart health, healthy skin, and healthy weight.
What we don't like
Kibble size keeps changing.
Two factors make Royal Canin one of the best dog food for French Bulldogs with gas: highly digestible protein and precise fiber content.
Royal Canin French Bulldog dry dog food contains chicken, brewer's rice, and beet pulp as the main ingredients. It is also fortified with vitamins, minerals, and fish oil.
Moreover, the kibble is perfectly sized and shaped to fit your small Frenchie's small jaws.
Its easy-to-digest protein adds lean muscle mass and provides energy to your Frenchie. Most Frenchies stopped having foul gas and smelly poop after switching to this food.
The added advantage of Royal Canin dry dog food is that it promotes healthier skin and coat in your little pet.
What we like about it
Precise fiber content
Easy to digest protein
Specially tailored kibble for small jaws
Skin nourishing ingredients
What we don't like
Contains wheat and wheat gluten which some sensitive Frenchies could not digest well.
Purina Pro Plan Sensitive Skin and Stomach Dry Dog Food for small dogs is fortified with live strains of probiotics. Probiotics balance the gut's microbiome and intestinal flora to prevent gas, nausea, and vomiting.
Furthermore, it contains prebiotic fiber to nourish specific intestinal bacteria. Both these factors have helped reduce gas, vomiting, and diarrhea in thousands of dogs.
We love the fact that its oatmeal-and real salmon (as first ingredient) provides optimum protein to your buddy for its lean muscle maintenance.
Your Frenchie will also benefit from minerals like calcium and phosphorus for better bone health.
In case your Frenchie likes wet/canned food, Purina makes a canned version of this as well.
What we like about it
Contains prebiotic fiber and live strains of probiotics for better digestion
Oatmeal and salmon are well-tolerated by most Frenchies
Packed with omega essential fatty acids for healthy skin and coat
Minerals like calcium & phosphorus improve bone health.
What we don't like
Kibble has strong odor and it gave a few dogs bad breath.
Purina Pro Plan sensitive stomach dry food is ideal for puppies under 1 year of age.
Its main ingredients are lamb and oatmeal which are easy to digest and reduce flatulence in Frenchie puppies that may be allergic to chicken and other proteins.
Furthermore, it is fortified with live strains of probiotics which enhance the digestion.
Your Frenchie pup will also get plenty of DHA necessary for brain development.
Purina puppy food even has sunflower oil which is a great source of omega essential fatty acids.
It is also fortified with calcium and phosphorus which are needed for maintaining strong bones and teeth.
What we like about it
Oatmeal and lamb formula is gentle on sensitive stomach
Probiotics clear away gas and strengthen the digestive system
Fortified with vital nutrients for puppy's optimal growth
Made in USA
Small kibble pieces ideal for small jaws
What we don't like
Kibble crumbles easily into powder. Causes wastage.
Hill's Prescription Diet Digestive Care canned dog food contains vegetables and chicken stew which is easy on sensitive tummies.
It is the best transitioning food when your pet is down with diarrhea, gas, vomiting, or other symptoms of food allergies or sensitivity.
Its first ingredient is chicken which is well-tolerated by most Frenchies. No wonder this food has helped eliminate gas, abdominal discomfort, and other signs of indigestion in many dogs.
Its optimal fiber quantity firms up stools and regulates your Frenchie's bowel movements. Moreover, it contains B-vitamins and electrolytes to replenish lost fluids in case your pet has had diarrhea/vomiting.
What we like about it
Made with real chicken which is easy on your pet's stomach
Balanced fiber regulates bowel movements
Made in the USA
No.1 vet-recommended food
What we don't like
Needs vet's prescription.
Why Are French Bulldogs Gassy All the Time?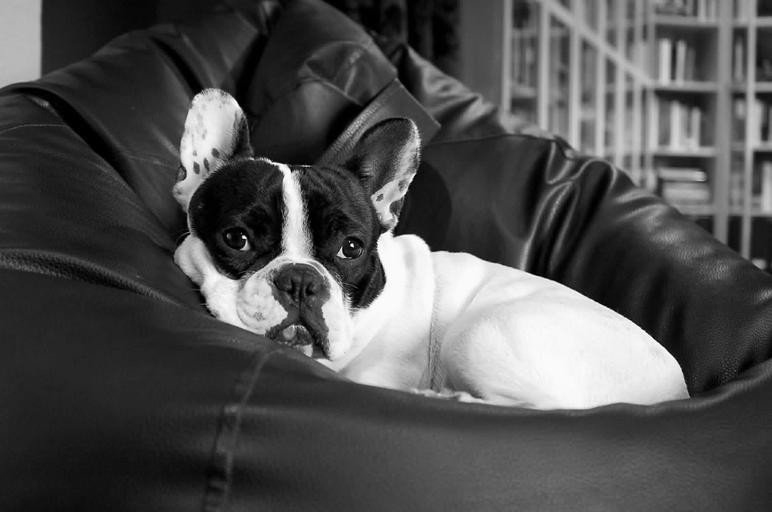 Here are the main reasons why Frenchies tend to be gassy all the time:
1. Breed-related thing
Almost all dogs fart but Frenchies are especially prone to flatulence. It is probably due to the fact that they are a Brachycephalic breed – which means they have squashed faces and short noses.
This facial structure causes them to swallow more air while eating which could contribute to gas.
2. Feeding table-scraps
Frenchies are cute little dogs and if you have encouraged their food-begging, then chances are they are always at your feet or under the table while you eat.
If you are in the habit of giving your pet table scraps, crumbs of human foods, etc. then don't be surprised if your buddy suffers from gas and extreme flatulence.
Also Read: Best Treats for French Bulldogs
3. Your pet has an allergy or food sensitivity
Most Frenchies are sensitive and known to suffer from allergies, food intolerances or sensitivities.
Some Frenchies, for example, cannot tolerate certain proteins. The presence of those proteins in commercial dog foods can easily cause symptoms like runny stools, gas, abdominal pain, belching, farting, etc.
Some Frenchies are sensitive to grains like wheat and wheat gluten, corn, soy, beef, artificial ingredients, flavors, dyes, certain preservatives, by-products, meals, etc. These ingredients too can cause flatulence.
Dairy or lactose intolerance is very common in almost all dog breeds.
This is because dogs are not equipped with the necessary enzymes needed to digest them. Dairy can easily cause gas in your Frenchie.
Also Read: Best Food for French Bulldogs with Sensitive Stomach
4. Low-quality food
Many poor-quality commercial dog foods are filled with filler materials which could contribute to food intolerances in Frenchies.
For example, some cheap dog foods are known to use carrageenan – a binding agent known to cause abdominal distress in sensitive dogs.
High-quality dog foods avoid such ingredients. Most of them are also vet-recommended, FDA approved, and made in US facilities.
 Therefore, you can rest assured that your Frenchie is getting only what it needs and nothing that it does not.
5. Sudden dietary changes
Sudden dietary changes can also trigger gas and flatulence in Frenchies.
Your pet's system could get overwhelmed and, resultantly, it might have trouble digesting the new food.
So, whatever dietary changes you plan on making, make them slowly and only after discussing with your vet.
6. Eating too fast
Frenchies love food and they don't hesitate to show it!
You might have seen your Frenchie eating fast – literally gulping – its food. If that is the case, it could end up swallowing a lot of air which can cause belching and flatulence in your pet.
Please use a maze dog food bowl or switch to a slow feeder bowl.
Check out our guide on the Best Stainless Steel Slow Feeder Dog Bowls.
Also Read: Best Dog Bowls for French Bulldogs
How to Select the Best Dog Food for French Bulldog With Gas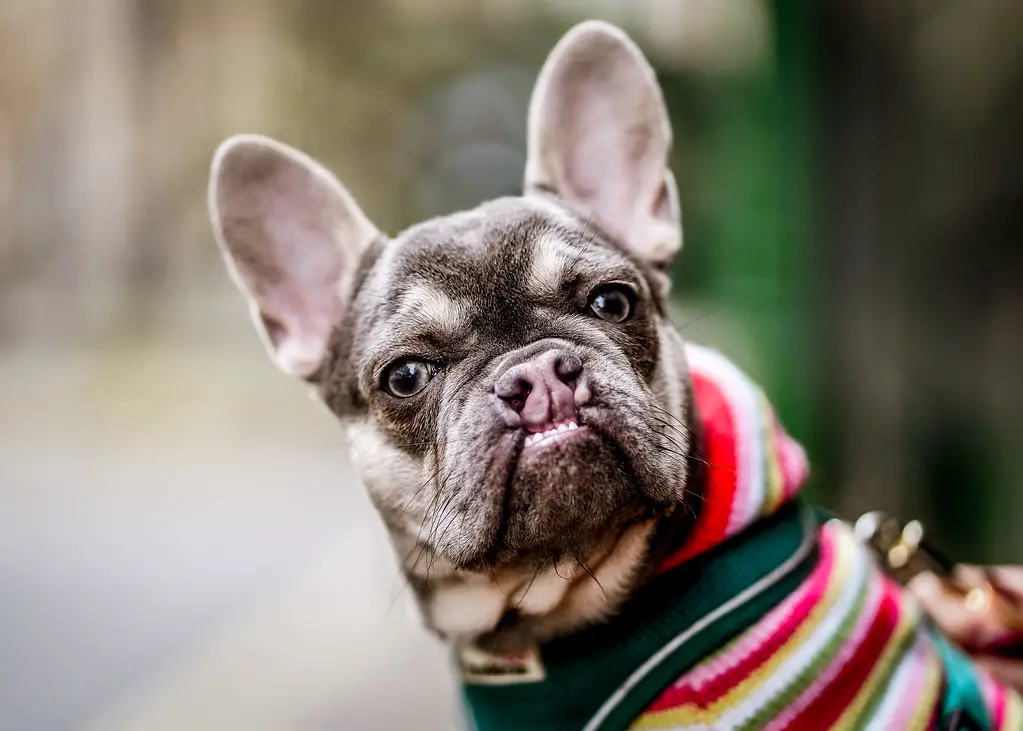 A little bit of gas is normal in Frenchies, but if your pet is farting or belching all the time, or has foul-smelling poop and farts, then a dietary change may be necessary.
Here are some factors to consider when switching your pet to the best dog food for French bulldogs with gas:
1. Discuss with a vet first
Always make dietary changes after consulting your vet.
Many factors can cause symptoms of gas, abdominal discomfort, belching etc. It could be a one-time thing or chronic health issue.
Some Frenchies have IBD or IBS (Irritable Bowel Syndrome) wherein their digestive system simply cannot process certain ingredients. In such cases, they might need special diets or even prescription diets.
Sometimes, the cause of gas may be parasites, stomach infections, etc.
Your vet might order some tests or stool exams to rule out different possibilities. Based on the diagnosis, you can switch to the right food that avoids ingredients your Frenchie is sensitive to.
2. Look for an easy-to-digest protein
Most Frenchies do well after switching to the best dog food for French bulldogs with gas simply because the food contains a different protein that the one they may be allergic to.
These days, dog food manufacturers are adding novel proteins like venison, bison, etc. which are gentler on dog's tummy.
3. Avoid foods with additives
Frenchies often have lesser flatulence after switching to foods that are free from dyes, artificial flavors, fillers, binding agents like carrageenan, etc.
Look for foods with limited ingredients (less than 10 ingredients) if needed.
4. Ensure it has fiber
Fiber-rich foods enhance digestion by regulating stools.
The best dog food for French bulldogs with gas contain balanced fiber in the form of pumpkin, beet pulp, psyllium husk, etc.
These help add roughage, keep your buddy regular, and also firm up loose stools.
When your pet is regular, it will have less gas and flatulence.
5. Look for food with prebiotics and probiotics
Prebiotic and probiotics balance and replenish the gut's microflora or 'friendly bacteria'.
These bacteria restore intestinal tissues and lining of the digestive tract. This helps improve your Frenchie's digestion, reduces farts, and makes stool pick-up a lot easier as well.
Most of the foods mentioned above contain probiotics and/or live strains of prebiotics.
FAQs on Best Dog Food for French Bulldogs with Gas
1. How else can I relieve gas in my French bulldog?
In addition to switching to the best dog food for French bulldogs with gas:
2. What foods should a French bulldog not eat?
Avoid feeding avocados, chocolates, raisins, grapes, cooked bones, alcohol, tea, coffee, etc. to your Frenchie.
Check out the complete list of 30 Foods to Never Feed a Dog.
3. Why does my Frenchie fart so much?
Frenchies inherently have sensitive stomachs, so some ingredient in commercial dog foods could cause excess gas in your Frenchie.
 Farting could also occur because your pet has a short nose that causes it to eat too fast and swallow a lot of air while eating.
4. Can Frenchies digest chicken?
Most Frenchies can digest chicken however, there are some that are known to be allergic to chicken, eggs, and other poultry.
 Conclusion
The best dog food for French bulldogs with gas contains easy-to-digest premium protein, balanced fiber, as well as probiotic/prebiotics.
These ingredients help regulate stools, keep your buddy regular, replenish friendly gut bacteria, and eliminate foul-smelling farts.
We recommend Hill's Science Diet Sensitive Skin and Stomach dry dog food as it is easy to digest and checks all the above requirements too.
Do check our other recommendations as well.