The best food for French Bulldogs with sensitive stomach consists of an easy-to-digest protein.
It is also free from allergens, fillers, and preservatives, and can help alleviate symptoms like vomiting, diarrhea, gas, and itchy skin in sensitive Frenchies.
Based on certain features, we have hand-picked 5 great foods for your Frenchie (both adult and puppy). These are vet-approved and, most importantly, recommended by real Frenchie owners too.
We also have wet and dry food options – so there is something for every palate.
Just in case you are in a hurry, click on our short summary below to view our Top reviewed products for the best food for French Bulldogs with sensitive stomach:
Also Read: Best Dog Food for French Bulldog with Skin Allergies
Best Food for French Bulldogs with Sensitive Stomach – 2022 Top 5 Picks
Most French bulldog owners reported fewer symptoms like loose stools, gas, etc. after switching to Royal Canin French Bulldog Breed Specific dry dog food.
We firmly believe that Royal Canin's breed-specific formula is a boon to Frenchie parents – you can trust it blindly to provide optimal nutrition to your pet.
This tailor-made kibble reduces stool odors and gas in sensitive Frenchies and contains highly digestible chicken as its main protein source. Besides, it also contains balanced fiber for enhanced digestion and improved stool firmness.
Protein and L-canritine in this great food also help maintain your pet's lean muscles.
Furthermore, its omega fatty acids and vitamin content maintain the skin barrier and keep your Frenchie's wrinkled skin healthy and infection-free.
What we like about it
Contains easy-to-digest protein – mainly chicken
Has fiber for enhanced digestion
Reduces gas and stool odor
What we don't like
Contains wheat and rice – which some sensitive Frenchies are not able to digest
We love several things about Nulo's grain-free dog food:
One, it contains 'clean', all-natural ingredients which help Frenchies that are sensitive to chemicals, dyes, and flavors. It is also free from egg and chicken which some Frenchies are allergic to.
Secondly, it is free from grains like wheat, soy, corn, additives, colors, and other allergens.
Thirdly, it is fortified with BC30 probiotic and we all know how probiotics enhance digestion and strengthen immunity.
Moreover, for Frenchies with sensitive skin, Nulo grain-free food provides omega fatty acid to nourish skin and coat and relieve itching.
Last but not the least, Nulo grain-free food comes in flavors like turkey, salmon, and lamb so there is something for every Frenchie.
What we like about it
Clean, all-natural, grain-free, free from additives, and allergens
Contains pure probiotic strain BC30 for improved digestion and immunity
Low in carbs
Contains low-GI foods like lentils
Small kibble-size is ideal for Frenchie's small jaws
What we don't like
Expensive but totally worth the price
Nature's Recipe grain-free dry dog food is free from corn, wheat, soy, and other allergens. It contains real salmon as its first ingredient which most Frenchie's can tolerate easily.
The natural dog food also contains sweet potato and pumpkin which regulate the stools and provide plenty of balanced fiber for easier stool pick up. These ingredients also enhance your Frenchie's digestion system.
Your little guy or girl will also benefit from Nature's Recipe's balanced omega fatty acids 3 and 6 which nourish sensitive skin and coat.
Furthermore, the calcium and phosphorus in this food support healthy bones and teeth.
What we like about it
Free from grains, soy, artificial flavors, and preservatives
Rich in fiber for enhanced digestion
Real salmon is the first ingredient – supports lean muscles
Omega essential fats for healthy skin and wrinkles
What we don't like
Inconsistent quality and recipe changes.
CANIDAE premium puppy formula contains fewer than 10 ingredients and has chicken as the first ingredient. Being grain-free, it is very easy to digest and won't cause gas or stinky poop.
Your sensitive Frenchie puppy will get plenty of highly digestible protein, omega essential fatty acids, and antioxidants from this top-quality food.
 Last but not the least, it is free from corn, soy, and wheat which many Frenchies are sensitive to.
What we like about it
Simple recipe with whole ingredients free from grains
Real meat first, no additives, fillers, and by-products
Contains antioxidants and vitamins for immunity and healthy coat
Packed with probiotics for healthy immunity
What we don't like
Kibble crumbles into powder.
You can trust Hill's Science Diet brand for your sensitive Frenchie because it is specially formulated by vets and canine nutrition experts.
This wet food has a delicious taste for picky eaters.
Moreover, its first two ingredients are chicken broth and chicken which provide lean, easily-digestible protein for muscle maintenance.
Hill's Grain-free and fiber-rich formula has helped ease stool-pickup for thousands of happy pet parents. It is also heartening to know that you are feeding nutritionally optimum food to your beloved pet.
Hill's chicken and vegetable entrées also contain heart-healthy ingredients like oats, and prebiotic fiber to support a balanced gut microbiome.
What we like about it
Highly recommended by vets for sensitive dogs
Grain-free, easy-to-digest protein, fiber-rich
Supports healthy skin and coat thanks to omega fatty acids and vitamin E
What we don't like
Food sticks to the inside of the can and is difficult to get out.
Packaging issues and dented cans.
How To Tell if your French Bulldog has a Sensitive Stomach?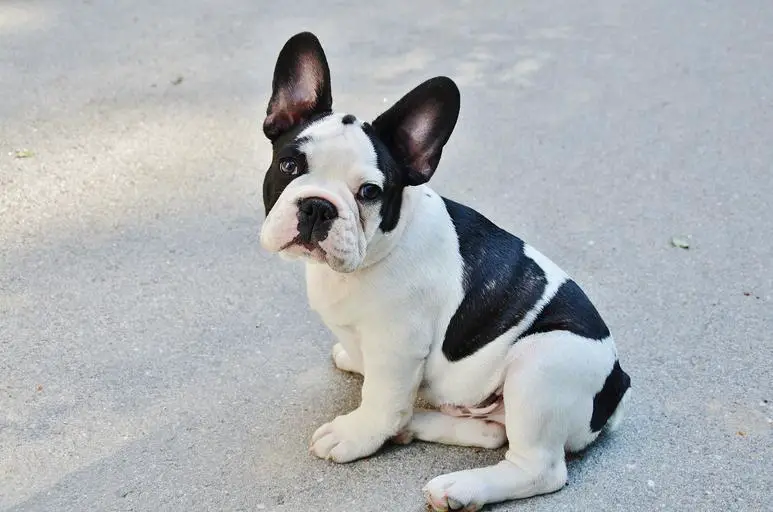 Some Frenchies are simply born with sensitive stomach – they inherit it from their parents and have it from birth. Others might develop sensitivities in adulthood.
A Frenchie with sensitive stomach is not able to digest its food properly. It might have loose watery stools, upset tummy, lethargy, and excessive gas.
Unfortunately, it can be difficult to tell whether your Frenchie indeed has a sensitive stomach, or it is a one-off thing.
If you have changed your pet's food recently, then that may be the cause of the symptoms. If however, your pet has always suffered from diarrhea, nausea, vomiting, appetite changes, and itchy skin, then chances are that it has a food sensitivity.
Your vet can tell you if your French bulldog has a sensitive stomach. In general, the signs of sensitive tummy in French bulldogs include:
1. Appetite changes
Most Frenchies with sensitive stomach are too nauseated to eat and could show a lack of appetite. This could result in weight loss over time.
2. Salivation and excess swallowing
Excess drooling is also a sign that your pet is sensitive to something in its food. Hyper-salivation could also be triggered by constant nausea.
To curb excess saliva, your Frenchie might also swallow frequently.
3. Vomiting and/or diarrhea
If your Frenchie vomits chronically and especially after eating, then too it is a sign of sensitivity. Some Frenchies also have loose, watery stools or diarrhea in addition to vomiting.
In extreme cases, there is presence of blood in the stools.
4. Lethargy and decreased mobility
Since food sensitivities upset the balance of gut flora, your Frenchie might be too tired or lethargic all of the time. It won't have a cheerful and playful disposition. Resultantly, it might sleep all the time.
5.  Itchy skin
Sensitive tummies also reflect on your pet's skin and coat's health. If your Frenchie has been showing skin allergy symptoms like scratching its ears and jaw, or licking its paws excessively, then you could suspect food sensitivity.
6. Gas and flatulence
This is the most important sign that your Frenchie is unable to digest some ingredient in its food. Constant farting, belching, and tummy discomfort can all point to food sensitivity. This both happen to a young or adult french bulldog.
Also Read: Best Dog Food for French Bulldogs with Gas
Factors to Consider when Selecting the Best Food for French Bulldog with Sensitive Stomach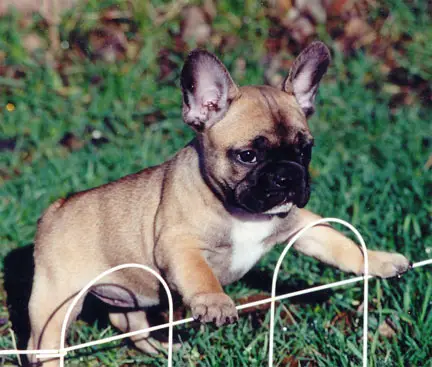 Here are some features to consider when selecting the best food for French Bulldog with sensitive stomach:
1. Rule out other medical issues first
Numerous factors can cause sensitive tummies in French bulldogs.
Your pet might be unable to digest certain ingredient/s in its food resulting in constant bouts of vomiting, diarrhea, gas, abdominal discomfort, and/or itchy skin.
However, a number of other medical conditions can also cause these symptoms: pancreatitis, toxins, parasites, are just a few of them.
That is why, it is important to have your vet assess your pet thoroughly. You should not make any dietary changes unless you are sure what your pet is sensitive to. Be a responsible dog owner.
2. Go back to the basics
Most Frenchies are unable to handle heavily processed commercial dog foods that contain a plethora of additives, by-products, and fillers.
When you eliminate these unwanted extras, what remains is what your Frenchie actually needs. Resultantly, your pet might be in a much better position to digest the food.
Switching your pet to a high-quality dog food containing limited or few ingredients, particularly ones without all those artificial flavors, preservatives, and dyes, etc. can greatly reduce its sensitivity symptoms.
3. Look for highly digestible protein
No two Frenchies are the same.
Your French bulldog may be allergic to chicken and eggs while another one might not be able to tolerate lamb or salmon.
You could try different proteins or work with your vet to determine which protein is gentler on your pet's tummy.
You can also go in for novel protein sources (something your Frenchie has not eaten before) to see if your buddy is able to digest that better.
Some examples of novel proteins include duck, rabbit, bison, herring, venison, etc.
4. Fiber and probiotic based food
Vets recommend dog foods containing a balance of soluble and insoluble fibers for dogs having food sensitivities.
Soluble and insoluble fibers get fermented in the intestine to create byproducts that feed the inflamed cells of the digestive track.
This helps reduce food sensitivity symptoms like french bulldog gas, nausea, and abdominal pain, and also regulates the stools' consistency to ease stool pickup.
That is why, the best food for French bulldog with sensitive stomach contains good fiber sources like pumpkin, sweet potatoes, beet pulp, flax seeds, peas, or psyllium husk.
Similarly, probiotic bacteria in the food help balance and replenish good intestinal bacteria to enhance your Frenchie's digestive system.
Most foods in our list above are fiber and probiotic rich.
Also Read: Best Treats for French Bulldogs
How Else Can You Help a French Bulldog with Sensitive Stomach?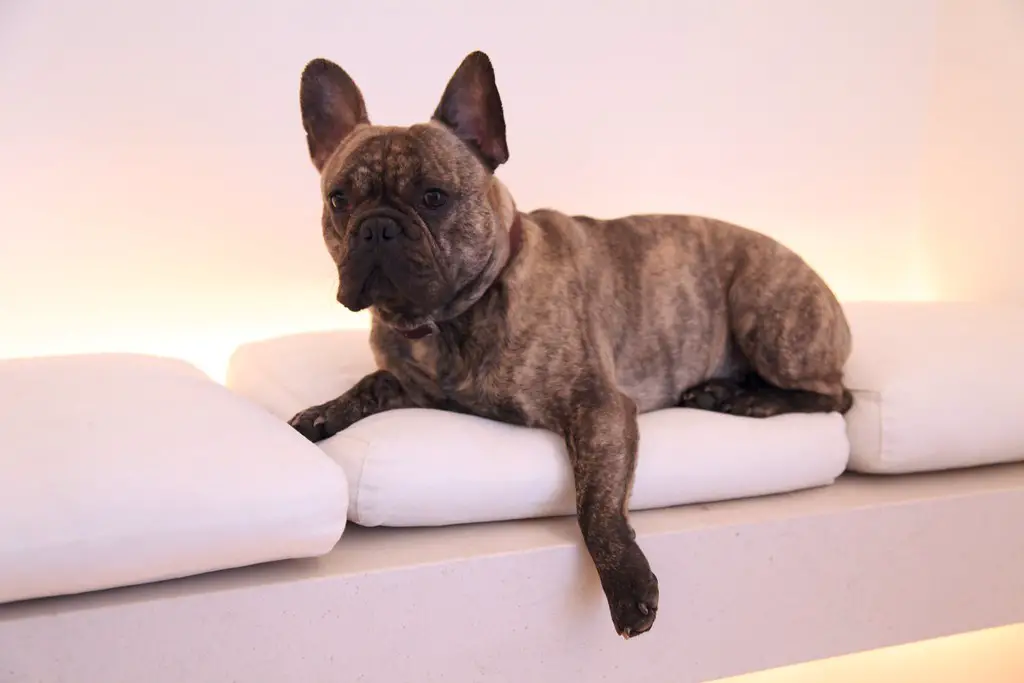 In addition to switching to the best food for French bulldog with sensitive stomach, use the following tips to help your pet:
1. Switch to high-quality dog treats
Your Frenchie's treats can also aggravate its sensitive tummy symptoms.
Switch to high-quality dog treats that are free from allergens, preservatives, etc.
You can try these Lloyd & Lucy's Skin & Coat Treats for healthy skin and coat.
2.  Say no to table scraps
It can be very tempting to give in to your pet's cute begging. However, feeding human foods such as deboned chicken, fruits, leftovers particularly table scraps, could aggravate your buddy's allergies.
So strictly say no and discourage begging.
3. Consider feeding it homemade food
Some sensitive Frenchies do very well on home cooked diets.
You can feed your pet bland diet consisting of rice mixed with proteins like meat/fish, ground flax seeds and pumpkin/beet pulp for fiber.
However, please speak to your vet before making any drastic dietary changes to ensure you still meet the nutritional needs of your pet.
Also Read: Best Dog Bowls for French Bulldogs
FAQs on Best Food for French Bulldog with Sensitive Stomach
1) Do French Bulldogs have sensitive stomachs?
Yes. In fact, most dogs have sensitivity issues with their stomach. For Frenchies, food allergy can present many complications in their skin, stomach, and overall health.
Because of some ingredients that are not being tolerated by their bodies, not all commercial foods or even home-prepared foods are enough to keep them away from stomach issues.
Frenchies have sensitive stomachs because they are allergic to certain puppy food belonging to grains, dairy, meat protein, nuts, gluten, human food, and others. If you happen to give this to your pet, you'll notice usual farting because of gas and flatulence. Look for the best food for gassy french bulldog to cure this problem.
When looking for french bulldog food, rule out first what caused the last episode of the allergy. If you are giving your pet some canned wet food or raw diet, stop them completely and give him a new set of meals, then observe if it will not cause any allergy.
2) Do all French bulldogs have digestive issues?
No. Not all Frenchies are sensitive to certain foods however, most are.
In fact, Irritable Bowel Syndrome or IBS is a common health issue in Frenchies. This disease prevents your Frenchie from absorbing nutrients properly and can result in many symptoms like french bulldog gas, diarrhea, vomiting, etc.
Also Read: Best Cat Food for IBD
3) Why is my Frenchie's stomach so hard?
If your Frenchie has just had its meals, its stomach can harden due to gas and fluids.
Wait for a while and observe your pet for other symptoms like restlessness, vomiting, trying to have a bowel movement or regurgitating the food.
If the hardness and other symptoms persist, your pet might have gastric volvulus or bloat. This is a fatal condition, so please see your vet right away.
4) What can I give my Frenchie for an upset tummy?
It is best to avoid feeding your pet when it has an upset stomach.
If your pet has an appetite, you could feed it a bland diet of pureed pumpkin, chicken broth, some rice, plain yogurt, etc.
When giving a canned dog food, call your vet to check for his recommendation. Your Frenchie can be a picky eater at this point but avoid giving him anything with artificial colors or flavors.
5) What can I give my Frenchie for gas?
Excess gas or flatulence can be prevented by switching to the best food for French bulldog with sensitive stomach.
Some Frenchies also do well on the BARF or Bones and Raw Food diet. However, please speak to your vet before making the switch.
Conclusion
The best food for French bulldog with sensitive stomach has limited ingredients and mainly consists of easily digestible protein, balanced fiber, and probiotics.
For pet owners who are still wondering and asking "Do French Bulldogs have sensitive stomachs?", then keep in mind that they are gassy breeds and dealing with sensitivity issue is very normal. However, this is manageable and and can be resolved by some of the best food for gassy french bulldog.
It is also free from artificial fillers, flavors, and dyes.
We recommend Royal Canin French Bulldog dry dog food which is known to eliminate gas, ease stool pick up and enhance the digestion in French bulldogs.
Do check out our other recommendations as well.