The best dog food for Yorkie delivers targeted nutrition to your small though energetic pet.
Yorkie or the Yorkshire Terrier is an alert, intelligent, and energetic dog breed. They are very active and hence require high-quality food that can provide them plenty of energy.
Based on your pet's overall health, you can look for top-rated dog food for small or toy dog breeds.
In general, Yorkies do well on food that is protein and calorie rich and has a small-sized kibble easy for your pet to pick up.
In this guide, we have 5 top foods for your Yorkie. We have divided them into different categories like best puppy food, best food for an adult Yorkie, best canned food, etc.
Just in case you are in a hurry, click on our short summary below to view our top 5 reviewed products for the best dog food for Yorkie:
 Best Dog Food for Yorkie – 2022 Top 5 Picks
Royal Canin makes it so easy for dog owners by making these breed-specific foods.
We can blindly trust this brand to cover all the breed-specific requirements and this food is no different.
It is our number one pick for the following reasons:
Firstly, it has kibble size designed for your Yorkie's small jaws. Also, its flavor and aroma are sure to excite even the pickiest of Yorkies.
Secondly, it contains a balanced ratio of Omegas 3, 6 along with biotin that help maintain your pet's smooth and glossy coat.
Thirdly, it contains nearly 26% protein and 16% fat to provide your pet with muscle mass and energy for all day activity.
Royal Canin also makes dog food for senior Yorkies:
And for Yorkshire puppy:
In case your Yorkie likes wet or canned food, then try:
What we like about it
Breed-specific nutrition with small kibble size
Packed with omegas and biotin for a healthy coat
Excellent taste and flavor
High-quality ingredients
What we don't like about it
Contains grains which sensitive Yorkies may not be able to handle.
Vets recommend Hill's Science Diet Small Breed Dog Food for small dogs like Yorkie because its kibble size measures just 7.5 x 4.5 mm. This is smaller than a dice and ideal for your Yorkie's small muzzle and bite.
In addition to having small kibble, Hill's Science Diet is formulated by vets and canine nutrition experts. It provides tailored nourishment to meet the needs of toy breed dogs.
Furthermore, the food is very easy to digest as it is made with real chicken as its number one ingredient. The other ingredients are also all-natural and the food is made in USA itself.
Last but not the least, Hill's Science Diet food also consists of omegas for healthy skin and coat, Vitamins C and E antioxidants for better immunity, and ingredients for a stronger heart as well.
In case you have a picky Yorkie on hand, you can feed it Hill's Science Diet's wet or canned food topped over this delicious kibble.
What we like about it
Very small kibble size ideal for small Yorkie jaws
Vet-recommended
All natural, protein rich food made in USA
Supports heart, skin, and immunity
What we don't like
Some picky Yorkies refused to touch it.
Purina Pro is a high-calorie and high-protein dog food especially formulated for energetic young Yorkies.
This food contains chicken as its number one ingredient to help your pet maintain its lean muscle mass.
It also benefits your pet's immune system and digestive health thanks to its live probiotic and prebiotics content.
Moreover, the nutrient-dense, bite-sized kibble is easy to chew for your pet's tiny muzzle.
It is also packed with calcium and phosphorus for bone health and its great flavor and aroma is enticing for pickiest of Yorkies.
What we like about it
Small kibble-size
High protein with real chicken as first ingredient
Contains calcium and phosphorus
Pre and probiotics for better digestive health
What we don't like
Contains corn and wheat which some dogs cannot handle.
Veterinarians recommend IAMS Proactive Health puppy food for small and toy breed pups because it contains 22 vital health nutrients found in mother's milk.
It contains DHA for your growing Yorkie's eye health and brain development. This great food also contains real chicken as its first ingredient along with healthy grains and beet pulp for better digestive health.
IAMS Proactive Small Breed Puppy Food is also enriched with essential minerals for enhancing your pet's bone health.
Moreover, there are no preservatives, soy, or wheat in this food making it ideal for young Yorkies with digestive sensitivities.
What we like about it
Pea-sized pieces ideal for small Yorkie's tiny jaws
22 vital nutrients from mother's milk
Omegas for healthy coat and brain development
What we don't like
Contains corn, by-products, gluten meals which some Yorkies cannot tolerate.
Real beef along with diced carrots, beets, and potatoes make this variety offering from Blue Buffalo a tasty treat for your Yorkie.
Many Yorkies do not like kibble or dry food. Some even have dental troubles that can make it difficult to eat dry food. Blue Buffalo Delights Natural Canned Dog Food can help your pet that has these issues.
It contains beef as the number one ingredient and there is no corn, wheat, soy, or other fillers in it.
Moreover, it is fortified with vitamins, minerals, and high-quality protein to help your pet maintain muscle mass.
Furthermore, this natural canned dog food is also free from poultry by-products, artificial flavors, preservatives, and other unwanted stuff.
Last but not the least, pet parents love the fact that the food is perfectly portioned for small tummies, so there are no messy leftovers or the worry of overfeeding your small pet.
What we like about it
Tiny, tender bite size pieces in gravy ideal for small dogs or dogs with dental issues.
Fresh and natural ingredients, perfect portions, great taste for picky dogs
Limited ingredients, free from corn, wheat, soy, artificial flavors, preservatives, etc.
Good for sensitive Yorkies
What we don't like
What Are the Features of the Best Dog Food for Yorkie?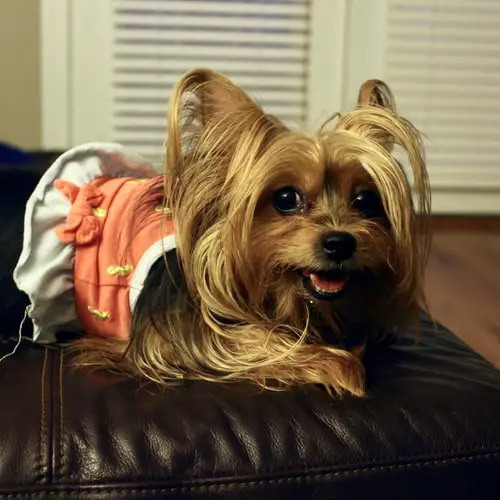 The best dog food for Yorkie should ideally have the following features:
1. Small kibble size
If your Yorkie likes dry food, then go in for food with small kibble pieces. This way, it is easier for your pet's small muzzle to pick and chew it.
2. High in protein, high in calories
Yorkies, pups and adults, both need higher calorie foods as they expend that energy quickly and have fast metabolisms.
In addition, you should look for foods with real protein in the form of chicken, beef, salmon, etc. that your pet can easily digest.
3. Packed with Omegas
Your Yorkie also needs a dog food that is packed with Omegas 3 and 6. This is necessary for healthy heart, vision, and also skin and coat.
If you are looking for food for Yorkie puppy, it should be enriched with Omegas like DHA for healthy brain development and vision.
4.  Easy to digest
Look for kibble/canned food that contains easily-digestible protein. Some Yorkies are known to have sensitive digestion, so look for a novel protein source or foods with limited ingredients.
You can also consider food that contains probiotics and prebiotics to enhance your small pet's digestive health and also equip them with better immunity to fight diseases and infections.
We have recommended a couple of foods above that contain these ingredients.
5. enriched with vitamins and minerals
When looking for dog food for your Yorkie puppy, look for food that contains calcium and phosphorus for developing bones.
Similarly, look for adult Yorkie food that is fortified with plenty of B-vitamins, as well as Vitamins E and C along with minerals to ensure overall health and well-being.
Also Read: Best Dog Food for Yorkies with Allergies
How Much Food Should a Yorkie Eat a Day? How Often Should a Yorkie Eat a Day?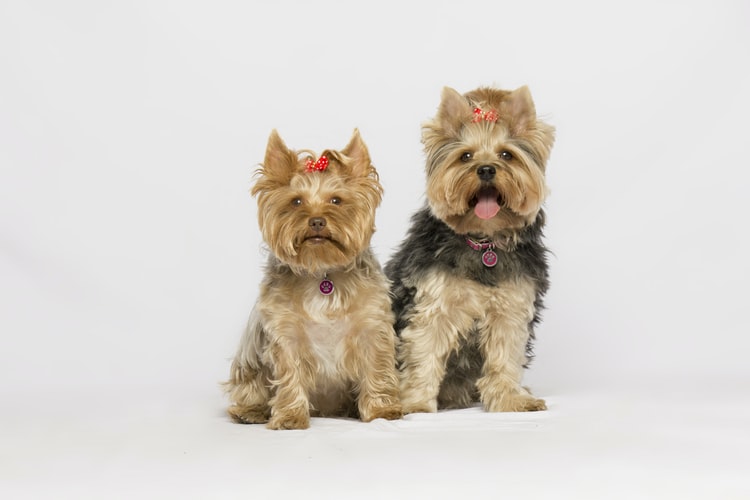 Yorkshire Terriers have some very important nutritional needs which are based on the fact that they are so tiny.
To answer the question, how much food should my Yorkie eat each day, let us take a look at your Yorkie's nutritional needs based on its age.
Nutritional needs of Yorkie puppy
Your Yorkie puppy needs a high-quality food that contains at least 25% protein, 17% fat, and less than 5% fiber. It should also contain 1- 1.8% calcium and 0.8-1.6% phosphorus.
This active dog also needs food that is high in calories.
Ideally, a 4-lb Yorkie pup needs at least 150 calories each day.
So, you need to feed 1/4th to ½ cup of kibble per day to a Yorkie puppy weighing between 2-4 lb.
How often to feed Yorkie puppy?
Yorkie pups need at least 3 meals per day as they are prone to hypoglycemia or low-sugar. Therefore, you must feed your puppy 3-4 small meals per day in the first 6-8 months of their life.
Check your pet's weight from time to time. If your vet feels it is gaining weight, then reduce the number of meals slowly.
Nutritional needs of Yorkie adult dog
Yorkie adults need lean protein-rich food that can ensure muscle mass maintenance.
An adult Yorkie could easily pack on pounds and even a 0.5 kg weight increase is seen right away on your small dog.
Adult Yorkies also need probiotics and fiber for digestive well-being. Moreover, they need omegas for maintaining that gorgeous coat.
Since an adult Yorkie weighing between 4-7 lb. needs at least 150-250 calories per day, feed your pet 1/3rd to ½ cup of kibble per day.
Yorkie adults typically need 2-3 small meals per day. Most dogs prefer a larger breakfast but smaller dinner.
The number of times you feed your pet also depends on its age, weight, activity levels, type of food it eats (wet food is more filling), and also overall health.
Also Read: Best Food for Yorkie Puppy
FAQs on Best Dog Food for Yorkie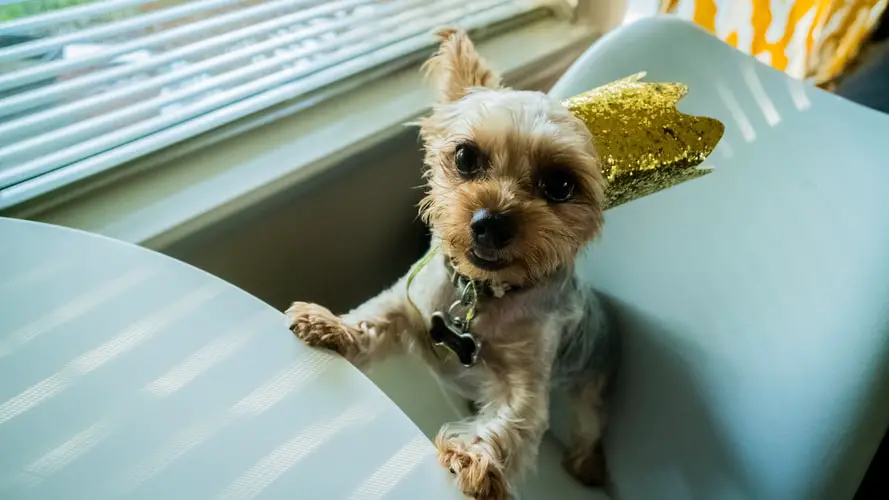 1.  What should I feed my Yorkie?
The best dog food for Yorkie is rich in proteins and high in calories. These dogs have a fast metabolism and hence they need food that can provide them with nourishment for sustained energy levels.
You can discuss what to feed your Yorkie with your vet. Choose one of the kibble or canned foods recommended above.
2.  Should Yorkies eat wet or dry food?
Some Yorkies prefer kibble – they love the crunchy and crispy texture. However, there are some fussy eaters that prefer wet or canned food.
You can try out different varieties and see what appeals to your pet.
Some pet parents also feed kibble topped with wet food or gravy as their pets are known to love the combination.
3. What should Yorkies not eat?
Never feed any human foods like onions, chocolates, raisins, grapes, cooked bones, raw eggs, nuts, citrus fruits, etc. to your pet.
For a comprehensive list of foods not to feed your Yorkie, please check out this guide.
4. What can I feed my Yorkie besides dog food?
Here is a list of foods that are okay to feed your Yorkie, albeit in moderation:
Cooked, scrambled eggs
Cheese
Cooked lean meat like chicken, turkey, beef or fish (bones removed)
Cooked rice
Peanut butter
Carrots
Berries, bananas, and pears without seeds.
5. How to make homemade Yorkie dog food?
Here is a great recipe for your beloved Yorkie:
Place 1/2 lb. of skinless and boneless chicken in a large pot of water and bring the water to a boil. Reduce heat, then simmer for 20-25 minutes. Set aside the chicken to cool. Once cool, dice it.
Prepare 1/4th cup of brown rice as per package instructions.
Place ½ a beet in a saucepan and cover it with water. Cook for 45 minutes then cool. Once cooled, peel and puree it in the food processor.
To serve:
Take ½ cup of cooked chicken, mix it with ¼ cup of cooked rice, and add ½ tbsp. of beet puree. Mix it well.
Feed ½ to ¾ cup of this to your pet or as per your vet's recommended feeding guidelines.
Refrigerate leftovers for up to 3 days.
Conclusion – Best dog Food for Yorkie
The best dog food for Yorkie has small kibble size, is rich in protein, and high in calories.
We recommend Royal Canin Yorkshire Terrier Dog Food as it contains balanced nutrition for Yorkies and its small kibble size is easy for your pet's tiny muzzle as well.
Don't forget to check out other recommendations too.