A Yorkie is a perfect addition to any family. They are loving, loyal, and most of all, adorable! But where can you find quality teacup Yorkies for sale in Oklahoma? Well, we have done all the heavy lifting for you.
There are many Yorkies for sale around Oklahoma- you should check out these top Yorkie breeders in Oklahoma. These breeders have been painstakingly researched and are verified to be breeding Yorkies: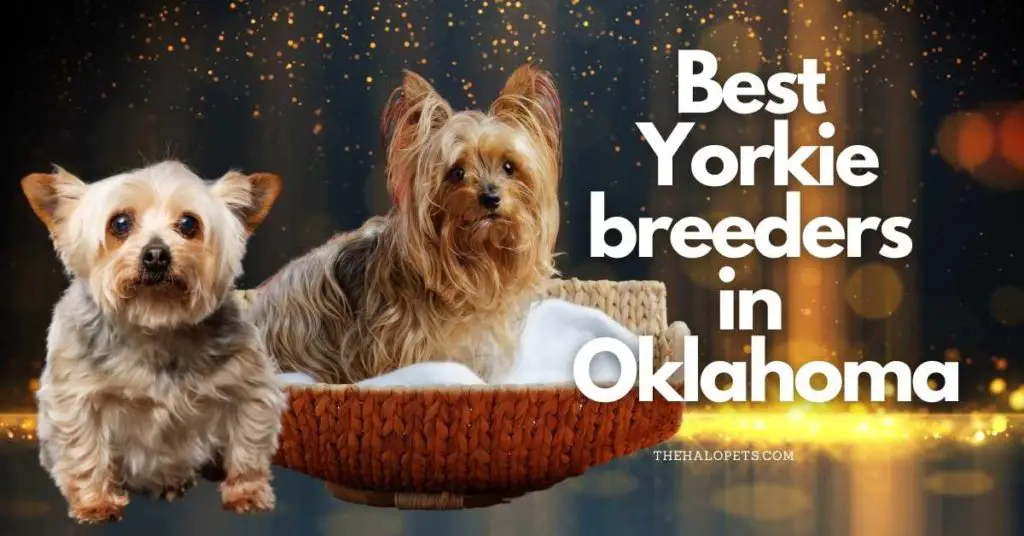 7 Best Yorkie Breeders in Oklahoma
1. Semper Fi Yorkies
Getting AKC Yorkshire Terriers from a breeder like Semper Fi is a great way to make sure your pet is healthy and happy. All of their pups come with a clean health record, so you can have peace of mind knowing that your new puppy is in good hands.
As a veteran's wife, Tammi Baker, the owner of Semper Fi, knows a thing or two about loyalty. This is reflected in her business as she makes sure that all of her customers are happy with their new furry friend.
You can visit their website to see available puppies and learn more about their story. They mostly have dark chocolate and occasional dark parti though others are available as well.
Address: Elgin, OK
Contact: (580) 647-0755
Website: Semper Fi
Facebook: Semper Fi
2. Oklahoma Yorkies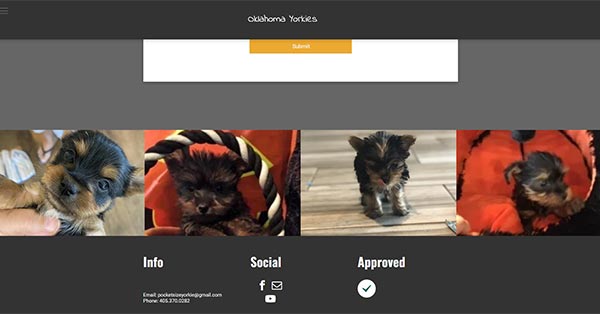 Are you looking for Yorkie breeders near me in Okla? Come check out Oklahoma Yorkies. They have AKC Yorkshire Terriers that are home-raised and come with a health guarantee.
They specialize in toy puppies which have helped them make a name for themselves. You can expect to find micro Miniature, toys, & Teacup Size Yorkie puppies here.
Their Yorkie puppies come in a variety of colors and you can see them on their website or Facebook page. You're sure to find the perfect pup for your family!
Address: NW 178th and Penn Oklahoma City, OK 73013
Contact: (405) 906-3849
Website: Oklahoma Yorkies
Facebook: Oklahoma Yorkies
3. THE YORKIE RANCH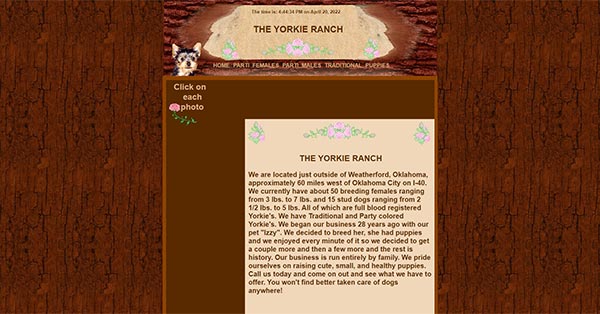 Based in Weatherford, Oklahoma, The Yorkie Ranch is a family-owned business that has been breeding and selling Yorkshire Terriers for over 28 years.
The Yorkie Ranch does thorough blood work check ups on all their dogs to make sure that they are in good health and free of genetic disorders. They also send their puppies home with good care.
If you're looking for a Yorkie breeder in Oklahoma, The Yorkie Ranch is a great option. The breeders here, Matt and Nikki Pugh are always available to pass their knowledge.
Address: Weatherford, OK 73096
Contact: 580-819-2541
Website: The Yorkie Ranch
4. Southeastern's Yorkshire Terriers
Having been breeding since 2000, this is one of the best places to get Yorkie puppies for sale in Oklahoma. The owner brings a lot of expertise to the table when it comes to taking care of her Yorkshire Terriers.
Their pups have an adorable look and amazing personality. All their dogs are AKC registered which helps with building trust. AKC registrations are not cheap, but they are always worth it.
You will get a health guarantee when you purchase a puppy from Southeastern's Yorkshire Terriers. The health guarantee will give you some peace of mind when bringing your new pet home. They also have Maltese puppies, which they started breeding in 2019.
Address: Southeastern, OK
Contact: yorkietymes00@gmail.com
Website: Southeastern's Yorkshire Terriers
5. JANE'S YORKIES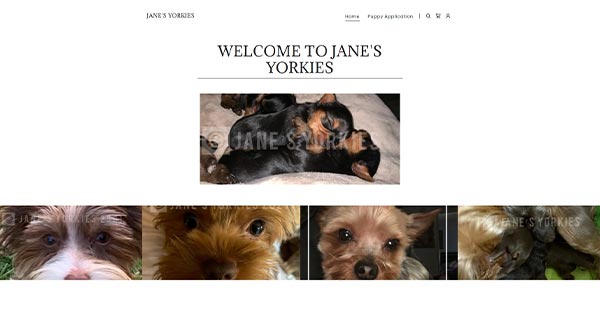 Jane joined Lucy in 2017 to form Jane's Yorkies. Lucy has been breeding for many years and has the know-how of raising quality puppies.
The two of them have a combined experience of over 30 years in breeding Yorkshire Terriers. They are located in the heart of Oklahoma and have some of the best pups for sale.
All their puppies are registered and they strive to give the best customer service. Delivery is in person, or you can make arrangements to have it delivered to you, but at a cost.
Address: Oklahoma, USA
Contacts:  (530) 718-8946
Website: Jane's Yorkies
6. Trotters Tiny Yorkies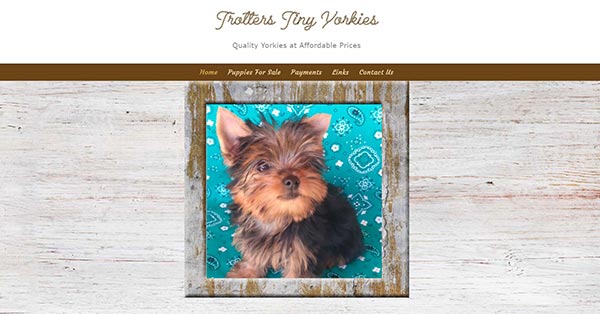 Specializing in Traditional Yorkies for sale in Oklahoma, Trotters Tiny Yorkies is one of the best places to buy a Yorkshire Terrier. The owner is passionate about her dogs and takes great care of them.
You can find toys, Teacup, and traditional Yorkshire Terrier puppies here. They have been breeding for over 2 decades now and have a lot of experience. You can be sure that you're getting a healthy and happy pup when you purchase from Trotters Tiny Yorkies.
Address: Antlers, OK
Contact: 580-298-7717
Website: Trotters Tiny Yorkies
7. PJ Kennels
As a family-owned kennel that opened its doors in 1972, PJ Kennels is one of the oldest establishments on this list. They are located in Poteau, Oklahoma, and have a wide variety of dogs for sale.
One of their specialties is Yorkshire Terriers. You can find all kinds of Yorkshire Terrier puppies here, including toys, teacups, and traditional size pups. They are proud members of AKC, CKC, and ACA which gives them a lot of credibility.
PJ Kennels is a great place to buy a Yorkshire Terrier puppy in Oklahoma. They have a lot of experience and will make sure that you're getting a healthy pup.
Address: 700 8th Street, Maysville, OK.
Contacts: 405-207-1946 
Website: PJ Kennels
FaceBook: PJ Kennels