In New Jersey finding Yorkie breeders near me isn't hard. There are plenty of responsible dog breeders in New Jersey that have Yorkies for sale. It's important that you get it right, as the future of the puppies depends on it.
There are many Yorkies for sale around New Jersey- you should check out these top Yorkie breeders in New Jersey. These breeders have been painstakingly researched and are verified to be breeding Yorkies: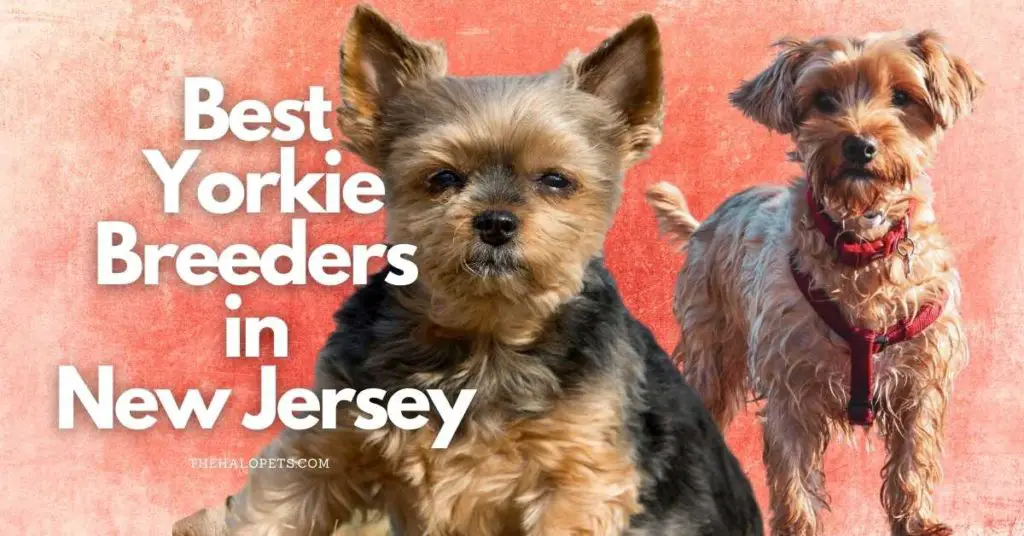 8 Best Yorkie Breeders in New Jersey
1. Luxe Little Yorkies
Over in Erial, New Jersey, is where you'll find Luxe Little Yorkies. Specializing in AKC Traditional Yorkies, Chocolate Yorkies, and Parti Yorkies- they have a wide variety of colors for you to choose from.
Luxe Little Yorkies is a small breeder with only a few litters per year. This allows them to spend more time socializing with each puppy and preparing them for their new homes. All of their dogs are raised in a loving environment which comes in handy during the transition.
All their dogs are AKC registered, vet checked, up to date with their shots, and have full panel bloodwork. If you're looking for adorable Yorkie puppies for sale in New Jersey, check them out.
Address: Erial, New Jersey
Contact info: (856) 562-1226
Website: Luxe Little Yorkies
Facebook: Luxe Little Yorkies
2. Yorkie Central
Probably one of the most known and reputable breeders of Yorkshire Terriers in New Jersey. Yorkie Central is a family-owned business that started out of love for the Yorkshire Terrier breed.
What started as a hobby quickly turned into a passion and then a business. Yorkie Central is dedicated to breeding happy and healthy Yorkshire Terriers. They have AKC Yorkies for sale and are known for their quality puppies.
Their dogs are all tested and come from some of the best bloodlines in the world. If you're looking for a high-quality Yorkie, this is the place to go.
Address: 10 Central Ave Pittsgrove Township, NJ 08318
Contact info: (609) 381-6166
Facebook: Yorkie Central
3. Wingold Yorkies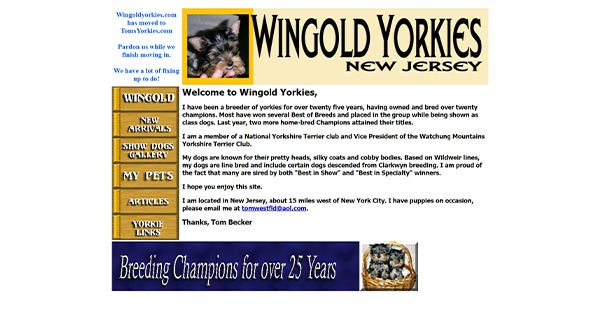 For over 25 years, Wingold Yorkies have been breeding and selling Yorkshire Terriers to dog lovers around the world. They have several generations of experience when it comes to purebred Yorkshire Terriers and they're dedicated to providing only the best for their customers.
All dogs from Wingold are AKC registered and come from champion bloodlines. Their pups are renowned champions having gotten over 20 champions from their lineage. Their dogs have won many awards over the years and are some of the best Yorkies currently in existence.
Tom Becker is the breeder here and lives in New Jersey, some 15 miles from New York City. They are moving their website and will be known as TomsYorkies.com.
Address: New Jersey, USA
Contact info: tomwestfld@aol.com.
Website: Wingold Yorkies
4. Furrylicious Puppy Boutique
Specializing in small & toy purebreds, Furrylicious Puppy Boutique has a plethora of Yorkies for sale in NJ. They have Mini Bulldogs, Bichon, German Shepherds, and Yorkshire Terriers- to name a few.
All their puppies have full health guarantees, medical records, pedigree papers, and amazing support throughout. They give their dogs constant attention and make sure that they're healthy and ready to go before they're sent home with their new owners.
To find out more about Furrylicious Puppy Boutique, give them a call or visit their website today.
Address: 531 Route 22 East, Whitehouse Station, NJ 08889, United States
Contact info: (908) 747-4417
Website: Furrylicious Puppy Boutique
Facebook: Furrylicious Puppy Boutique
5. Kim Hoang's Yorkies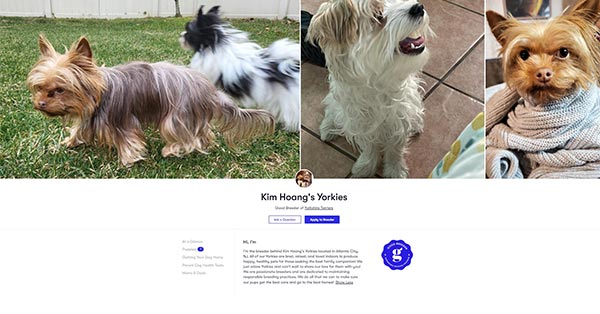 Over in Atlantic City, NJ is where you'll find Kim Hoang's Yorkies. They have a wide variety of Yorkshire Terriers all of which are raised indoors for that excellent, happy puppy.
Their dogs are well taken care of, socialized with other animals, and have no problem mingling with children. When it comes time to go home, each puppy will have been well prepared for the transition.
If you want a Yorkie that's been raised right, Kim Hoang's is the place to go. Contact them today to find out more about their available puppies and how you can bring one home.
Address: Atlantic City, NJ
Website: Kim Hoang's Yorkies
6. Pat's Garden State Yorkies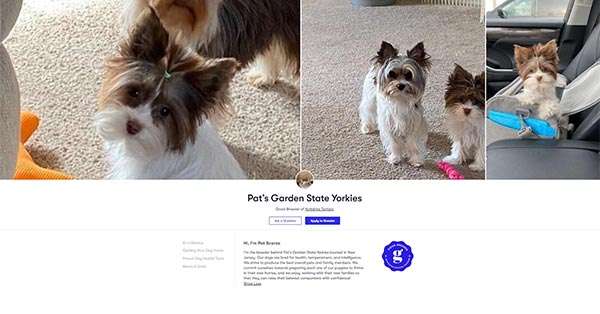 Pat's Garden State Yorkies are located in New Jersey and have been breeding Yorkies for many years. They breed for health, temperament, and most importantly, intelligence.
They go above and beyond to make sure each and every one of their puppies is healthy and happy- they even offer lifetime support. Their puppies get to go home after 10 weeks, which is enough time to have acquired all the necessary skills.
To learn more about Pat's Garden State Yorkies, or to see some of their available puppies get in touch with them, they are more than happy to help.
Address; New Jersey
Website: Pat's Garden State Yorkies
7. Vanity Furr Babiez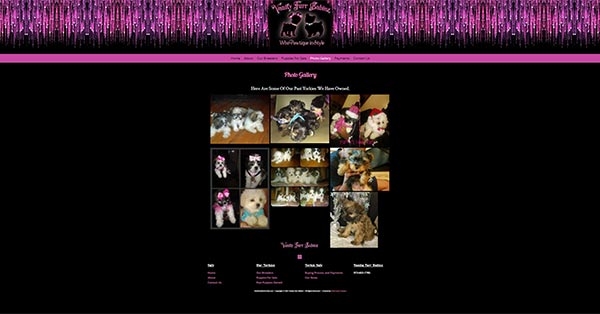 They may not be the biggest or most popular breeder on this list, but Vanity Furr Babiez strives to give the best pups. They are a small business but with a big heart.
Vanity Furr Babiez breeds for beauty, intelligence, and temperament- they want their puppies to be family dogs that will bring them the most joy and comfort. Get in touch with them for more information.
Address: New Jersey
Website: Vanity Furr Babiez
8. Castleford Yorkshires & Maltese
As the name suggests, Castleford Yorkshires & Maltese specializes in both Yorkshire Terriers and Maltese. They have a variety of puppies for sale, including rare colors and sizes.
As a hobby breeder & exhibitor, Claudia Pierro is a seasoned enthusiast who breeds puppies of sound health, temperament & beauty! They also provide you with a 1-year health guarantee.
If you're looking for a high-quality, small dog, give Castleford Yorkshires & Maltese a call today.
Address: Waldwick, NJ
Website: Castleford Yorkshires & Maltese