So, you've caught your puppy (or adult dog) eating hair off the floor? It can be quite puzzling but many dogs indulge in such behavior.
In this guide, I'll tell you:
Tips to stop your puppy from eating hair off the floor
12 Reasons why your dog eats hair off the floor
And more…
Why Is My Dog Eating Hair Off The Floor?
A dog might eat hair off the floor or their own fur because of misguided learned behavior, stress or anxiety, boredom, curiosity, and even when they are sick or have parasites. While it is certainly a puzzling behavior, the good news is that there are ways to stop it.
12 Reasons Why Is My Dog Eating Hair Off The Floor?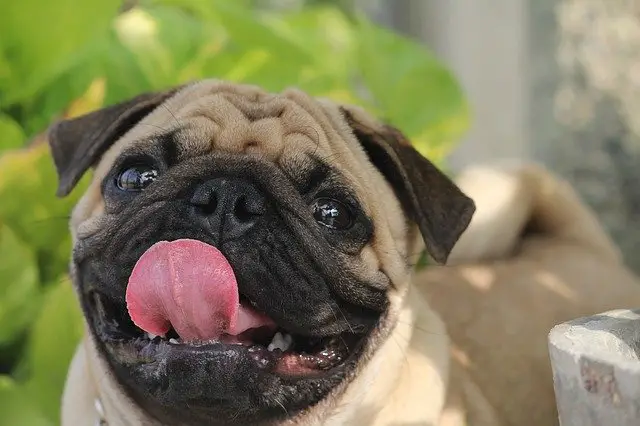 The common reasons why dogs eat hair off the floor include:
1. Learned behavior in pups
All puppies go through a learning and development phase. During this phase, they are naturally curious about everything. Almost all things they see seem like 'food' to them.
Many puppies eat everything on their walks: grass, dirt, feces, etc. This is even more pronounced during the teething phase when a pup wants to bite and chew everything to soothe its irritated gums.
The chewing, mouthing, and biting action also helps a pup learn what is and isn't edible. In a way, this is a natural instinct and it helps with your pup's development.
Human hair and animal fur are just some of the things pups eat because they are present on the floor. A puppy being rather small, is naturally close to the ground – resultantly, it is able to see and pick up the hair very easily.
Often, the pup might simply lick the floor and invariably pick up hair due to the process.
2. Stress or anxiety
According to Dr. Jessica Pierce, PhD, food and feelings are intertwined and this isn't just the case for humans, it is also true for dogs.
Dr. Pierce mentions a study conducted on several dogs that showed different behavioral issues like aggression, eating feces and other non-food items, especially when the dog owner is absent.
If your dog is stressed or has separation anxiety, then, in addition to eating things like hair or poop (coprophagia), it might also show the following signs:
Pacing
Restlessness
Whining, crying, howling
Excessive barking
Chewing furniture
Urinating indoors
There are several ways to manage stress and anxiety in dogs. These include the following methods:
Behavior modification training
Exercising the dog well
Providing enough mental activities
Providing trips to the dog park, car rides, etc.
Crate training
If needed, consult a dog behaviorist or a dog trainer to address anxiety or stress in dogs.
Don't Forget to Read: How to Clean Dog's Mouth After Eating Poop?
3. Boredom
According to AKC's Stephanie Gibeault, MSc, CPDT, bored dogs will find ways to entertain themselves.
She says that dogs, in the past, always had a job to do – guarding property, herding sheep, etc. Today, most dogs are companion dogs despite their breed. They are left home all alone and naturally they find out ways to entertain themselves.
In addition to eating hair and other non-food stuff, a bored dog might show the following signs:
Create big messes – urinate/defecate indoors, dig up the yard
Mug for your attention when you are home
Jump on you and other people
Bark, whine or howl excessively.
The best way to prevent boredom in dogs is to provide plenty of physical and mental activities to tire it out. You can invest in dog puzzles and other mentally stimulating games to prevent boredom.
Check Out: Top 10 Tips and Techniques for Training Your Dog
4. Curiosity
Curiosity may have killed the proverbial cat but even dogs are very curious by nature. In fact; they are curious about everything such as the garbage can, the squirrel turds in the backyard, and yes, even hair.
Here are some signs your dog is curious about non-food items:
Dogs use their noses all the time – the wind carries different smells and your dog will use those smells to find objects that it finds interesting to sniff. Hair has a scent and smelling those scents and tasting it gives your dog more information about the individual's hair.
Staring intently – your dog might intently smell at the hair or other objects it finds interesting.
Tasting and licking -In addition to highly developed hearing and sense of smell, dogs also lick and taste everything to get more information about the object in question.
Pawing – Some dogs also paw at the non-food items before licking or chewing it.
Curiosity might get domesticated dogs into trouble but in the wild, it is this very curiosity that helps keep them safe. A dog can gather a lot of information from the object it sniffs at and get an idea about potential threats. It can then choose to flee or fight, depending on the threat.
Domesticated dogs have retained this natural curiosity. That is why a dog, especially a young one might eat stuff it isn't meant to satisfy that natural instinct.
There are ways to channel your dog's curiosity. The best way to do it is by desensitizing your dog. Provide it many experiences, take it out to meet people, explore the world around it, etc. This will prevent many unwanted behaviors as the dog gathers those experiences.
5.Sickness /medical issues
According to the AKC, dogs often eat rocks, grass, paper, clothes, and hair when they have medical or health issues like tumors, diabetes, thyroid issues, or other problems.
These health issues cause pain and the dog might turn to eating non-food objects for pain relief.
Depending on the exact medical issues, your dog will show other signs too – vomiting, appetite changes, bad breath, etc.
If you suspect a medical problem, then do see your vet right away. Once you start medical treatment, the hair-eating behavior should also stop.
Also Read: 10 Interesting Reasons Why Dogs Lick Metal! (#6 is Very Important!)
6. Intestinal worms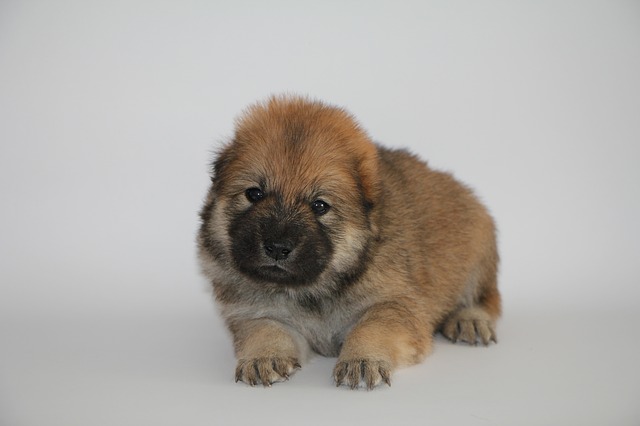 According to experts at Viera East Veterinary Center, intestinal worms like tapeworm, hookworm, and roundworms are also some of the common reasons behind eating non-food items such as hair in dogs.
Puppies often get worms by drinking milk from the infected mother. Such pups will indulge in eating everything they find. Naturally, the pup won't gain any nutrition since the worms eat up all the food and nutrients. That is why dogs with intestinal worms do not gain weight.
Other signs of worms in dogs are:
Segments of tapeworm in dog's feces and around its anus
Distended, pot-bellied appearance
Lethargy
Chronic diarrhea
Vomiting
Excessive hunger
It is important to follow a strict deworming schedule as prescribed by your vet. Many over-the-counter dewormers are also safe to use on adult dogs for regular deworming. However, it is best to consult a vet before selecting the product.
7. Pica
According to PetMD, dogs with Pica crave non-food items like hair, metal, rocks, clothes, pantyhose, drywall, tennis balls, buttons, children's toys, wet wipes, magazines, and even batteries. 
Many factors can cause canine pica ranging from starvation to hormonal imbalances. Some breeds like Labrador Retrievers and Dachshunds are genetically prone to pica.
Vets diagnose pica based on complete blood work, urine test, stool tests etc. These tests can show nutritional deficiencies and other abnormalities like mal-absorption.
Treating pica needs a multi-disciplinary approach:
Correcting underlying health issue – if any
Treating the pica itself.
Integrative veterinarian Dr. Carol Osborne states that dogs with pica need dietary changes. It can help if the owners feed 3-4 small meals instead of one or two meals. Also, switching to higher-quality food can help overcome nutritional deficiencies.
Dr.Osborne further states that pica is often connected to stress or boredom. For such dogs, anti-anxiety medication can help.
If a dog has neither deficiency, health issues, or boredom as a cause of pica, then it is best to remove the objects the dog eats – in this case, hair.
8. Attention seeking
According to the SPCA of San Francisco dogs use several techniques to seek their owners' attention. These include:
Jumping on the owner
Stealing things and running away
Constantly nudging, whining, pawing, or nipping at the owner's clothing
Eating non-food items like hair, rocks etc 
The organization states that the reasons why dogs seek their owner's attention is because they are social creatures. In the wild, they live and hunt in packs and rely on the pack for safety.
When the human is busy, dogs try out tactics to get his/her attention. In the process, the dog owner then actually turns their attention to the pet. This encourages bad behavior.
The SPCA states three rules to break this attention-seeking behavior in dogs:
Ignore the dog when it eats hair off the floor – As soon as your dog drops the hair – say "good boy!" and reward it right away.
Schedule some time for the dog – give it plenty of attention, groom it, play with it, and pet it.  Training and massage sessions are also great ways to prevent attention-seeking behaviors in dogs.
Do not shout/hit/punish your dog. This could reinforce bad behavior and, worse, break the loving human-dog bond.
9. Nutritional deficiency
Hair contains a protein called keratin which could be a reason why your dog eats hair.
A dog that isn't getting adequate protein in its diet could resort to eating all kinds of things including human hair or its own fur.
If the hair eating gets out of hand, your dog could suffer an intestinal blockage. That is why it is important to have your vet check the exact cause of hair eating.
Blood tests can indicate deficiencies your pet has, if any. Accordingly, your vet can recommend supplements or change your dog's food.
Once your dog starts getting the right nutrition, the hair-eating behavior will also stop.
10. Positive reinforcement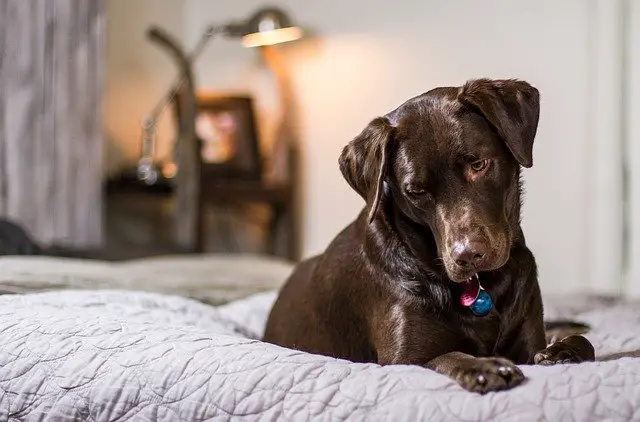 From the time man domesticated dogs, they have started considering humans as their pack. Naturally, they rely on their owners for food and safety. 
Humans have reinforced this need further – we constantly pet, reach out, cuddle, and hug our dogs. Resultantly, we might reinforce the very behavior – in this case – eating hair off the floor that we are trying to correct.
For example, when a puppy or adult dog eats hair off the floor, the owner might have offered it a reward with the intention of distracting it. However, to the puppy's mind, this is an indication that "I did something good, so I am getting rewarded".
Positive reinforcement of this kind ends up encouraging the very behavior we don't expect from our dog.
As stated above, never treat or reward your dog to distract it when it has done something wrong. Instead, ignore it.
11. Environmental  or food allergy
 Naomi Harvey, PhD, a researcher at UN's School of Veterinary Medicine and Science, suggests that an itchy dog is an irritable dog that could eat its own fur, human hair or other non-food items.
Just like humans can be 'driven mad' due to an itch, a dog with itchy skin caused by food or environmental allergies can resort to all kinds of strange behaviors.
Harvey and her team have documented these findings in a study titled the Itchy Dog Project. This study further mentions that dogs with allergies can show the following signs:
Eating feces and other non-food items
Mounting
Chewing
Excessive licking
Begging for and stealing food
Excessive grooming
Attention seeking.
The study recommends that dog owners take steps like making dietary changes, wiping down/bathing the pet especially after walks, using non-medicated soothing topical treatments, and fatty acid supplementation. With time, the above behaviors can be completely stopped.
 12. Fleas and ticks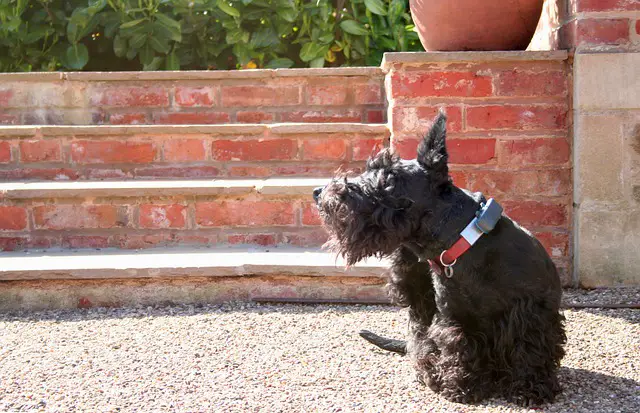 Just like environmental allergens can cause itching and behavioral changes in dogs, so can external parasites like fleas and ticks.
Fleas can cause flea allergy dermatitis which is known to cause intense itchiness in dogs that are allergic to fleas. As stated earlier, an itchy dog could show behavioral issues like eat its own fur.
Similarly, ticks can lead to Lyme disease which can cause pain and subsequent behavioral problems in dogs.
That is why regular flea and tick prevention is very important. These days, there are many prescription and over-the-counter options for flea and tick control. But, it is best to seek your vet's advice regarding the matter.
Also Read: How to Get Rid of Fleas on a Yorkie