What are Chihuahuas allergic to?
A friend asked us this question the other day because her new Chihuahua puppy was itching like crazy. I told her to take her pet to the vet since there are many things a Chi could be allergic to.
It is estimated that nearly 10% of allergies in Chihuahuas and all dogs are food allergies. However, there are other kinds of allergies that a Chi could suffer from, so it is best to get the root cause evaluated early on.
In this guide, we will discuss the signs, symptoms, and triggers of allergies in Chihuahuas and answer the question: what are Chihuahuas allergic to?
What Are Chihuahuas Allergic To?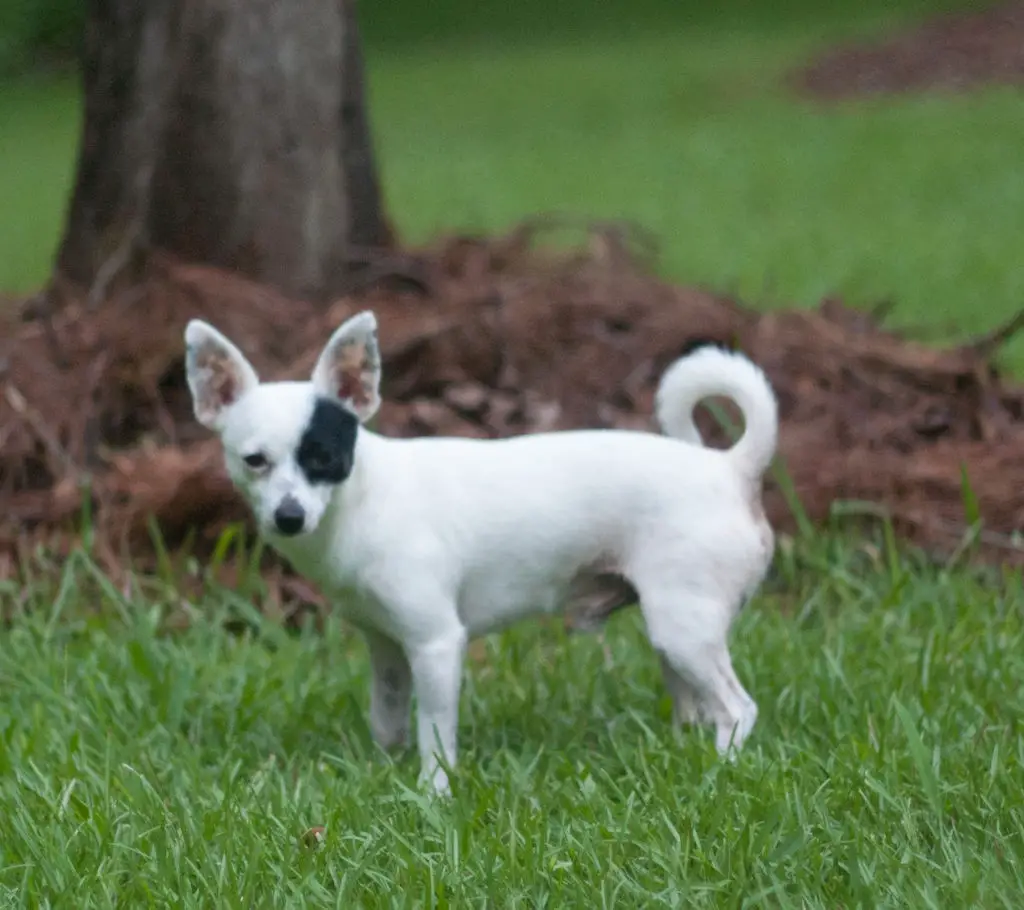 Allergies occur when a substance or ingredient causes the Chihuahua's immune system to have a misguided reaction to it.
There are several different kinds of allergies in Chihuahuas but the most common ones are allergies stemming from the dog's food, skin allergies, and environmental allergies.
1. Food allergies
It is very important to work with your vet and determine if your Chihuahua indeed has a food allergy. This is because food allergy is often confused with food sensitivity.
Many Chihuahuas suffer mostly from food intolerance or food sensitivity and not exactly a food allergy. Food allergy is characterized by an immediate immunological response such as swelling of the face or breaking into hives or, in extreme cases, going into anaphylactic shock.
Food intolerance or sensitivity, on the other hand, is not as life threatening but can manifest as symptoms which can greatly impact your Chihuahua's quality of life. These include:
Gastrointestinal distress like vomiting, diarrhea, etc.
Skin or dermatological signs like dull, itchy coat, skin blisters, chronic yeast infection, etc.
2. Skin allergies
Skin allergies can occur due to:
Food allergies
Contact allergies like flea dermatitis etc.
In most cases of skin allergies in Chihuahua, your pet will have an itchy skin, red hot spots, and even blisters filled with pus. The skin might also develop scabs and become red and inflamed. There might be hair loss too.
If food and skin allergies both exist simultaneously, your Chihuahua might be itchy, have a dull coat, and also have gastrointestinal symptoms like diarrhea, vomiting, etc.
Fleas can also cause skin allergies in your Chi but here, you might see the fleas along with their tiny black debris on your Chi's skin. Other bug bites like bee stings can also cause serious allergic reaction in your pet.
3. Environmental allergies
Dust, pollen, and mold are the most common allergens that can trigger an allergic reaction in Chihuahuas. These allergens mostly come through their paws when you pet walks in grass or dirt. Also, you might find your Chi scratching more during certain seasons. Allergies can also stem from harsh household cleaners and air fresheners.
There is a risk of developing secondary infections like pus-filled blisters and bacterial infections which might need antibiotics for treatment.
What Foods are Chihuahuas Most Allergic or Hypersensitive To?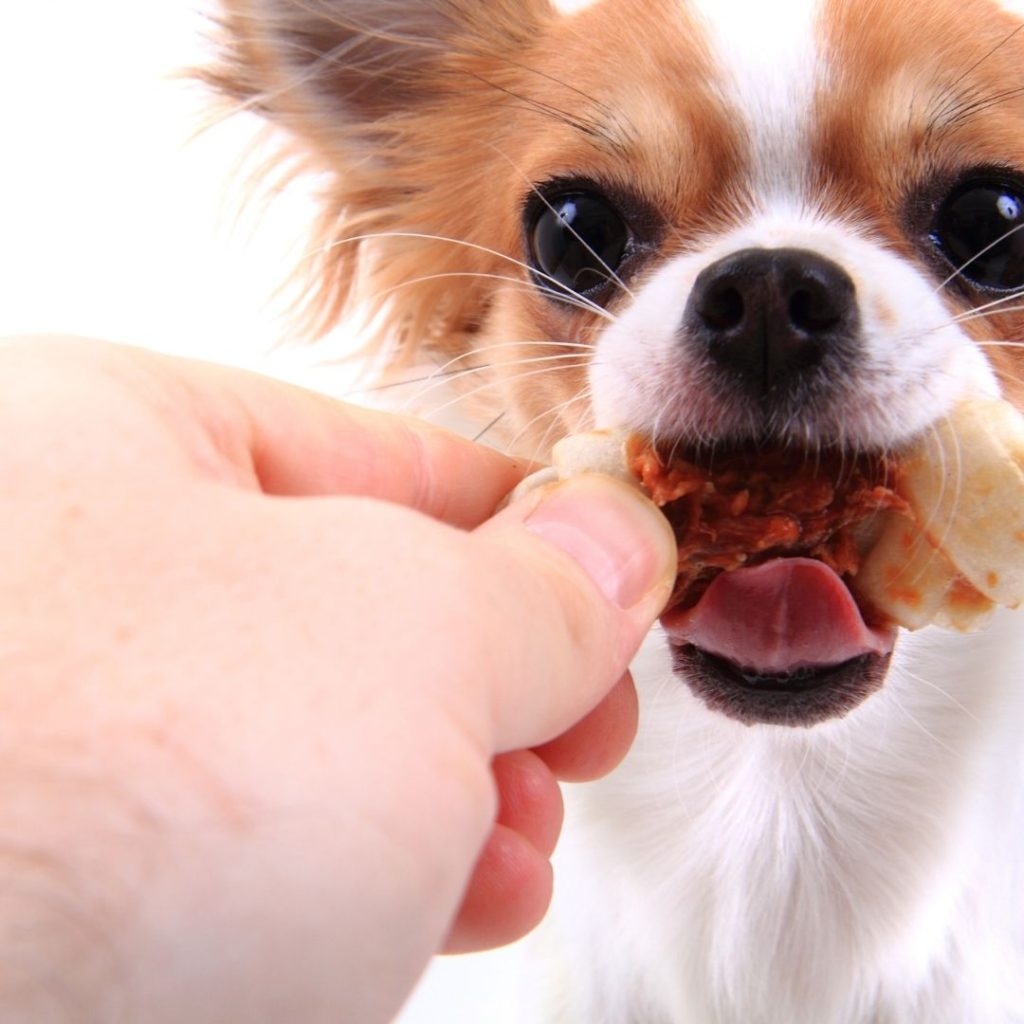 Food hypersensitivity and allergies causes your Chihuahua's body to produce antibodies against some part of the food it eats.
This can result in facial swelling, severe itching, dull coat, itchy skin, and hair loss. Almost any food can trigger an allergic reaction in your Chihuahua. But the most common culprits are proteins.
Most Chihuahuas are allergic to proteins like:
Dairy
Meat
Soy, gluten, or wheat
Chicken, chicken eggs
Beef
Lamb
Pork
Rabbit
Seafood
Each time a Chihuahua allergic to one or more of these ingredients eats that ingredient, its body produces antigens triggering symptoms. Some Chihuahuas can be allergic to more than one protein as well.
Grain allergies are also common in dogs. Many grains like corn, soy, wheat, etc. can trigger allergies in Chihuahuas. For such pets, it is important to look for grain-free dog foods.
What are The Main Signs and Symptoms of Allergies in Chihuahuas?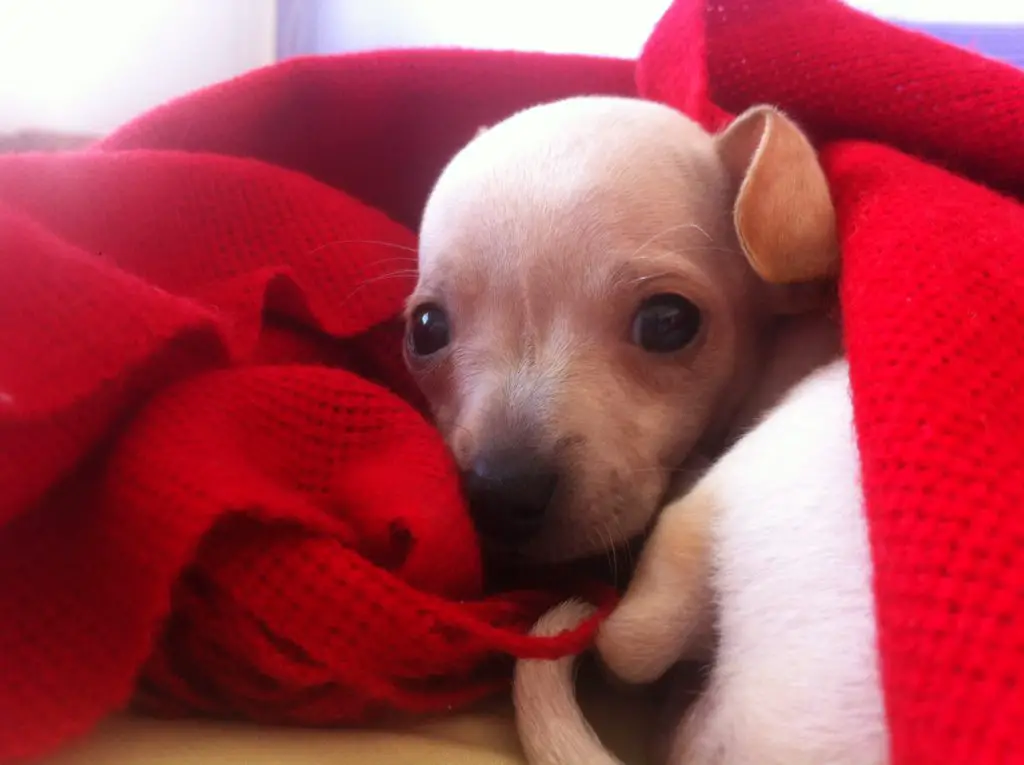 The common signs of food allergies in Chihuahuas are:
Chronic ear inflammation
Gastric trouble – diarrhea, vomiting, chronic gas
Skin issues – itchy paws,

constant licking

,

anal gland issues

, redness of the skin, puffy face, skin feels hot to touch.
Some Chihuahuas also constantly shake their head while some develop chronic stomach issues. In case of skin problems, the allergies could cause secondary infections like chronic bacterial or yeast infections. Some allergic Chihuahuas appear to be restless or agitated all the time.
Please see your vet right away if your Chi has the following symptoms:
Collapse
Difficulty breathing due to swelling in the throat
Low blood pressure, elevated heart rate, or shock
How Does a Vet Diagnose What Are Chihuahuas Allergic to?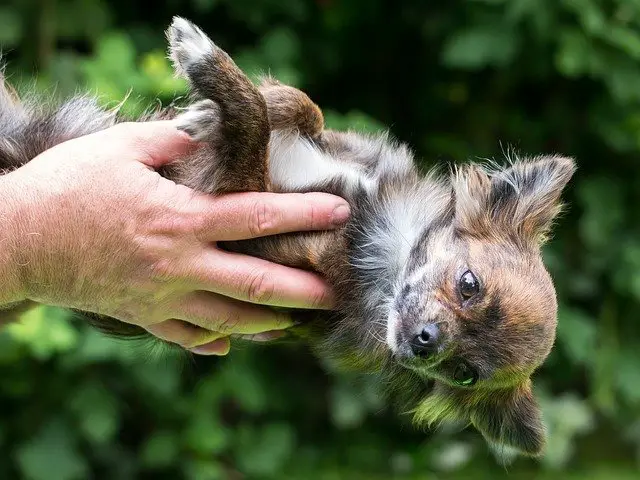 Food allergy
There is only one way to diagnose a food allergy in a Chihuahua: elimination diet and trial.
Your vet will ask you to stop your pet's current food and start it on a completely new food that your Chihuahua hasn't had before.
The good thing is that there are many novel protein based foods available these days. You can always try a protein such as duck, rabbit, venison, etc. or even alligator, kangaroo, and yak!
After a few days on the new food, your vet will reintroduce the old food. If your Chihuahua does have a reaction, then you will know for sure the cause of the food allergy.
Skin and environmental allergies
If, despite changes in diet, your Chihuahua still continues to have a reaction or is itchy, then your vet might suggest some more tests.
For example, they might take a sample of the discharge from its ears in case of chronic ear infection. Your vet might even recommend skin testing or allergy testing to determine the exact culprit/s.
Which Are The Best Dog Foods for Chihuahuas with Allergies?
Here is a list of hypoallergenic dog foods for small dogs:
1. Hill's Science Diet Small & Mini Breed Sensitive Skin & Stomach Recipe
Hill's Science Diet is gentle on a Chihuahua's sensitive tummy. It is develop under the guidance of vets with easily digestible ingredients and is made in USA itself.
Vets recommend this food brand for small and tiny breeds with skin and digestive problems.
The food is also fortified with vitamin E and omega fatty acids to promote healthy skin and coat. Moreover, the kibble is small in size and easy for this small dog breed's tiny jaws.
2. Purina Pro Plan Sensitive Stomach Small Dog Food
Purina Pro Plan has specially designed this dog food with salmon, rice, and oatmeal as the first ingredients. These are gentle on a Chihuahua's stomach.
Also, the food is fortified with probiotics which enhance immunity and digestive health. Purina Pro Plan also contains omega 6 fatty acids for a healthier and shinier coat.
This great food is also formulated to meet the high protein needs of your small but energetic pet.
3. PS for Dogs
PS for Dogs hypoallergenic dog food is made with limited ingredients and contains single protein source (grass-fed New Zealand lamb). This is great for Chihuahuas with allergies as it helps minimize unwanted ingredients.
Vets recommend this food for a dog's allergy symptoms such as constant paw licking, itchy skin, etc.
 The wholesome and complete food meets all of your pet's nutritional needs without overwhelming its gentle system.
4. Forza 10 Hypoallergenic Wet Dog Food for Sensitive Skin Issues
Forza 10 might seem expensive but it can prevent expensive allergy shot and recurring veterinarian bills.
This gentle canned food is gluten-free and contains premium Icelandic salmon as the first ingredient. It also contains fruits like papaya and pomegranate as well as herbs like turmeric to provide your Chi with antioxidants.
Many dogs with obsessive licking, dry itchy fur, and other skin issues have benefitted from this vet-formulated dog food- Forza 10.
5. Royal Canin Hypoallergenic Hydrolyzed Protein Dog Food
Dogs with severe chronic ear infections have come off their medication after being switched to Royal Canin hypoallergenic, HP dog food.
It does need a vet's prescription but it is totally worth it. The main ingredients in Royal Canin dog food are hydrolyzed proteins and rice starch – both are easy to digest and gentle on the sensitive tummy.
What Can I Give My Allergic Chihuahua?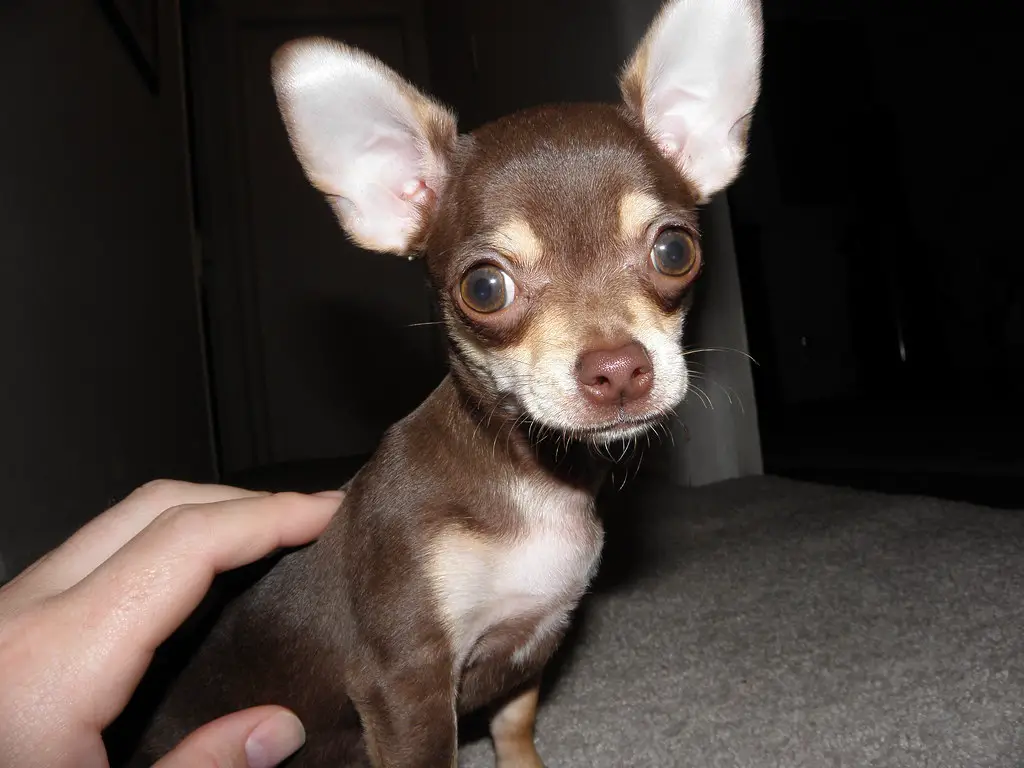 Allergies in Chihuahuas can be managed by changing its diet. You might also have to make some environmental changes like prevent flea bites, ensure that your pet does not bring mold, pollen, or grass indoors.
Here are some tips you can use for your allergic Chihuahua:
1. For mild allergic reaction
For mild symptoms, you can give your Chihuahua Benadryl. Always keep Benadryl at home but make sure it does not have contain any additives or flavors.
Administer 1 mg of Benadryl per lb. of body weight of your Chi. Thus, if your Chihuahua weighs 4 lb., give it no more than 4 mg of Benadryl.
2. For severe symptoms
For serious symptoms, your vet might administer antihistamine or corticosteroid to your pet. In case of a life-threatening reaction such as collapsing, changes in heart rate, etc., your Chi might also need epinephrine, oxygen, or steroids. Your vet might suggest hospitalization for a day to monitor the symptoms.
3. Bathe your buddy
For skin allergy, use a mild medicated shampoo to stop the itching caused by mold, pollen, etc.
What Natural Remedies Can I Give My Allergic Chihuahua?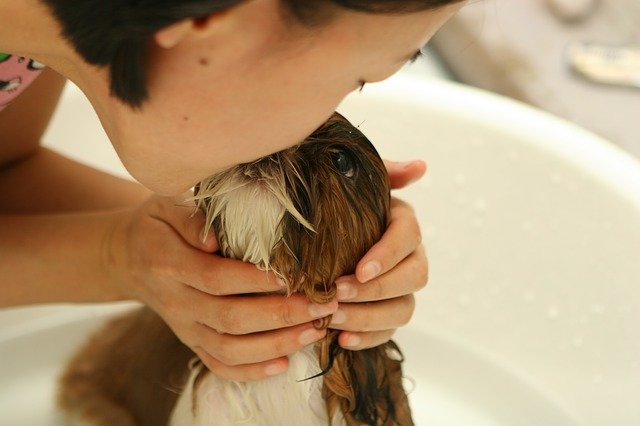 Always follow your vet's suggestion and give the medicines s/he has prescribed to your allergic Chihuahua. Additionally, you could consider the following natural remedies to curb itching, scratching, and even vomiting and diarrhea in your Chi:
1. Apple cider vinegar (ACV)
You can use this remedy internally and topically to reduce scratching in your Chihuahua. Add a teaspoon of organic, diluted ACV to your pet's drinking water.
You can also spray diluted apple cider vinegar over its coat to reduce itching.
2. Give it an oatmeal bath
Oatmeal is a soothing remedy that prevents itching right away. Grind colloidal oatmeal and add a cup of it to your Chihuahua's bathwater. Make sure your Chihuahua soaks completely in this bath. You might have to pour some over its skin. Rinse after 5 minutes and dry your pet.
3. Coconut oil
Coconut oil contains healthy fats that can benefit your allergic Chihuahua in two ways: you can feed a teaspoon or two of the oil and also apply it to its itchy skin.
Massaging the oil in the skin can curb itching and also soothe away redness and hotspots.
Can Chihuahuas Develop Allergies Later in Life?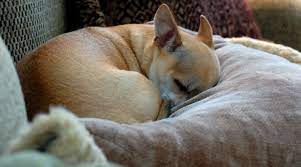 Just as humans can develop allergies at any point in their life, Chihuahuas too could develop allergies in their adult or senior years.
The severity of the allergic reaction will depend on your pet's exposure to the said allergen and also the concentration of the allergens. Some Chis might have a mild reaction while others could have serious or life-threatening reactions.
Most commonly, this is seen in Chihuahua food allergies. Your pet might suddenly develop a food allergy even though it has been eating the same food for months or years.
How to Tell if Your Chihuahua Has Seasonal or Non-Seasonal Allergies?
Non-seasonal allergies are typically food allergies or flea allergy dermatitis. These can happen any time of the year. Food allergies are also perennial. This means that your Chihuahua will have an allergic reaction to that food ingredient no matter what time of the year it.
With non-seasonal or perennial allergies, your pet might itch, have a dull coat, or may even have gastric trouble in the form of vomiting and diarrhea.
On the other hand, a seasonal allergy is typically an allergic reaction to pollen, dust, or mold. These allergies tend to exacerbate during certain months such as spring and summer when there is more pollen and dander in the air. Your Chihuahua might scratch itself or it might have red, watery eyes, hot spots, wheezing, nasal discharge, etc.
Conclusion
What are Chihuahuas allergic to?
Allergies in Chihuahuas could be food allergies or skin allergies. They can stem from some protein (wheat, dairy, poultry, seafood, etc.) in its food or some allergen in its environment (pollen, dust, or mold.). Even bug and flea bites can trigger an allergic reaction in your Chi.
Allergy symptoms in Chihuahuas include itchy skin, gastric issues like diarrhea, etc.
In many cases, dietary and lifestyle changes can help put a stop to said allergic reaction.
We hope this guide helps you treat your Chihuahua's allergies permanently.