Do Chihuahuas like to swim?
Now that summer is here, we all want our pets to have fun with us at the beach or in the pool.
The answer to the question: 'Do Chihuahuas like to swim' is no, mostly, they don't since they are small dogs and that makes them insecure, even fearful, of water.
However, the answer to the question: 'Can Chihuahuas swim' is Yes.
All mammals can swim and Chis are no different. Whether or not they like this form of exercise depends on how you train them and how they take to the water.
Let me tell you all about how to get your Chi to swim and enjoy it as well.
Do Chihuahuas Like to Swim?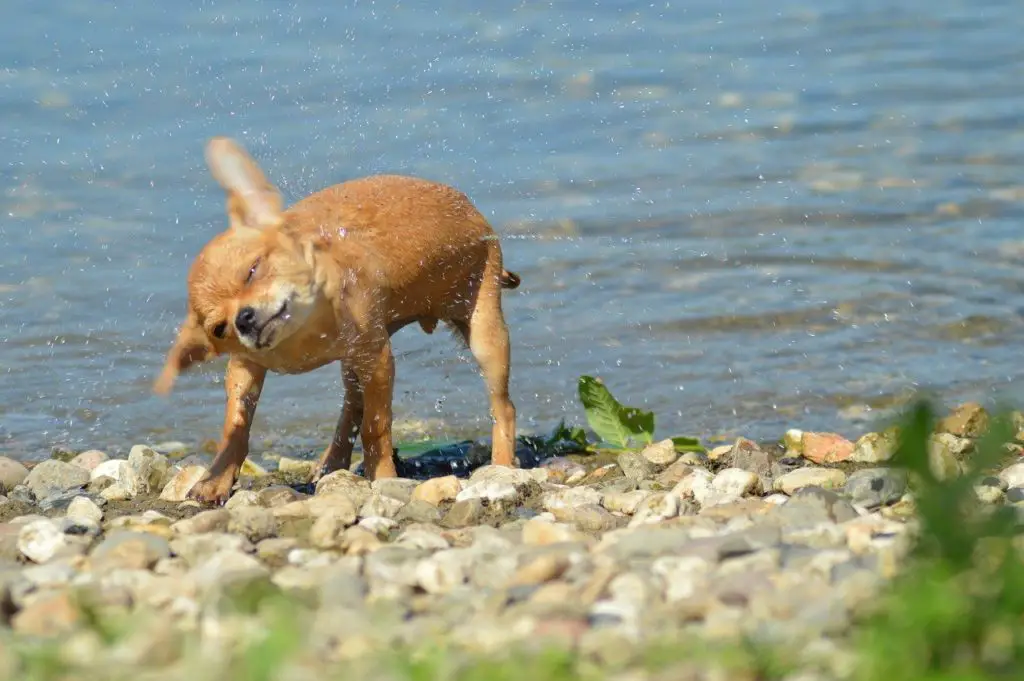 Most Chihuahuas don't like swimming because they are small dogs and like most small dogs, they suffer from the Small Dog Syndrome.
This makes them rather insecure about anything bigger than them – including large water bodies.
Here are some reasons why many Chihuahuas dislike swimming and water activities:
1. Fear and insecurity
In the majority of the cases, Chihuahuas that do not like to swim are afraid of water. They are aware of the fact that they could drown since they are small dogs.
Also, the vastness of the ocean or even a regular pool could scare some Chihuahuas.
2. They don't like getting water inside their ears
Another reason why many Chihuahuas do not like swimming is because of their perky ears.
Water can easily enter in their ear canal causing discomfort, pain, infections, and irritation. Resultantly, many Chihuahuas also hate taking baths for the same reason.
3. Chlorinated water stings their eyes
Chlorinated pool water tends to irritate their eyes which could be one of the reasons why Chihuahuas may not like to swim.
4. They dislike getting their coats wet
Several long haired Chihuahuas, short hair Chihuahuas, and smooth coat Chihuahuas dislike getting their fur and coat wet.
The chlorinated pool water or salty seawater might cause itchy skin and that could be one of the reasons why Chis stay away from water bodies.
Do Some Chihuahuas Like Water?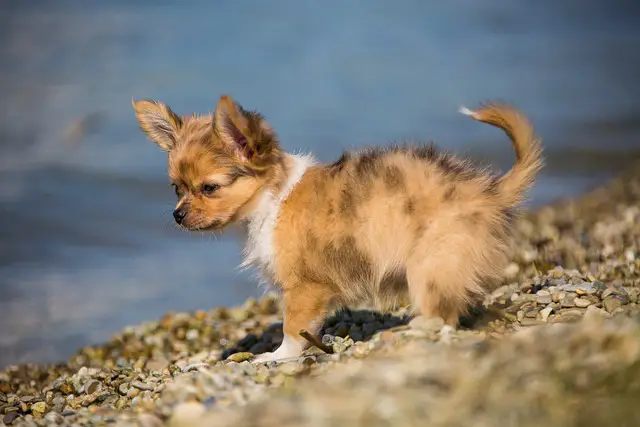 Many times, vets recommend activities like swimming to Chihuahuas that have limited mobility and cannot rely on walking or other forms of exercise.
Swimming is indeed a fantastic exercise for dogs as it works all muscle groups and is also easier on their joints.
However, not all Chihuahuas like water. In fact, there are very few dog breeds that love water and this includes most retrievers, water dogs, etc.
But in case of Chihuahuas, they were not bred to work in or near the water bodies. They were mainly sacrificed for food and later on, bred solely for the purpose of companionship and lapdogs.
That is why you won't find too many Chihuahuas that take easily to the water. A handful of Chis might willingly accompany their families to the pool or the beach in summer, but the edge of the water is as far as they get.
Do Chihuahuas Like to Swim in Saltwater?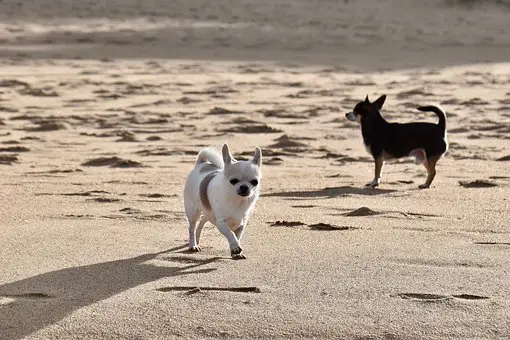 Ask most people who don't know a thing about dogs, and they might say: Of Course! All dogs can swim and would like to swim in the ocean. However, this is an erroneous and also a potentially fatal assumption.
Just because your small Chihuahua has the buoyancy to swim and stay afloat and instinctively start the 'doggy paddle', it does not mean that it likes to swim.
The only good thing about Chihuahua and water is that they are small and lightweight dogs. That is why they can stay afloat in the sea. At the beach, your new swimmer might try to walk on the water with its front paws but that might still make its rear end sink.
Many Chihuahuas simply do not like the salty water in the ocean as it stings and irritates their eyes.
That is why I strongly urge you to avoid forcing your Chi to swim in the ocean. Your pet could get very anxious or fearful.
Secondly, the strong currents and waves could easily carry off your Chihuahua or even lead to dry drowning.
Therefore, avoid your furry friend's swim lessons at the beach – instead, teach your pet to swim in a kiddie pool first.
Do Chihuahuas Like to Swim in Pools?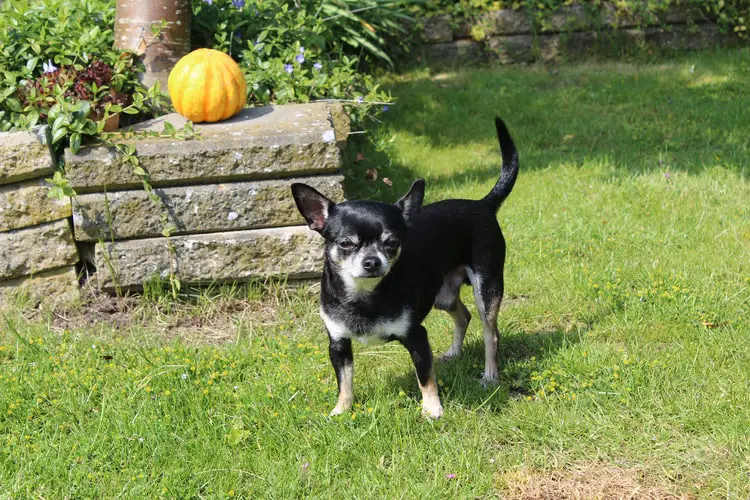 Chihuahuas are family dogs and companion dog breed. They love spending time with their family members whom they consider akin to their pack members.
That is why most Chihuahuas will be very happy to join their owners in the pool. However, we cannot say for sure that these dogs like swimming in chlorinated pools.
There are many reasons why Chihuahuas might dislike swimming in pools. These include the fact that the chlorinated water could irritate their mucosal tissues.
Secondly, many Chis are aware of their small size and may be afraid of drowning. Even a small baby pool might seem like a gigantic ocean for your tiny dog.
Thirdly, most hate getting their dog's coat wet and, more importantly, dislike having water in their ears.
A handful of Chihuahuas like to swim in pools but that may be because they have been desensitized to the water since an early age and trained by their dog owner to be a good swimmer.
Is it Bad for Chihuahuas to Swim in Chlorinated Pools?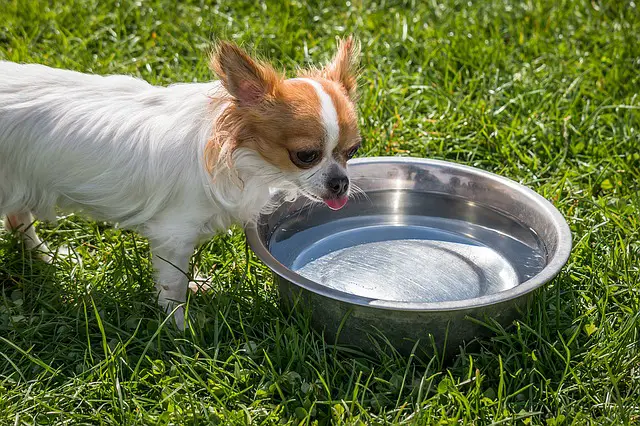 There are a few dangers or risks of chlorinated pool water to dogs:
A. Chlorine ingestion
The CDC states that it is safe for dogs to swim in chlorinated pools. The organization reports that the level of chlorine in pools is a lot less than the amount of chlorine that is safe for dogs to ingest through the pool water.
Having said that, it is still a risk if your Chihuahua drinks a lot of pool water rapidly. Many dogs are known to suffer from abdominal discomfort, vomiting, and regurgitation after drinking a lot of water from the swimming pool.
B. Skin irritation and allergies
Chlorine water leaves a residue on your pet's skin and fur. If you fail to wipe or wash it off, it could leave your pet's skin very dry and flaky and could even lead to skin irritation, hot spots, etc.
C. Ear infections
Chihuahuas with perky ears could even develop ear infections due to dirty water. If you do not wipe your dog's ears post-swimming, it could develop fungal or bacterial infections which could be quite difficult to treat.
With proper precautions, pet parents can avoid the above dangers.
What Other Dangers can Swimming Pose to Small Dogs like Chihuahuas?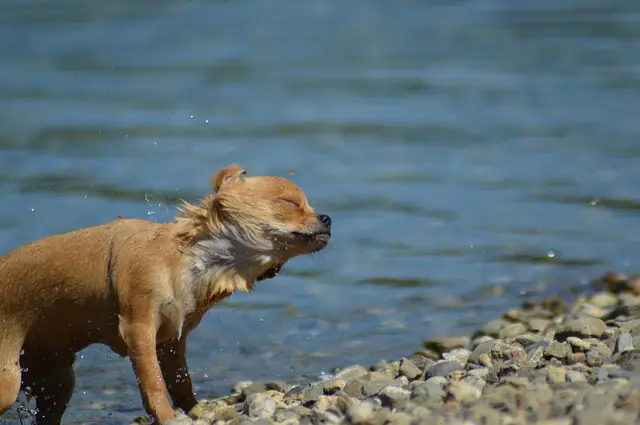 There are a few dangers associated with swimming for small dogs like Chihuahuas. These include:
1. The assumption that all dogs can swim
Not all Chis can swim. They might start the doggy paddle, but they may not necessarily be expert swimmers.
So avoid pushing your boy or girl in the pool or the ocean unless you train it to swim first.
2. Quality of water
The pool water, pond or lake where you take your small dog swimming could contain contaminated or infested water. If ingested, it could cause upset stomach, vomiting, diarrhea, ear infections, skin problems, etc.
3. Dry drowning
Even an experienced natural swimmer could be at a risk to dry drowning. If you leave your small dog unsupervised even for a moment in the water, it is at a risk of riptides, waves, or strong currents and could swallow a lot of water.
In a swimming pool, an unsupervised dog could get tired and might dry drown if not assisted. Swallowing just 1-3 ml water per kilogram of body weight could cause dry drowning in small dogs within 24 hours after the incident.
4. Slippery rocks
Dogs and humans are both at a risk of injuries from sharp slippery rocks in water bodies such as lakes and rivers.
5. Hypothermia
Chihuahuas tend to get cold very quickly. If the ambient temperature is already cold and you force your pet to swim in the cold water, it might shake and shiver due to the cold and is even at a risk to hypothermia.
What are Benefits of Swimming for Chihuahuas?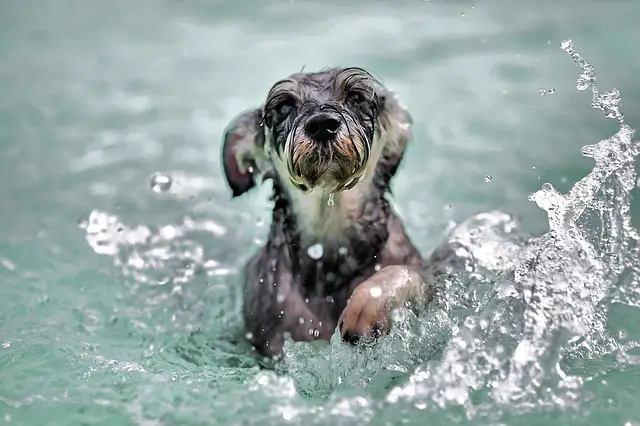 Swimming is an excellent form of exercise to your Chi, provided you train it to swim properly and under supervised conditions. Here are its benefits:
A. Excellent activity for overall health
One minute of swimming is equivalent to four to five minutes of brisk walking. Swimming can reduce inflammation, boost energy, prevent depression, strengthen your Chi's heart and lungs, and increase metabolism.
Regular swim sessions can reduce pain and prevent obesity in dogs.
B. Good for the joints
Many Chihuahuas suffer from joint issues like luxating patella, arthritis, and hip-elbow dysplasia. For them, swimming is a low-impact workout that can reduce joint stiffness and even improve mobility.
C. Relieves stress and anxiety
For anxious Chihuahuas, swimming provides an outlet to reduce stress and expend that pent up energy. This can reduce unwanted behaviors like barking, chewing furniture, biting, etc.
How Do I Get my Chihuahua to Swim? Safety Tips for Your Pet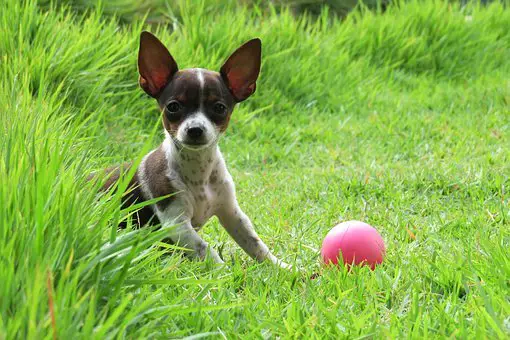 Some dogs are natural born swimmers but this isn't the case with Chihuahuas, so you need to train your pet to swim.
Here are the steps to get your Chi to swim safely:
1. Start small
Always let your pet acclimatize to the water first. Do not take it to the beach right away. Instead, let it doggy paddle in the kiddie pool.
Always make sure your pet likes the acitvity. If not, do not force it.
2. Never leave your pet unsupervised
Even if your Chi seems to be a confident swimmer, never leave it unsupervised. Avoid mishaps by always keeping an eye on your pet.
Teach your pet the exit points to the shore. You can also mark the exits with potted plants or bright cones to help your pet spot them.
3. Invest in a doggy swim vest
A dog swimming vest or life jacket can help your small dog stay afloat in the water. These vests are also brightly colored so you can spot your Chi in low-light conditions.
4. Let your Chi drink fresh water before swimming
Fresh water will prevent your Chi from drinking the lake/pool/salty sea water.
5. Keep sessions short
Small dogs like Chihuahuas tend to get tired quickly. So do not let the swimming lesson exceed 15 to 20 minutes at a time.
If your pet appears to be short of breath, seems anxious, or starts panting, remove it from the water and take it to the shade to cool off.
6. Bathe your pet post-swimming
Bathe your Chihuahua after swimming using the best shampoo. Dry it thoroughly while paying extra attention to its ears.
FAQs on Do Chihuahuas Like to Swim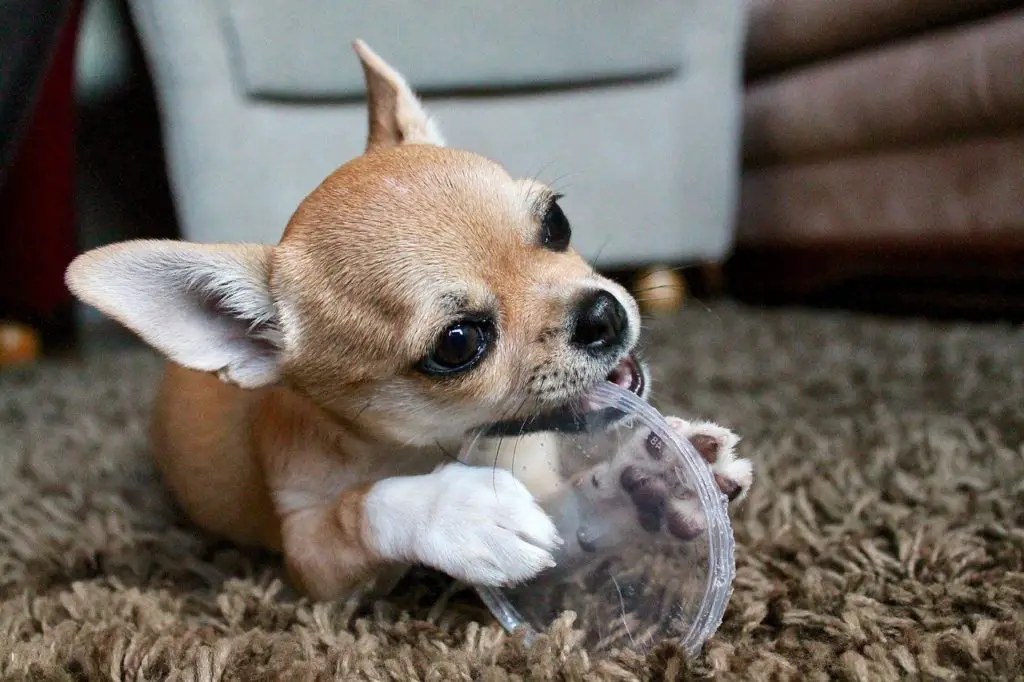 1. How long should I let my Chihuahua swim?
For new swimmers, keep the sessions under 10 minutes. Always keep an eye out for signs of tiring such as panting, shortness of breath, anxiety, etc. Take your pet out of the pool if these signs occur.
For experienced swimmers, keep swimming sessions to about 20-30 minutes.
2. Why does my Chihuahua try to ''bite" the water when it swims?
Some Chihuahuas get very excited at the sight of water. They might dive, snap, and bite the water. As long as your pet seems happy to be in the water, there is no cause for concern.
3. How to know if water is good for your Chihuahua to swim in?
Avoid water bodies with blue-green algae in it. If you plan on swimming in the sea or a lake, avoid strong currents. Make sure there are no sharp or slippery rocks to hurt your pet. Never leave your small dog unsupervised in water.
Conclusion
Do Chihuahuas like to swim?
Most Chihuahuas do not like swimming since they are not born or innate swimmers. Also, most Chihuahuas are scared of the water and many dislike getting their fur and ears wet.
However, there are some Chihuahuas that are known to enjoy the water, swimming, and related activities. You can also successfully train your Chihuahua to swim by following safety precautions such as using a life jacket and always monitoring your pet while it is in the pool.